Memories from Bradford
By Hannemann, Lyndon & Rostek
By unanimous decision, or else, of the Awards Committee of the Praesidium of the Supreme Soviet of the Academy of Seriously Large Format Kinematographic Systems, of the Union of Soviet Socialist Republics, it gives me great pleasure to award the highest accolade that the Academy can bestow, the Vladimir Ilyich Leninerama Gold Medal for Heroic Socialist Labou

• Go to Widescreen Weekend 2016
Widescreen Weekend 2016
Widescreen Weekend will take place from 13 - 16, October 2016 and will feature new Cinerama restorations, classic 70mm screenings and demonstrations of the latest ways to enjoy immersive cinema. Widescreen Weekend commences on Thursday evening and concludes after the last show on Sunday evening. We will be announcing programme information in August 2016. We hope to see you all as we celebrate the joys of wide gauge film once again.

• Go to Widescreen Weekend, Bradford, England

2016 Festival Program

Thursday 13 October
13:30 An Introduction to Widescreen Cinema
19:00 The Agony and the Ecstasy 7OMM

Friday 14 October
10:00 Vertigo 7OMM
13:30 Cinerama's Russian Adventure DCP
17:00 The Golden Head DCP with Jess Conrad
20:00 Aliens 7OMM

Saturday 15 October
10:00 This Is Cinerama CINERAMA
13:30 The Innocents 35mm
20:00 Ghostbusters 4K

Sunday 16 October
10:00 Cineramacana
12:30 Chitty Chitty Bang Bang 35mm
15:45 Return of the Seven 35mm
19:00 Bond and Beyond: In Conversation with Jenny Hanley
20:00 On Her Majesty's Secret Service 4K
---
The Magic of Large Format Cinema
By Mark Trompeteler
The 2015 event very nearly did not happen. The Museum had announced in the previous year that it would not be holding any of its regular film festivals in 2015. Given the time that this particular event had spent over the years building up an international audience, that travelled from all over the world to attend it, and the real concern that if it broke the pattern by not holding the event for a year, it would begin to start losing that audience
Widescreen Weekend 2015 / Widescreen 2016
By Mark Trompeteler
I have had a couple of enquiries from overseas friends and colleagues about all kinds of things they are hearing about Bradford's National Media Museum and the fate of WSW. From what I am seeing in the UK press and from the recent discussions on behalf of BKSTS I have had with them at NMM I believe the situation is as follows.
2015 Widescreen Weekend Introduction
By Wolfram Hannemann
To get the look he wanted for the film, director Norman Jewison told Director of Photography Oswald Morris, to shoot the film in an earthy tone. Morris saw a woman wearing brown nylon hosiery, thought "That's the tone we want," asked the woman for the stockings on the spot, and shot the entire film with a stocking over the lens. Morris did shoot the film in anamorphic Panavison on 35mm film stock and it was blown up to 70mm for roadshow engagements.
Be part of Smell-O-Vision history! A campaign to re-start Mike Todd Jr's. Smell-O-Vision for future screenings of "Holiday In Spain"
"Scent of Mystery" was the first and only film to feature a sophisticated automated scent track with "each dramatic point woven into the actual presence of a smell. Help bring this recently restored Cinerama treat to the very big screen in new and improved Smell-O-Vision by supporting two pilot screenings. We need to make these scented events as great as they can possibly be so we can tour Cinema with Scent all around the world in 2016!
---
Widescreen Weekend "Audience on Stage"
By Thomas Hauerslev
The traditional "on-stage" picture - a unique Pictureville tradition since 1998. A very enthusiastic audience went on stage to have their picture taken. See the image and download for free
Planning the Wide Screen Weekend
By Thomas Hauerslev
Wide Screen Weekend organizer Mr. Bill Lawrence lets you see behind the scenes of his ideas on planning the 1998 Wide Screen Weekend
Creating the Widescreen Weekend
By Bill Lawrence
The Widescreen Weekend is a celebration of all that is extraordinary in large format film and has become a highlight on the film festival calendar.
Pictureville Cinema
By Thomas Hauerslev
In West Yorkshire, in the heart of Britain, one of the worlds most advanced cinemas is situated. Capable of presenting not only 70mm, but also Cinerama.

Cinerama at the Pictureville
By Thomas Hauerslev
Understanding the installation and start procedure of "This is Cinerama" in the jewel of British cinema.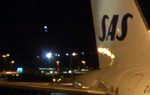 How to travel to Bradford
By Paul Rayton
No matter where you are coming from (unless you are already in the UK), you have to get there by air plus some kind of ground transportation.
Visit Bradford, Train Timetables, Weather, Street map. Hotels: The Midland, Holiday Express, The Victoria and the Hilton
Wide Screen Weekend 2015
By Mark Lyndon
Having been cancelled, for reasons which remain unclear, the Wide Screen Weekend strand of the sadly defunct Bradford International Film Festival, returned triumphantly to the Pictureville Cinema, following intense behind the scenes lobbying of the Science Museum hierarchy. The Picturehouse organisation can feel justly proud of their achievement.

• Go to Wide Screen Weekend gallery 2015
• Go to Francois Carrin's trip to the Widescreen Weekend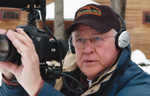 Douglas Trumbull
By Tony Earnshaw
I have discovered that if you embrace digital technology from a new perspective and you say, 'Let's just get rid of all the historical artefacts and beliefs of what an image is or what it should look like and start over and do it all digitally and take advantage of high resolution cameras that are available and that very people use, the high resolutions projectors that are available that very people use and take advantage of the fact that the digital projectors that are in tens of thousands of movie theatres can run at 144fps and no one's using it.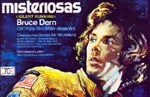 Douglas Trumbull's "Silent Running" screens in Bradford
By Lisa Brook, Widescreen Weekend Coordinator
As a very special addition to Widescreen Weekend 2015 our keynote guest Douglas Trumbull presents his directorial sci-fi masterpiece "Silent Running", offering an in-depth introduction to this much loved classic. In a future where Earth's vegetation is extinct the last examples of plant life are cultivated in eco-domes aboard vast space craft Valley Forge.
New Cinerama Restorations at Widescreen Weekend 2014
By Dave Strohmaier & Tom March
Dave Strohmaier and Randy Gitsch returned to Widescreen Weekend for their eighth appearance bringing along two new Cinerama restorations, "Seven Wonders of the World" and "Search for Paradise" which were digitally scanned at Image Trends in Austin, Texas. Here are some "Cinerama Highlights" from this year's Widescreen Weekend.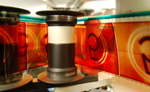 Goodbye 70mm IMAX Projector
By Vaughan, McGregor and van der Post
When IMAX opened at the NMeM in 1983, a little over 10 years after the IMAX technology premiered in Japan, it was the first ever IMAX cinema in Europe and contained Britain's largest cinema screen. This summer we say goodbye to the good old 70mm IMAX projector at Picturehouse at National Media Museum, as it will be converted to digital and the cinema will be refurbished.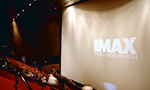 The First 70MM IMAX Cinema in England
By Thomas Hauerslev
I went up to Bradford to see National Museum of Photography, Film & Television on a 1-day return trip by train during a visit to London. I had read about this new museum in Screen International some years before and it came highly recommended. I was especially interested to see the IMAX cinema.
Widescreen Weekend – It is tradition!
By Ulrich Rostek
Unhealthy lifestyle is also a kind of tradition during Bradford Widescreen Weekend. High speed food intake during the short breaks between the movies is not really recommended by nutritionists but at least we are all in a hurry. Watching movies all day long is a hard work to do. We are not there for fun.


• Go to Widescreen Weekend – Es ist Tradition!
Attending the Widescreen Weekend from 10 to 13 April 2014
By Gerhard Witte
2006 had been the last time I visited Bradford's Widescreen Weekend. At the time, of course, I was particularly impressed by the 3-strip screenings of "Windjammer" and the all-time hit "How the West Was Won". All projected onto the deeply curved screen in the Pictureville Cinema. Now, 8 years later the great opportunity watching the last two Cinerama `holy grails´ "Seven Wonders of the World" and "Search for Paradise" on the curved Cinerama screen. That was the reason why I travelled to England.
2014 Widescreen Weekend Introductions
Having dubbed Wood as well as Moreno, Nixon felt she deserved a cut of the movie-album royalties. Neither the movie nor the record producers would bow to her demands. Leonard Bernstein broke the stalemate by volunteering a percentage of his income, a gesture of loyalty-royalty since Nixon had been a performer-colleague of his at New York Philharmonic concerts. He ceded one-quarter of one percent of his royalties to her
Cinerama Birthday Bradford Celebrates Cinerama's 60th. Anniversary
By Mark Trompeteler
The largest number of core delegates, in the region of 180, that the museum staff can ever remember attending the Widescreen Weekend gathered at the museum's Pictureville Cinema in late April. Not only to celebrate all things widescreen, but particularly this year [2012], Cinerama's sixtieth birthday.
Widescreen Weekend 2013
By Mark Trompeteler
The National Media Museum's annual festival of all things widescreen was again held earlier this year in Bradford, in the UK. Mark Trompeteler reports on a very successful and enjoyable event which included acknowledgement of Cinemascope's 60th Birthday.
Anders Olsson is reporting from Bradford, see the pictures here:
• WSW 2013 gallery Friday
• WSW 2013 gallery Saturday
• WSW 2013 gallery Sunday
• WSW 2013 gallery Reception

As usual every film is introduced by experts, read introductions here:
• 2013 WSW Introductions
"It's Bloody Marvellous"
By The Widescreeners
What do I think about the Widescreen Weekend? Read what the widescreeners think after spending 4 days in a cinema in Bradford
Widescreen Weekend Mission Report 2011
By Thomas Hauerslev
After a one year absence I was delighted to be back at the Pictureville Cinema, and to see the movie family of widescreeners again
WSW report 2009
By Thomas Hauerslev
What makes people fly in from all over the world to spend a "WSW" in Bradford and seeing films, which are sometimes faded and in most cases very, very old?
Widescreen Weekend 2009
By Thomas Hauerslev
70mm films everywhere, including a NEW Dimension 150 print of "The Bible...in the Beginning". Come and "Becket", "Where Eagles Dare", "West Side Story" and "How The West Was Won" at the 14th Widescreen Weekend in Bradford, England.
Widescreen Weekend 2008
By Thomas Hauerslev
So far we have confirmed prints of "Windjammer", "This is Cinerama", "Star!", "The Sand Pebbles", "2001: A Space Odyssey", "Blade Runner", "Hamlet" and "Honeymoon

".
Widescreen Weekend 2005
By Thomas Hauerslev
I had invited my daughter Maria with me again. Our flight was around 14:00 in the afternoon and I had scheduled our arrival in Bradford to be around 18:00 in the evening.
Widescreen Weekend review
By Ramon Lamarca
If I could make some petitions for the future would be to keep the showmanship at its best, I would wait a bit until closing the curtains for those of us who like to read who the carpenter was in the film. More feedback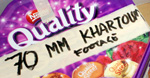 Jäger Der Verlorenen Filmschätze
Von Wolfram Hannemann
Es ist eines der Highlights, auf das ich mich jedes Jahr aufs neue freue: das "Widescreen Weekend" im englischen Städtchen Bradford.
WSW 2009 introductions
By Sheldon Hall: "Khartoum", Wolfram Hannemann: "The King and I", "The Bible...in the beginning" and "West Side Story" and Dave Strohmaier: "How the West Was Won".
Recreating Sensurround
By Darren Briggs
We first brought "Earthquake" back in November 2003 at City Screen York. We were asked by Bill Lawrence to bring the re-creation to the Widescreen Weekend.
Cinerama, D150, Ultra Panavision and much more!
By Mark Trompeteler
If you haven't had the chance to attend a widescreen weekend before and you love cinema then do consider going. A visit to Bradford 2009
Wide Screened and Wide Eyed
By Mark Trompeteler
Who amongst us, at certain times, has not totally lost our heart, imagination or disbelief whilst at the cinema? A visit to Bradford 2006
The History of 70mm Short Subjects
By Randy Gitsch
An abbreviated history of ALL widescreen short subjects from July 1896's "Henry Regatta" in 70mm to "The Devil's Mine Ride" in Showscan.
Projecting the Widescreen Weekend
By Thomas Hauerslev
This year all prints came in time, except "Ryan's Daughter" which arrived only hours before the screening.
"This is New Zealand"
By Bob Jessopp
Tena koto, Tena Koto, Tena Koto, Katoa. Welcome. Here is a little background information to New Zealand's one and only 3 camera, 3 projector wide screen Film Production.
Widescreen Weekend 2010 Events
By Jim Barg
It was a trip that I had been planning in my mind forever, but I got lost from Forster Square to the Midland Hotel.
Cinerama Showcase
By Jim Barg
The idea was to be able to show film in every possible format. We had 35mm, we had 70mm, why not Cinerama?
---
WSW PEOPLE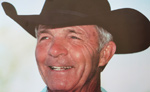 Loren Janes - Widescreen Weekend Guest
By Tom March
He will be traveling to Bradford as a very special guest and will be on stage doing his home movie presentation. He is looking forward to meeting and greeting all the many fans of Cinerama and 70mm who are attending the Festival this year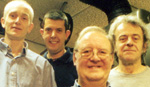 Projection Team of the Year
By Duncan McGregor
The Pictureville projectionists team was awarded the BKSTS Projection Team Of The Year award.
Mr. Derren Nesbitt
"Where Eagles Dare"'s "Major von Hapen" visits the Widescreen Weekend, and delight the audience with funny stories from he long life in the movies.
Quality, Quantity and Width
By Mark Trompeteler
As said previously the widescreen weekend programme seemed fuller, more varied and better attended than when I first attended in 2006. A visit to Bradford 2008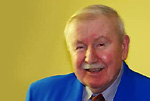 John Harvey "Mr. Cinerama" in Bradford
Richard Greenhalgh
Sunday night the International Cinerama Society will put on a program about the history of Cinerama. It should be a grand time.
Ken Annakin Interview
By Thomas Hauerslev
The director who filmed two films in 65mm discusses 70mm and Pictureville and much more
---
WSW HISTORY
Program
1993, 1995, 1996, 1997, 1998, 1999, 2000, 2001, 2002, 2003, 2004, 2005, 2006, 2007, 2008, 2009, 2010, 2011, 2012, 2013, 2014,
2015, 2016



Stories


1996, 1998, 1999, 2002, 2003, 2004 (1), 2004 (2), 2005, 2006, 2007, 2008, 2009, 2010, 2011
Audiences´ Reviews
1997, 2000, 2001, 2002, 2003, 2004, 2005, 2006, 2007, 2008. 2009

Images of Interest
1996, 1997, 1998, 1999, 2001, 2002 (1), 2002 (2), 2003 (1), 2003 (2), 2003 (3), 2004 (1), 2004 (2), 2005, 2006 (1), 2006(2), 2006 (3) 2006 (4), 2007 (1), 2007 (2), 2007 (3) and 2007 (4), 2008 (4), 2009: Friday, Saturday and Sunday, 2011: Stanley Long | Joe Dunton | Claire Bloom | Reception | Friday | Saturday | Sunday | Monday. 2012: Reception | Friday | Saturday | Sunday | Monday, Ramine Seaman