CINERAMA REMASTER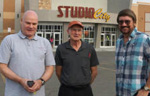 Cinerama's 65th Anniversary Event at the Cooper in Casper
By Strohmaier, Gitsch and March
Casper's Cooper Auditorium has hosted a special Cinerama Weekend over three days to celebrate the 65th anniversary of Cinerama in the heart of Wyoming's famed Cowboy Country. The Cooper proved the perfect venue for the event. Wyoming Theater's owner Randy Pryde has built this special auditorium at his Studio City Mesa West theater complex as an homage to the glorious Cooper Theater.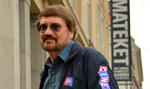 Cinerama, Dave Strohmaier and the "We have all seen it as a kid" thing
By Thomas Hauerslev
We went to see "Seven Wonders of the World" in 1957, It was an interesting and very unique movie experience, because because seeing that in the widescreen format was kind of mind boggling. That is probably why Cinerama lasted so long, because it was so different. Not only did it create a wide screen in the cinema, but it was different on its own right, and people felt they were moving with the theatre.
• Go to Copenhagen Gallery: 2015_Cinerama Festival Tour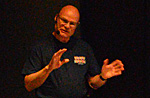 Interview with producer Randy Gitsch
By Thomas hauerslev
Cinerama has not played here in years. Many, many years, and you can now get a clue as to the excitement of the live experience, seeing it in a real theatre on a big screen, and enjoy that experience. It is very theatrical. There is a lot of Showmanship in Cinerama and this is a chance to go back to a theatre and learn about what that was like.

• Go to Copenhagen Gallery: 2015_Cinerama Festival Tour
Re-constructing "The Best of Cinerama". And a new restoration of "This is Cinerama"
By Dave Strohmaier
This title that was created with select clips from all the shows, except "Windjammer". The postproduction process was performed at the Forum Theater in Los Angeles and was a bit unusual. The Cinerama editors assembled the work picture in a few months using old existing prints of the five travelogues, then cleaned and rejuvenated at Pix Fix. That's why no negatives were ever located for "Best of" in the vaults.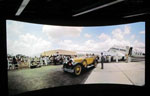 The 2015 European Cinerama Festival Tour in Oslo
By Anders M Olsson
I've seen these films many times, but only on deeply curved screens, and on my own smallish TV. Never before had I seen them on a large flat screen. When seated at least halfway back into the cinema, the smilebox process made the illusion of a curved screen complete. If I hadn't known better, I could have sworn that I was actually sitting in front of a curved screen.

• Go to Gallery: Cinerama Remaster, Oslo, Norway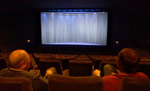 Smilebox® Wows On Curved Or Flat Screens
By Randy Gitsch
In Karlsruhe's Schauburg Cinerama Theater, where the screen is curved 120 degrees, Smilebox® had viewers recalling seeing analog Cinerama in Berlin, when it first premiered there, in 3-strip projection, in 1959.

• Go to Picture Highlights from the 2015 European Cinerama Festival Tour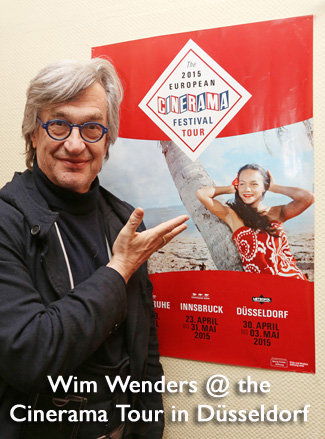 • Go to The 2015 European Cinerama Festival Tour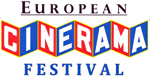 The 2015 European Cinerama Festival Tour
Randy Gitsch has announced that Dave Strohmaier and he have been invited to present a slate of motion pictures they've digitally re-mastered, in a traveling film festival in four cities in Germany, Austria and Norway. Each venue will program from a roster of available titles, including features and short-subjects originally from 3-panel and 70mm. THE 2015 EUROPEAN CINERAMA FESTIVAL TOUR, as it is now called, will kick off on April 18 with multiple screenings at the Schauburg Cinerama in Karlsruhe, Germany.
Cinerama Remaster Credits
By Randy Gitsch
The entire library of 3-strip Cinerama and Cinemiracle productions are being Remastered for theatrical showings. These credits are technically complete for the moment, however may be added to, in case of the last two travelogues (7WW & SFP), which are being worked on now.
---
CINERAMA IN VENICE 2013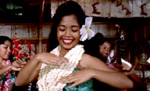 Cinerama Goes to Venice - Sensational Festival Screening
By Randy Gitsch
The Venice International Film Festival has now finalized the schedule for its 69th edition, and we wanted you to be the first to know when and where you'll get to see digital Cinerama within it.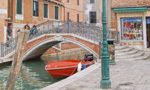 Cinerama South Seas Adventure in Venice
By Randy Gitsch
On Sept. 2, Dave Strohmaier, Tom March and myself left Los Angeles headed for the 69th edition of the progenitor of all film festivals, the Venice International Film Festival in, where else, Venice, Italy.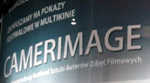 Cinerama at The Camerimage Film Festival
By Strohmaier & March
The International Film Festival of the Art of Cinematography CAMERIMAGE is the greatest and most recognized festival dedicated to the art of cinematography and its creators. Travelling this day were Dave Strohmaier, Douglas Knapp SOC, Rebecca Olkowski and Tom March. Dave and Doug were invited to give two presentations that were moderated by Jon D. Witmer, associate editor of the American Cinematographer magazine.
New Cinerama Restorations at Widescreen Weekend 2014
By Dave Strohmaier & Tom March
Dave Strohmaier and Randy Gitsch returned to Widescreen Weekend for their eighth appearance bringing along two new Cinerama restorations, "Seven Wonders of the World" and "Search for Paradise" which were digitally scanned at Image Trends in Austin, Texas. Here are some "Cinerama Highlights" from this year's Widescreen Weekend.
Cinerama Color recovery examples
By Dave Strohmaier
Where we had several areas of missing negatives in "Seven Wonders", "South Seas Adventure" as well as the next title "Search for Paradise" we were able to go to the Library of Congress original deposit Eastman color prints stored there since the mid 1950s and scan these areas off of the faded prints.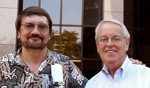 Scanning Cinerama Films
By Tom March
Now that the digital scanning of the negatives has begun, Dave Strohmaier and I were invited to the Image Trends Lab to observe the progress of the restoration work.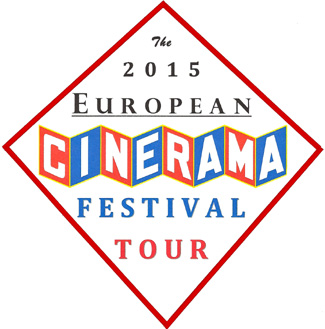 • Go to The 2015 European Cinerama Festival Tour
---
Historic Big Screen Films Get Major Digital Makeover
The complete catalog of Cinerama's 3-panel travelogue epics will be remastered in high definition for limited theatrical screenings at any digital venue and a home video release will follow.
---
CINERAMA's 70mm LIBRARY REMASTERED
Cinerama 70mm short subject remastering work completed
By Dave Strohmaier
The 6-track magnetic prints were certainly faded to the usual Eastman color magenta, and we realized that at some point we should do a digital makeover to protect the assets. Tom March and I went to the vaults last January to pull the titles and examine them for overall condition. We could see that the fading was even more severe that when the prints were shown a few years back. Since no negatives were ever located we would have to relay on color recovery techniques to try to rebuild back as much color as possible.
"Fortress of Peace" 70MM Remastering In 2K Digital
By Dave Strohmaier
I took both existing 70mm prints from the vaults down to Todd-AO in Hollywood for a digital transfer from the original 6 channel magnetic striped print. We brought both 70mm prints to make sure to check that at least one of them would have a usable track. A few days later I got a call from the guys at Todd AO transfer room and they said the sound on the prints was fine and the new digital track was ready for pick up.
Cinerama Inc. Scans 70mm
By Dave Strohmaier
Inspired by the scanning and remastering of "Windjammer" and their library of Cinerama films, Cinerama Inc. decided to go ahead and see what could be done about three "lost" 70mm films in their vault.
Cinerama Inc. Scans "Holiday In Spain"
By Dave Strohmaier
Inspired by the scanning and remastering of "Windjammer" and their library of Cinerama films, Cinerama Inc. decided to go ahead and see what could be done with Mike Todd Jr.'s "lost" 70mm film
"The Golden Head" and "Russian Adventure" Update
By Dave Strohmaier
We are almost done with the 2K "The Golden Head" and "Cinerama's Russian Adventure" remastering and they look pretty darn good.
Lost Orphaned Films Abandoned in Basement
By Dave Strohmaier
The problem was the building was to be used one last time for a charity art exhibit and the artist were given the film to use. They had planned to spray paint the reels of film with florescent color for a large mobile to hang from the ceiling.
"Holiday In Spain" released on Blu-Ray
Redwind Productions Inc., in association with Cinerama Inc, is proud to present for the very first time – the lost and now re-mastered 70mm treat, filmed entirely in Spain…Originally titled "Scent of Mystery" and presented in "Smell-O-Vision", this unique and magical adventure, follows a mystery novelist, played by Denholm Elliott, who discovers a plan to murder an American heiress, played by Beverly Bentley, while on vacation in Spain.

• Go to Mike Todd Jr.'s "Scent of Mystery" in Smell-O-Vision
---
CINERAMA REMASTER PRODUCERS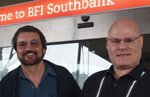 Dave Strohmaier and Randy Gitsch - in conversation with Mark Lyndon
Cinerama's future might evolve into a name on more than just a couple of theaters; Cinerama could come to mean a curved screen presentation; a noticeable distinct curved screen, perhaps not 146 degrees, but certainly more than a marginal curved screen.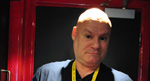 Randy Gitsch (USA)
In 1990, he became one of the founding members of the Association of Moving Image Archivists and in 1999, he produced the critically acclaimed documentary on film preservation and restoration, "Keepers of the Frame"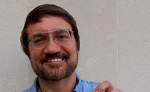 Dave Strohmaier (USA)
By Thomas Hauerslev
This man works in Hollywood, where he sometimes presides over film presentations at the local "three-strip" cinema.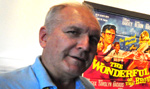 Tom March (Canada)
By Bill Lawrence
Tom March has made an outstanding contribution to bringing life back to the finest of widescreen formats that we all love.
---

• Go to The Cinerama page
CINERAMA REMASTERS ON BLU-RAY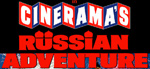 Cinerama Impressions From The Dome
By David Granadino
The crowd in the Dome on both nights were enthusiastic and surrounded the Cinerama master himself, Dave Strohmaier, during the intermission and after the presentations! I noticed that the crowd for THE BEST OF CINERAMA had more young people in attendance than the night before which made me hopeful that these young people will love Cinerama as much as we "older" ones.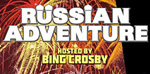 Flicker Alley presents "The Best Of Cinerama" And "Cinerama's Russian Adventure"
By Flicker Alley, Press
Flicker Alley, in association with Cinerama Inc., adds two newly-restored, Blu-ray/DVD premieres to its popular Cinerama collection: The Best of Cinerama and Cinerama's Russian Adventure. Release Date: November 15, 2016. Flicker Alley and Cinerama Inc. invite you once more to celebrate the thrilling spectacle of Cinerama with two exciting releases - The Best of Cinerama and Cinerama's Russian Adventure – both featuring new restorations of some of the most fantastic footage in Cinerama history.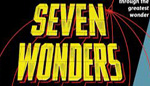 Flicker Alley presents "Seven Wonders of the World" and "Search for Paradise"
Flicker Alley, in association with Cinerama, Inc., releases two historic gems - Seven Wonders of the World and Search for Paradise - presented in brand new, beautifully restored editions. Release Date: November 11, 2014. Flicker Alley and Cinerama, Inc. invite you to celebrate the rich spectacles of Cinerama's Seven Wonders of the World and Search for Paradise, both newly restored and never before seen on home video. Both Deluxe Blu-ray/DVD Combo Editions are available for pre-order on the Flicker Alley website.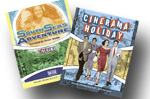 Flicker Alley presents CINERAMA HOLIDAY and SOUTH SEAS ADVENTURE
Flicker Alley and Cinerama Inc. are pleased to announce the home video digital premieres of "Cinerama Holiday" (1955) and "South Seas Adventure" (1958). Both films will be released in Deluxe Combo Blu-ray/DVD editions in conjunction with the 50th Anniversary of Pacific Theatres' historic Cinerama Dome in Hollywood, California. These two widescreen treasures will be presented in the "Smilebox" curved screen simulation
"Windjammer" and "This is Cinerama" released Blu-ray and DVD
By Flicker Alley
Now digitally remastered, the color, the music, the true artistry of these classics are reborn. Release date is medio September 2012, in conjunction with Cinerama's Official 60th Anniversary.
---
"WINDJAMMER" REMASTERED
"Windjammer" Press Release
By Strohmaier & Hauerslev
Since summer 2009, David Strohmaier, and John Sittig have spent considerable time to find the best elements of "Windjammer" for DVD and Blu-ray release.
"Windjammer" Returns to Hamburg
By Thomas Hauerslev
For the first time in nearly 50 years, "Windjammer", a Cinemiracle Adventure, is back in Hamburg at the Metropolis Cinema
The movie miracle in Aalborg
By Lars Borberg
The biggest movie in the world will now be shown in one of the world's smaller theatres: The Biffen, at Nordkraft in Aalborg.
WINDJAMMER sails again!
By Rick Mitchell
"Windjammer" sailed across the screen of the Cinerama Dome, 58 years after it first sailed across the screen of the Chinese Theater
Oslo's Red Carpet Widescreen Event
By Randy Gitsch
"Windjammer: The Voyage of the Christian Radich" returned to Oslo by storm last week, resulting in capacity audiences and many pleased patrons.

• Go to Louis de Rochemont's "Windjammer" in Cinemiracle
---
CINERAMA REMASTERS ON CD
Remastering the soundtrack of "The Best Of Cinerama"
By Robert Weisgerber
Sepia Records and I have started the editing process for a CD release of "The Best Of Cinerama." What makes this different than the other Sepia Cinerama CD's is that the source elements are 35mm 7-track full coats of the production. The full coats are a mixture of the only surviving Cinerama 7-track audio of Act I, with narration and Act II, the music and effects without narration
CINERAMA HOLIDAY CD Soundtrack
First time on CD is the original movie sound track to the 1955 released "Cinerama Holiday" re-mixed from the movie audio tapes combined with music from the studio recording issued on the LP, making this Morton Gould score release as complete as possible for sound track buffs.
Cinerama's Search For Paradise CD Soundtrack
The sound track to the 1957 SEARCH FOR PARADISE was only issued in Mono on vinyl but this CD release has been mixed from the original movie sound track in stereo. Composed by Dimitri Tiomkin and with him conducting the Cinerama Symphony Orchestra, the score sounds glorious. Opera star Robert Merrill sings on the solo numbers on the sound track and also on the pop versions.
"Windjammer" Remastered Soundtrack
Sepia records has remastered the soundtrack from the original tapes in stereo and together with the studio LP are releasing the complete "Windjammer" music on 2CDs. It took a lot of hard work by Audio Mechanics in LA to get the somewhat warped 1/4" tapes to properly play back but they did it! The tapes were originally recorded for a sound track album but then when Columbia Records committed to a LP version that was it.
---

• Go to Re-constructing "The Best of Cinerama". And a new restoration of "This is Cinerama" from o-negs