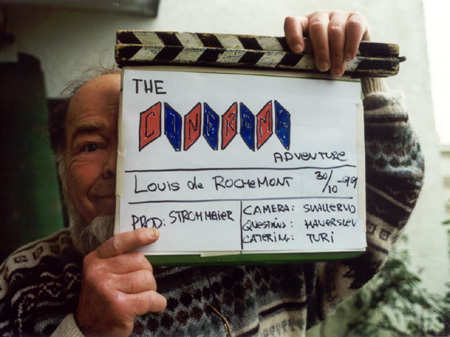 Louis de Rochemont in Oslo October 30, 1999 during production of "Cinerama Adventure". Picture by Thomas Hauerslev

Several years ago, I was asked by Thomas Hauerslev to provide a taped copy of a Cinerama soundtrack for Louis.

Then, at the now fondly remembered "Cinerama Holiday" reunion weekend in late April 1997 in Dayton, Ohio, I met Louis for the first time. I recall that he instantly knew it was me who had provided the tape as he exclaimed "Ah! you're David Page!" whilst throwing his arms around me in a warm gesture of friendship.

It was with that image in my mind, as the March 1998 Bradford Widescreen weekend approached and I learned that "Windjammer" in 3-strip was to be shown for only the second or third time. I had a plan to ask Louis to be my guest and see again his film in its original format that so many of us had thought was lost forever. Bill Lawrence, festival organizer and Head of Cinema at Bradford, agreed and so I made contact with Louis to find out if he would be interested.

I was delighted to find that Louis was 'overwhelmed' to be asked. So it came to be that we both met again at Heathrow airport and drove together to Bradford. A huge bonus was the fact that Louis had persuaded Ivan Jacobson and his wife to come along too. Ivan was one of the production staff on board the Christian Radich during the voyage. Indeed, Ivan has a small part in the film, distributing tobacco to the young sailors!

Before the screening that weekend, both Louis and Ivan were 'wired for sound' and given an opportunity to briefly recount their experiences. One of my most vivid memories - apart from the film, of course! - was the tremendous ovation that was given to both of them by the near capacity audience both after their introductions and when the film had finished. It was warm; it was sustained; it was well deserved.

For those couple of days, food and film were interspersed with stories, conversation, autographs and photographs. Louis was kind enough to inscribe a "Windjammer" poster for me with the words...'To David Page who has become part of the cruise'. A treasured memory indeed.

Then, at the end of the weekend, I drove Louis back to Heathrow where, at the departure gate, we bade farewell. As he went through the gate, with a tear in his eye, he turned, waved and returned home.

At that time I was unaware of course that Louis and I were to meet again. However, The Royal in Malmo celebrated its 40th anniversary in March 2001 with - among other things - a screening of a 35mm Cinemascope print of "Windjammer". I flew over for the event and was so pleased to meet up with him again. Once more he spoke before the film. Once again he said how pleased he was to have the opportunity to see his film at the Royal. In his words, "not many Directors get to see their films over forty years on".

I look forward to seeing Dave Strohmaiers documentary "The Cinerama Adventure" and to Louis' interview and contribution. I know Louis was keen to be a part of it. I hope I played a small part in making it happen.

Whenever and wherever "Windjammer" and "Cinerama Holiday" are shown, Louis will be fondly remembered. God bless, Louis.

Further in 70mm reading:

Sven Libaek's Autobiography - Chapter 3 "WINDJAMMER"

"Windjammer" in Cinemiracle

"Windjammer"

Royal

The Danes And The Windjammers

The Return of "Windjammer" Update by August 1996

"Windjammer" in Denmark

Is Windjammer the Queen of Kitsch?

Internet link:


It is with great sadness I have to report that producer-director Mr. Louis de Rochemont III (Born 14.12.1930 in New York) has passed away on July 11, 2001 following complications from diabetes. He was 70. Turi, his second wife, survives him. They lived in a little village just south of Oslo in Norway.


Louis de Rochemont, Ivan Jacobsen and wife in Bradford in 1999. Picture by Thomas Hauerslev

I had the pleasure of meeting Louis de Rochemont in 1995 during a visit to Oslo. It was my first meeting with a "wide screen celebrity" and I was very excited. I had prepared some questions about two Todd-AO short films he made in the 1950s. His memory was initially quite rusty, however; while talking about the subject and seeing the frame blow-ups I had, his memory came back. He charmed all of us that evening with his enthusiasm and stories of the past.

Louis and I kept bumping into each other in 4 different countries in the following years. I met him in 1997 in Dayton (OH) for the "Cinerama Holiday" reunion. In 1999 in Bradford (England) he was guest of honor during the Wide Screen Weekend, and later that fall in Oslo I interviewed him for "The Cinerama Adventure". Our final meeting was in March 2001 for the 40th anniversary of the Royal cinema in Malmų, Sweden. Both Louis and Turi came down from Oslo to introduce "Windjammer" which was shown that evening. He gave a short and moving speech before the film. He felt very privileged and told the audience how rare it is for a filmmaker to see his film again after 40 years.

In Bradford he sat in the first row and saw "Windjammer" in its original full 3-strip Cinemiracle and I'm sure I saw a tear in his eye when the film was over.

I like to think that Louis enjoyed giving autographs, reminiscing with his audience and the renewed popularity of his long-forgotten films. To many people in the wide screen community, he became a friend and was simply known as "Louis". He was a very sweet man and shall be missed.

Louis' large format credits include: "Cinerama Holiday", "Windjammer", "The Miracle of Todd-AO" and "The March of Todd-AO".