CINEMIRACLE NEWS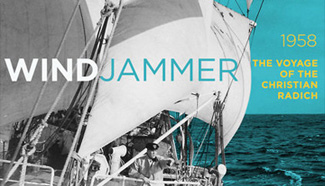 • Go to "WINDJAMMER" at the Cinerama Dome, April 28, 2018

• Go to Windjammer 60 år på Colosseum kino, Oslo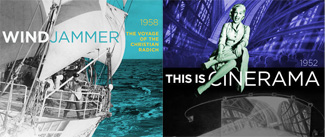 • Go to Flicker Alley presents "This is Cinerama" and "Windjammer: The Voyage of the Christian Radich" 2017 Authorized Restorations
• Go to 2018 European Cinema Cinerama Engagements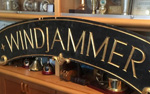 Windjammer mystery sign
By Jan E Olsen
This sign was found in a scrap container last year, probably after cleaning out an old house. It was given to the Christian Radich Foundation, the charity that runs the school ship famous from the movie Windjammer. Does any body know where this sign was used?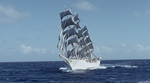 "WINDJAMMER" to set sail soon in a new digital version
By Randy Gitsch
"WINDJAMMER: THE VOYAGE OF THE CHRISTIAN RADICH" to set sail soon in a new digital version. Widescreen film fans around the world will be thrilled to hear that a new, sharper, clearer version of the 1958 three-panel picture has now been created by the Cinerama Restoration Team. Its theatrical rollout is now nearing its kick-off and will lead to a new Blu-ray launch next spring.
Sales Manual For Louis De Rochemont's Windjammer
A film for all people of all ages, WINDJAMMER is a self-selling commodity; as evidenced by the record breaking grosses. It is a high level production, an entertainment, and, as such must be handled with special care. This is why WINDJAMMER has been and will be presented just like a Broadway show, on a hard ticket basis.
Installation and Operating Procedures
By R. H. McCullough
Cinemiracle uses a triple camera, using three 35 millimeter negatives. This results in the filming of a scene under a triple angle. Such a method gives, in principle, a vision in wide angle in the projection system, similar to that which one has in real life. Cinemiracle is a system of photography and projection developed by National Theatres Amusement Company and first used by Louis de Rochemont in the production of "Windjammer".

• Go to Operating Information for Handling Film
• Go to Projection Operating Procedure
Cinemiracle Theatre Survey
By R. H. McCullough
Attached is a list of 205 theatres in the United States which have been surveyed for Cinemiracle. Out of this number of houses 102 are suitable for the Cinemiracle process. There are several things to be considered in selecting a theatre for Cinemiracle. The theatre must be in good condition. Sometimes a small house with a large screen will be a great success. Huge houses with a large seating capacity and heavy overhead should be avoided.

• Go to Full Cinemiracle Curved Screen Presentation
• Go to Cinemiracle Flat Screen Presentation
• Go to Cinemiracle Trailer Unit
---
REMASTERING "WINDJAMMER"
---
REMASTERED "WINDJAMMER" TRAILER
---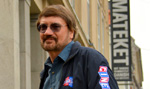 Cinerama, Dave Strohmaier and the "We have all seen it as a kid" thing
By Thomas Hauerslev
We went to see "Seven Wonders of the World" in 1957, It was an interesting and very unique movie experience, because because seeing that in the widescreen format was kind of mind boggling. That is probably why Cinerama lasted so long, because it was so different. Not only did it create a wide screen in the cinema, but it was different on its own right, and people felt they were moving with the theatre.
• Go to Copenhagen Gallery: 2015_Cinerama Festival Tour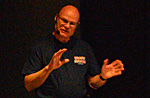 Interview with producer Randy Gitsch
By Thomas hauerslev
Cinerama has not played here in years. Many, many years, and you can now get a clue as to the excitement of the live experience, seeing it in a real theatre on a big screen, and enjoy that experience. It is very theatrical. There is a lot of Showmanship in Cinerama and this is a chance to go back to a theatre and learn about what that was like.

• Go to Copenhagen Gallery: 2015_Cinerama Festival Tour
On the Trail of "Windjammer" - A Visit to Oslo
By Thomas Hauerslev
I left Copenhagen by train bound for Oslo, the beautiful capital of Norway. The goal of the journey was an interview with the director of "Windjammer", Mr Louis de Rochemont III.
"Windjammer" Remastered Soundtrack
Sepia records has remastered the soundtrack from the original tapes in stereo and together with the studio LP are releasing the complete "Windjammer" music on 2CDs. It took a lot of hard work by Audio Mechanics in LA to get the somewhat warped 1/4" tapes to properly play back but they did it! The tapes were originally recorded for a sound track album but then when Columbia Records committed to a LP version that was it.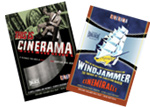 "Windjammer" is released Blu-ray and DVD
By Flicker Alley
Now digitally remastered, the color, the music, the true artistry of this classic is reborn. Release date is medio September 2012.

• Go to Cinerama
"Windjammer" Returns to Hamburg
By Thomas Hauerslev
For the first time in nearly 50 years, "Windjammer", a Cinemiracle Adventure, is back in Hamburg at the Metropolis Cinema
Windjammer Recollections and Laments
By Stephen Winship
When we finally were able to enter the theater's auditorium, my first impression was one of overwhelming awe.
WINDJAMMER sails again!
By Rick Mitchell
"Windjammer" sailed across the screen of the Cinerama Dome, 58 years after it first sailed across the screen of the Chinese Theater
Movie Star Visits Copenhagen
By Thomas Hauerslev
Cinemiracle star S/S Christian Radich visits Copenhagen. See the images from a visit on the deck of the magnificent ship.
---
VINTAGE CINEMIRACLE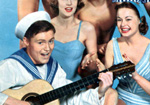 My "Windjammer" Story
By Sven Libaek
The world premiere was a typical Hollywood event, and there we were, three young Norwegian boys, who a year earlier could only have dreamt about attending such a spectacle.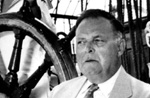 Working for Louis deRochemont
By Borden Mace
Riding back to Manhattan alone with a captive David Lean in a thirty minute taxi ride, I had questions of a lifetime to ask him. I never got to ask one. He was so excited and had so many questions he wanted answers to.
The Danes And The Windjammers
By Borden Mace
I tried to convince Captain Hansen to sail the S/S Danmark, to be the "star" of our scheduled second wide screen spectacular following "Cinerama Holiday"
On the Trail of "Windjammer" - A Visit to Oslo
By Thomas Hauerslev
I left Denmark by train bound for Norway to interview the director of "Windjammer", Louis de Rochemont III.
Is "Windjammer" the Queen of Kitsch?
By Fans at the Widescreen Weekend
It is a grand movie! As a colleague of mine in London told me. It must be the queen of kitsch. But it was an incredible experience to see "Windjammer", the film all Norwegians have talked about since the original release in 1958.
"Windjammer" Press Release
By Strohmaier & Hauerslev
Since summer 2009, David Strohmaier, and John Sittig have spent considerable time to find the best elements of "Windjammer" for DVD and Blu-ray release. More: Telecine, Danish Locations, Sweden saves the day & Contact
Oslo's Red Carpet Widescreen Event
By Randy Gitsch
"Windjammer: The Voyage of the Christian Radich" returned to Oslo by storm last week, resulting in capacity audiences and many pleased patrons.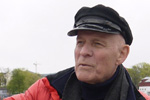 Sold Out "Windjammer"
By Randy Gitch
After 22 days on marquees and movie screens, the 2015 European Cinerama Festival Tour has closed its' last show in Oslo, Norway with a sold-out presentation of "Windjammer: The Voyage of the Christian Radich" at the Norwegian Film Institute's Cinemateket. The film is a Norwegian favorite.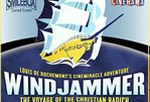 "Windjammer" Stopping Soon In Two German Ports
By Randy Gitsch
"Windjammer" is shown on two screenings on successive nights as open-air events at the European Hansemuseum in Lubeck's Old City, on Nov. 2 & 3. These unique presentations will be in the museum's harbor front plaza where the film will be projected onto three obelisks encircling the this one-time prison yard, as a part of the 58th Nordic Film Days Lubeck event.

• Go to Louis de Rochemont's "Windjammer" in Cinemiracle

• Go to Cinerama Remaster

• Go to The Cinerama page
---
CINEMIRACLE PEOPLE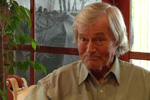 Composer Sven-Erik Libaek interviewed
By Hauerslev / Strohmaier
Sven talks about the "Windjammer" music group that he and the other guys were in, and much, much more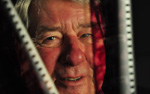 "Windjammer" Cast & Crew Interviews in Oslo
By Thomas Hauerslev
A small team, two Norwegians and a Dane, met with some of the cast and crew from the Cinemiracle adventure "Windjammer" to talk about the history
Lasse Kolstad passed away
By Kaare Terland
Four days after his ninetieth birthday Lasse Kolstad passed away. He was one of the main actors in Norway and mastered all disciplines from classics to musicals.
Alf R. Bjercke passed away
By Kaare Terland
In the mid-fifties he co-chaired on the Board of The Christian Radich Foundation in Oslo. In that position he became instrumental in the negotiation with Louis de Rochemont II in using the S/S Christian Radich as the windjammer in the Cinemiracle production
"Windjammer" cast and credits
Producer: Louis de Rochemont. Directors: Louis de Rochemont III and Bill Colleran. Directors of photography: Gayne Rescher, A.S.C. and Joseph Brun. Film editor: Peter Ratkevich. Music: Morton Gould. Director of sound: Richard J. Pietschmann, Jr.

Film: Eastman Kodak Company. Color by: Dubray-Howell. Recorded in: RCA Stereo Hi-Fi 7-track Cinemiracle sound. Running time: 142 minutes including overture, intermission and exit music
---
CINEMIRACLE CINEMAS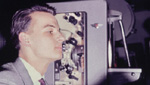 "Windjammer" at the Tonhallen
By Thomas David Boehm
A former friend of mine, Arno Buchholtz, who died many years ago, was a projectionist at the Tonhalle. There he took some slides which show the projection room with the Cinermiracle-setup.
German "Windjammer" souvenir program
6 pages from the Schauburg archive - from a showing in Bad Godesberg 16. October 1965
Premiere of "Windjammer" at the Empire in Paris
By Gerhard Witte
The very successful Cinemiracle movie "Windjammer" had its World Premiere at Grauman´s Chinese Theatre in Hollywood on Tuesday, April 8, 1958. In France, in Paris, "Windjammer" opened relatively late at the Empire-Cinérama-Théâtre Abel Gance on Monday, February 5, 1962.
Vinterpalatset A Story of Magnificence, Proud and Mourned
By Peter Andren
This is the story of one of the greatest cinemas in Sweden. It was called "Vinterpalatset" ("The Winterpalace") and was situated in Stockholm, the lovely capital of Sweden.
"Windjammer" @ the Dome
By Dave Strohmaier
The 1958 roadshow production "Windjammer", will screen at the Cinerama Dome, September 5th, 2010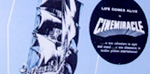 "Windjammer" - Exclusive Danish Re-release
By Biffen & Hauerslev
Biffen is presenting the remastered version of Louis de Rochemont's CineMiracle Adventure "Windjammer" for 4 days in July 2010 and welcoming Carin-Anne and David Strohmaier to Aalborg to introduce the film
The movie miracle in Aalborg
By Lars Borberg
The biggest movie in the world will now be shown in one of the world's smaller theatres: The Biffen, at Nordkraft in Aalborg.
"Windjammer" dialouge
Retyped by Anders M. Olsson
Transcribed from the actual English soundtrack. Translations from Danish and German sources have been used to fill in some sections for which the English soundtrack couldn't be located.
---

• Go to Cinerama Remaster

• Go to Cinerama Archive

• Go to The Cinerama page
---

• Go to Louis de Rochemont's "Windjammer" in Cinemiracle