Cooper was the first major Hollywood producer to embrace the revolutionary new 3-color Technicolor system. He invested heavily in the company and brought with him more millions from fellow entrepreneur Jock Hay Whitney. This excerpt gives a glimpse at the fascinating career of Merian C. Cooper up to 1934. It would seem he'd done enough for a dozen men by then but he would continue to do outlandish and astonishing things for the rest of his life. In his 1957 book, Seven Wonders of the World, Lowell Thomas stated that some day someone would have the vision to produce a motion picture about the life of Merian C. Cooper. Alas, Thomas' prognostication has not yet come to pass, but it would make for a rip roaring film on a scale of the best Edna Ferber novel.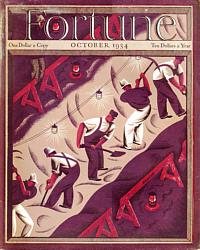 Excerpt from October, 1934 Fortune article on the new
3-color Technicolor.
---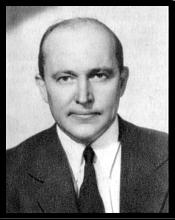 BUT although picture producers admitted that they had been wrong about color in cartoons they were still sure they were right about color in features. (Producers had felt that color in both cartoons and feature pictures would not be of lasting interest to the film going public. Disney proved them wrong when it came to cartoons.) At this point, however, Technicolor received unexpected help from two outside sources -- Merian Caldwell Cooper and John Hay (Jock) Whitney. One is an expert cinema director, producer, executive; the other is commonly credited with the possession of $100,000,000; both are enthusiastic about the possibilities of the color picture.



Although his former position as production head of' RKO-Radio Pictures makes Mr. Cooper one of' Hollywood's important figures, his career has been very different front that of the usual picture executive. He has been more familiar with bullet holes than with buttonholes, having served in the U. S. aviation forces during the War and having organized the Kosciusko Squadron to fight for Poland in post-War troubles along the Polish-Russian border. He was captured by the Germans after a battle in which Cooper's squadron of seven planes (led by Sidney Howard) was attacked by twenty German ships. He was also shot down in the Russian fighting and might have been executed by the Bolsheviks who did not at all approve of his flying Foreign Legion, except that he was fortunately mistaken for somebody else against whom the Russians had no special grudge. With Europe peaceful, Cooper returned to this country, wrote for the New York Times, heard of an expedition bound for the Dutch East Indies and Abyssinia ,joined it. It was on this expedition that he saw his first pictures made and met traveler Ernest Schoedsack, with whom he later teamed up in the making of Grass -- a picture showing the migratory habits of' the Bakhtiari tribe of northeastern Persia.

Grass was only a travel picture, minus plot, sex, and leading roles, but Paramount's Jesse Lasky took a chance with it and registered a considerable sensation plus a small profit. Then Paramount financed Cooper in the production of Chang -- the famed elephant picture which is still remembered among the many animal films. At Paramount he met David Selznick, and when Selznick became Radio-Keith-Orpheum's production head, Cooper joined him as his assistant. When Selznick then went to Metro-Goldwyn-Mayer, Cooper offered to go along with him preferring a job with Selznick to being boss at RKO. But Selznick persuaded him to stay with the Radio Corp.'s unhappy child and there he has done an excellent job and also has made a rumored $500,000 a year, what with a percentage of the picture gross added to his salary. Then came a nervous breakdown, a leave of absence, and a contract to make two more RKO pictures.



This new hero of Technicolor invariably wears gray flannel pants, brown tweed coat, black tie, and carries a pipe and a tin of Prince Albert tobacco. He has dozens of' duplicates of the pants-coat-tie-pipe-and-tobacco combinations. Whenever he puts down a pipe he is likely to leave it behind, so he may run through a half-dozen pipes a day. He likes fried chicken, southern style (he comes from Jacksonville, Florida), and used to like mint juleps. But he has not done any drinking since he started King Kong -- the spectacle-melodrama in which the mechanical ape carried Fay Wray all over the jungle island. He never drank from the time he started a picture to the time it was finished; not from any fear of being unable to function properly but because he had a superstition that liquor would jinx the job. And King Kong took so long to finish that Mr. Cooper apparently got out of the drinking habit and has not yet got back.



Mr. Cooper is filled with energy and inexhaustible vitality. He frequently greets a girl by picking her up in his arms and giving her an airplane spin. He has his own chart system for playing the stock market, and is supposed to do very well with it. In 1933 he married cinemactress Dorothy Jordan, whom he calls Chicken. Last spring they went to Hawaii where Mrs. Cooper had a baby girl. The Coopers have just returned from Europe, where Mr. Cooper was looking over the ruins of Pompeii with the idea of Technicoloring its Last Days. After he has finished his two pictures for RKO, he should then be free to make Technicolor features for Pioneer Pictures, Inc.
WEBMASTER'S NOTE:
Pioneer Pictures, Inc. was formed by the Whitneys and Cooper to produce movies in the then new 3-color Technicolor process. The Last Days of Pompeii, featuring more Willis O'Brien camera magic, wound up being done in black & white, probably due to budget restrictions at RKO.