• Go to Showcase Presentations in Phoenix, USA

• Go to Showcase Presentations in Tucson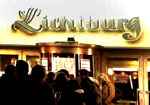 Murder at the "Lichtburg"
By Ulrich Rostek
A film based movie performance is something unique, especially with modern high resolution film stock, especially with 70mm film. A virgin print, no dust, no scratches, an image steadiness like solid rock. The fine film grain is hardly ever noticable and yet it adds something organic to the projected image, breathes life into the moving picture; a phenomenon digital projection is lacking - sadly.
Showcase Presentations in Honolulu
By Claude Ayakawa & Michael Coate
Continuing the "Showcase Presentations in…" series, we now proudly present: Honolulu, Hawaii. A Chronology of Large Format and Roadshow Exhibition, 1957-Present. The Cinerama Theatre was located on the outskirts of downtown Honolulu near the Waikiki district. It was once the Pawaa Theatre, a neighborhood house that was converted in 1962 to a 3-strip Cinerama venue for the Hawaii premiere of "The Wonderful World of the Brothers Grimm" at which time the theatre was renamed the Cinerama.
Showcase Presentations in Chicago
By Michael Coate, Tim O'Neill and Tamir Sharif
The duration of the engagements, measured in weeks, has been included for each entry in parenthesis following the cinema name. Note that some of the presentations included in this listing may have been presented in 35mm during the latter weeks of engagement due to print damage and the distributor's unwillingness to supply a 70mm replacement print or because the booking was moved to a smaller, 35mm-only auditorium within a multiplex.
Showcase Presentations in Philadelphia
By Mike Coate
The "roadshows" have been listed with an asterisk following the applicable titles. These were reserved-seat engagements with advanced pricing and limited, scheduled showtimes (typically ten-per-week or two-a-day). Souvenir programs were usually sold and often the presentations included an overture, intermission, entr'acte, and exit music.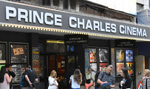 Visiting the Prince Charles Cinema in London's West End
By Thomas Hauerslev
The Prince Charles Cinema have many posters on display on their facade, many of which are of their own design. The tag "Presented in 7OMM 6 Track Dolby Stereo" is prominently placed with BIG letters on the posters. It is very nice to see this kind of showmanship still being used to promote 70mm in London. Take a look at their web site too - search for "70mm", and you can see the same logos and advertising. If you are in London, do check out their web site and go back to memory lane for some 70mm magic.

• Go to the gallery Prince Charles Cinema, London's West End, UK
---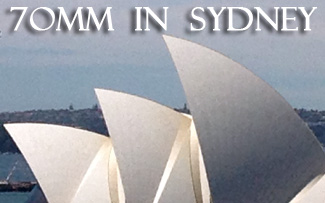 • Go to 70mm Release Summary Sydney

• Go to cinemas: Centre on George Street | Pitt Centre | Hoyts Entertainment Centre | Village Cinema City
• Go to format: CinemaScope 55 | Panavision | Spherical | Super Panavision 70 | Super Technirama 70 | Todd-AO | Ultra Panavision 70 | VistaVision

70MM FILM AND CINEMAS IN...
Australia | Canada | Chicago | China | Denmark | Imax in Denmark | Danish 70mm Cinemas | Detroit | France | India | London | Los Angeles | Los Angeles 70mm Cinemas | Mexico City | New York City | New York | Phoenix | Norway | Salt Lake City | San Diego | San Francisco | Sweden | Sydney | Turkey | "Twin Cities" | Amsterdam |
---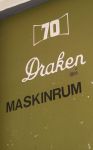 Pictureville | Schauburg | Imperial Bio | Rivoli | Cinedome | Radio City Music Hall | Syosset | Empire Cinerama | Savoy Cinerama | Vinterpalatset | Kinopalæet | Royal |

Saga

| Biffen | ABC Shaftsbury Avenue | Theater aan de Parade | Harbour Lights | MGM Bournemouth | Plaza | Astor | Comoedia | Royal Palast | Kinopalæet | Rialto Cinema Group | City Screen | ABC 1+2 Shaftbury Avenue | The Dome | Arcadia | Spektrum | Indian Hills | MGM Bournemouth | Paramount | | |

• Go to gallery 3 Falke Bio, Denmark
• Go to The First Todd-AO Theatre in Scandinavia
Cinema as it Should Be - 70MM at the Savoy
By Thomas Hauerslev
Why board an international train and go across sea, land and bridges to see 70mm? Well, why not? Especially if you can combine a visit to an original Todd-AO cinema, and see a 70mm film at the same time. It's not a coincidence I chose this cinema for this "Todd-AO Express" mission. The Savoy in Hamburg was the very first purpose built Todd-AO cinema in Europe.
Once Upon A Time In The Rex: 85th Anniversary
By Alain Dorange
The Rex is magic and is here to stay, this giant theatre is a landmark for the movies. The front of this massive building, with its tower 36m high bearing the three red letters 'Rex' can be seen from a fair distance along Les Grands Boulevards of Paris. Legend has it, that the Lumière Brothers said to George Melies in 1895 at the Grand Café, "The Cinematograph has no future. It will last two to three years, no more". How wrong they were.
The 7OMM Engagements
By Mike Coate
The following are lists of the 70mm first-run engagements of a hand full of film titles in North America:

• Showcase Presentations in St. Louis
• Showcase Presentations in Cincinnati
• Showcase Presentations in Louisville
• Showcase Presentations in Chicago
• Showcase Presentations in Minneapolis

• Go to: Showcase Presentations in Nashville

• Go to 70mm Engagements
• Go to in70mm.com's list of films blown up to 7OMM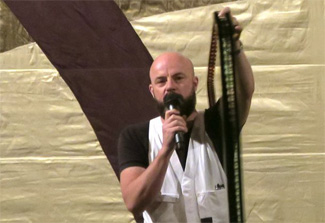 • Go to An exceptional run at the Sun