• Go to 70mm Presentations in Flint, USA

• Go to 70mm Presentations in Fresno

• Go to 70mm Presentations in Hartford
Showcase Presentations in Honolulu
By Claude Ayakawa & Michael Coate
Continuing the "Showcase Presentations in…" series, we now proudly present: Honolulu, Hawaii. A Chronology of Large Format and Roadshow Exhibition, 1957-Present. The Cinerama Theatre was located on the outskirts of downtown Honolulu near the Waikiki district. It was once the Pawaa Theatre, a neighborhood house that was converted in 1962 to a 3-strip Cinerama venue for the Hawaii premiere of "The Wonderful World of the Brothers Grimm" at which time the theatre was renamed the Cinerama.

• Go to 70mm Presentations in Indianapolis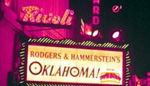 New York City
By Jonathan Kleefield
"Lawrence of Arabia" was a milestone, and I had the privilege of attending this presentation at the Criterion Theatre. The impact that this film made on me was simply staggering and an overpowering experience.
Showcase Presentations in Philadelphia
By Mike Coate
The "roadshows" have been listed with an asterisk following the applicable titles. These were reserved-seat engagements with advanced pricing and limited, scheduled showtimes (typically ten-per-week or two-a-day). Souvenir programs were usually sold and often the presentations included an overture, intermission, entr'acte, and exit music.

• Go to Showcase Presentations in Phoenix, USA

• Go to 70mm Presentations in Richmond
70mm Engagements in Rochester, NY
By Jim Barg
When I moved back to Rochester from London last year, I had the time to research for any information regarding local 70mm engagements, and the results are presented here.

• Go to 70mm Presentations in San Antonio

• Go to 70mm Presentations in Tidewater, USA

• Go to 70mm Presentations in Toledo, USA

• Go to Showcase Presentations in Tucson

• Go to Showcase Presentations Washington, DC

• Go to 70mm Presentations in Wichita, USA

• Go to 70mm-Equipped Drive-In Theaters in North America
---

• Go to 70mm, Cinerama, and Cinemas in Canda
---

• Go to 7OMM and Cinema Across the World



• Go to 70mm Engagements

• Go to 70mm Cinemas in North America