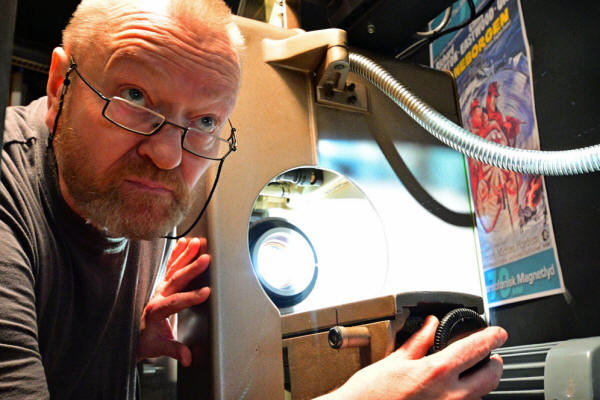 "For me, we are not talking about bigger pictures, but about better pictures. It was almost like chiselled into the wall.
" Per Hauberg running "Dunkirk" in 70mm on DP70 #1473 on Friday 17. June 2022.
Celebrating those big efforts of
Mr Harris and Others
, to bring back to screen some of the greatest moments of film history, please don't forget being just a little critical. In Newsletter No 38, you print, without objection of any kind, the release press-kit words of 20th Century Fox, telling everybody, that this is the
"My Fair Lady"
, as she was meant to be - Just as Columbia and Universal without shame tried to tell us that
"Lawrence of Arabia"
and respectively,
"Spartacus"
was just like then - if not even better.
As we did not buy the one with the Emperor, running around in his bare shirt, paying for a complete new suit, we should not buy this kind of salesman either. I have not seen the re-released
"My Fair Lady"
, but have your own words for, that the (70mm) print
looked grainy
as if it was it blown up from a 35mm release, and the sound is Dolby-like, just as were
"Lawrence of Arabia"
and
"Spartacus"
- that is; all that wonderful mix, really using the 5 front channels for placing the dialogue, where on the screen the actor stands, has been junked, and all dialogue comes from the center channel, totally against the original intentions by making stereophonic sound for wide screens. In re-released "Spartacus", some jerk tried to pan out the sound in selected scenes, but missing the center left and center right channels, the result of this attempt, was even worse than the centre only - dialogue.
Thomas, you have yourself been involved in your first years as a projectionist, and know all about how it should sound. Don't sit there clapping your little hands, whenever somebody gives us a new 70mm print. If the restoration can't give us the films, as we remember them, make them drop the idea! It was so wonderful to see those clear and sharp pictures of
"Lawrence of Arabia"
and
"Spartacus"
, but new audiences had trouble believing that the soundtracks (especially that of "Spartacus") were state of the art - even 30 years ago.
Let's have more 70mm - but the real thing only, please. - and then: Keep up the good work around the Newsletter.
Best wishes
Per Hauberg
Malling Bio
Denmark