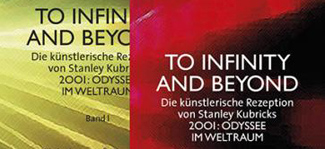 • Go to Book presentation and screening in presence of the author Nils Daniel Peiler

• Go to "2OO1: A Space Odyssey" in Super Panavision 70, Cinerama and 6-track Stereo Sound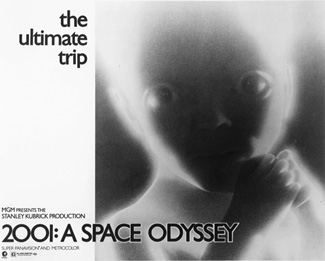 • Go to 70mm Reigns Supreme

• Go to Warner Bros. Pictures Celebrates 50 Years of Stanley Kubrick's "2001: A Space Odyssey"
---

• Go to Stanley Kubrick's Sci-Fi Classic "2001: A Space Odyssey" Coming to IMAX Theatres for the First Time Ever

• Go to The Original Reserved Seat Engagements Of '2001: A Space Odyssey'
• Go to 1968: A Roadshow Odyssey - Release dates
---
2OO1: a space odyssey Campaign
By Donn Reyes, MGM
I found an unbounded enthusiasm for 2001 on the part of local managers and/or agents which is reflected positively and powerfully in the work of their publicity and promotion departments. In my opinion, a large measure of this enthusiasm springs from the fact that the managers/agents and their pub/promo people have never had a picture quite like 2001 to sell before, and as such, 2001 constitutes a definite challenge to them.
Full credits for "2001: A Space Odyssey"
Anthony Frewin, who worked on the film, put together a full list of cast and crew for a special showing of "2001" at the National Film Theatre in London last September 1999.
2001 bit and pieces
"Originally Kubrick wanted to shoot 2001 in the wide-screen format of 1,85. "I said, You've got to make it visceral. If you are going to put people in space there's nothing bigger than 70mm wide screen to do that and Cinerama is even better because it would be curved, and he agreed".
---
DOUGLAS TRUMBULL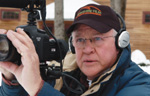 High impact immersive widescreen filmmaking with Douglas Trumbull
Interviewed by Tony Earnshaw
I have discovered that if you embrace digital technology from a new perspective and you say, 'Let's just get rid of all the historical artefacts and beliefs of what an image is or what it should look like and start over and do it all digitally and take advantage of high resolution cameras that are available and that very people use, the high resolutions projectors that are available that very people use and take advantage of the fact that the digital projectors that are in tens of thousands of movie theatres can run at 144fps and no one's using it.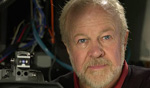 "2001" and Trumbull in London
By Mark Lyndon
Trumbull showed us a tantalisingly brief excerpt of his new "2001" documentary and revealed that Warner was preparing a final cut of "2001"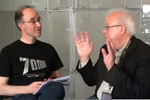 Douglas Trumbull - A Conversation
By Wolfram Hannemann
I'm absolutely confident that the digital image has caught up with film in terms of frame rate, resolution, steadiness, brightness and colour saturation. I've gone totally digital; I'm not interested in film at all.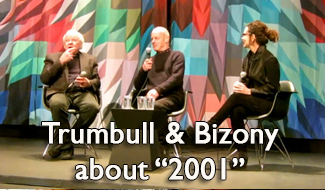 • Go to Douglas Trumbull and Piers Bizony live on stage, attending "2001" Event in New York City
---
---
---
WHEN IT CAME OUT
When I was young and 2001: A SPACE ODYSSEY was released, I recalled the huge number of negative reviews from the press. There were even unprecedented things like critics subsequently changing their reviews because on further viewings they came to appreciate it. I saw it in Cinerama when it came out and to this day it was the greatest cinematic experience of my life. I must have seen it 35 times in the cinema.

Eric Carter, 28.10.2014
2001: A Space Odyssey - The Missing Pieces
By Ken Kunkel
It is strange how the mind works. The older one gets, one can forget what happened yesterday but can remember details from decades ago. When I was a senior in high school, I took my two younger sisters to the Warner Cinerama Theatre in downtown Pittsburgh to see "2001: A Space Odyssey." It was the first week in town.
My 47-year Odyssey with "2OO1"
By Edward Oines
I first saw '2OO1' as a not quite 14 year old in January 1969. It was being shown at the smallest theater in Sioux Falls, SD, and was leaving in 2 days, and I had to convince my mother to let my then 18 year old brother to take me on a school night. My memories were mainly of being struck by how realistic everything looked, when compared to Star Trek. I was hooked
"2001: A SPACE ODYSSEY" Production Information
By Warner Brothers, 2001
"2001: A Space Odyssey" tells the story of astronauts Dave Bowman and Frank Poole, aboard the spaceship Discovery, who are sent on an exploratory mission to a point near the outer reaches of the Solar System. The operation runs smoothly at first but then slowly, inexplicably, things begin to go wrong. The true nature of the mission is called into question and Discovery's highly sophisticated onboard computer, the HAL-9000, appears to be sabotaging the crew he was designed to assist, jeopardizing not only the mission but the lives of everyone onboard.
2OO1: A Space Odyssey Essential Presentation Procedure
By METRO-GOLDWYN-MAYER
The Running time of 2001: A Space Odyssey is 2 hours 20 minutes, plus 10 minutes of OVERTURE, ENTRACTE and EXIT MUSIC. Play OVERTURE music (3 minutes) with full House lights on. Dim House lights towards end of overture - allow for Censor certificate and open full screen on LION TRADE MARK
---
THE PLOT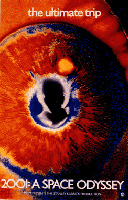 One of the more common reactions to Stanley Kubrick's 2001: A Space Odyssey is "wait, what the hell happened exactly?" In a 1969 interview with Joseph Gelmis, Kubrick explained the plot in a very straightforward manner:


You begin with an artifact left on earth four million years ago by extraterrestrial explorers who observed the behavior of the man-apes of the time and decided to influence their evolutionary progression. Then you have a second artifact buried deep on the lunar surface and programmed to signal word of man's first baby steps into the universe -- a kind of cosmic burglar alarm. And finally there's a third artifact placed in orbit around Jupiter and waiting for the time when man has reached the outer rim of his own solar system.

When the surviving astronaut, Bowman, ultimately reaches Jupiter, this artifact sweeps him into a force field or star gate that hurls him on a journey through inner and outer space and finally transports him to another part of the galaxy, where he's placed in a human zoo approximating a hospital terrestrial environment drawn out of his own dreams and imagination. In a timeless state, his life passes from middle age to senescence to death. He is reborn, an enhanced being, a star child, an angel, a superman, if you like, and returns to earth prepared for the next leap forward of man's evolutionary destiny.

That is what happens on the film's simplest level. Since an encounter with an advanced interstellar intelligence would be incomprehensible within our present earthbound frames of reference, reactions to it will have elements of philosophy and metaphysics that have nothing to do with the bare plot outline itself.
---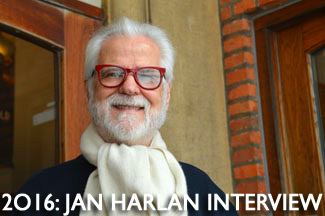 • Go to It's All in the Writing. Jan Harlan in Denmark
---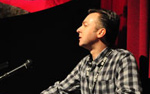 Introduction to 2001: A SPACE ODYSSEY
By Sheldon Hall
A curious thing happened during most shows at most theatres" during the climactic "stargate" sequence, when viewers seated further back in the auditorium would move down to the area in front of the screen "where they would lie flat on their backs in order to experience the episode in the most head-on manner possible"
Stanley and "2001: A Space Odyssey"
By Sir Sydney Samuelson
I think they were all Panavision cameras – it was a very big assignment for us – I would think they had about five cameras. And Panavision's 65mm cameras, they even had a hand-holdable 400 foot loading version – a 65mm camera that went on your shoulder – and they had a kind of a midway camera – by that I mean it was a 1000 foot camera, but it wasn't blimped, so you couldn't use it if you wanted to get sync sound.
Interview with Leon Vitali about "2001: A Space Odyssey"
By Thomas Hauerslev
Stanley Kubrick's "2001: A Space Odyssey" will hit 70mm screens in key markets around the world. The international release of the film begins in selected cinemas in London on March 7th. "2001: A Space Odyssey" will be "previewed" a bit earlier on February 18, 2001 as the closing event at the Berlin Film festival.
How not to project "2001" in 70mm
By Frank Angel
I go back to see if I could find someone, anyone who could address this problem. I am told by the kid sitting outside the projection booth door that THERE IS NO PROJECTIONIST. "The projectionist," he explains to me, "comes in only on Fridays." How wonderful for us.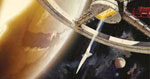 1968: A Roadshow Odyssey
By Mike Coate
"2001: A Space Odyssey" had its world premiere on 2 April 1968 at the Uptown Theatre in Washington, D.C. The critically acclaimed film had what is believed to have been a record number of 70-millimeter wide gauge prints made for a film during the roadshow era.
"2001" Openings
By Mike Coate
Original 1968/69 reserved seat engagements of "2001: A Space Odyssey". Each was a 70mm six-track stereophonic sound presentation, with most having been promoted as a "Cinerama" presentation.
Comments to The Original Reserved Seat Engagements
By Herbert Born
There must a least have been done more than 143 initial 70mm prints, as the enclosed original leader of a German 70mm print from 1968 demonstrates. At this time the lab started counting with Nr. 1. The print itself is the Nr. 11 of the German dubbed sound prints, this may lead to the conclusion, that at least 11 70mm prints have been done for Germany in first run.
---
---
DAISY, DAISY
Daisy, Daisy, give me your answer do.
I'm half crazy all for the love of you.
It won't be a stylish marriage,
I can't afford a carriage.
But you'll look sweet / upon the seat / of a bicycle built for two.
Zero Gravity Toilet Instructions
The toilet is of the standard zero-gravity type. Depending on requirements, System A and/or System B can be used, details of which are clearly marked in the toilet compartment. When operating System A, depress lever and a plastic dalkron eliminator will be dispensed through the slot immediately underneath. When you have fastened the adhesive lip, attach connection marked by the large "X" outlet hose. Twist the silver coloured ring one inch below the connection point until you feel it lock.
There Were Giants in the Land: Stanley Kubrick
By Tony Sloman
If David Lean´s three 70mm epics are but flawed masterpieces, there is no doubt that two of the finest 70mm movies, indeed two of the finest works in all cinema, are "Spartacus" and "2001:A Space Odyssey", both directed by Stanley Kubrick, who passed away in his sleep March 7, 1999 at the relatively early age of 70, having just delivered his last, and inevitably long-gestating and ultra controversial movie, the highly erotic "Eyes Wide Shot".
---

"2OO1" in 7OMM sells out at the ARCADIA
By Francesco Gualeni
The 630 patrons have experienced "2OO1" in a total silence, no mobile screen was turned on, aware that they were seeing not only a masterpiece on the huge ENERGY screen, but a way to shoot & project the movie that is now vanishing. It was good to see a lot of young people, seeing the movie for the very first time.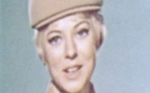 2001italia.blogspot.it
By Simone Odino
Dalle ceneri di un mio vecchio sito, un tentativo un pò naif a cavallo tra gli anni '90 e 2000, questo blog si concentra sugli aspetti più curiosi e meno conosciuti del film, con l'intenzione generale di celebrare il talento di coloro il cui contributo è ignorato o poco conosciuto.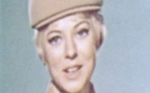 2001italia.blogspot.it
By Simone Odino
Rising from the ashes of my former web site, a naïve attempt made in the late '90s, my blog focuses on curios perspectives about the movie, with the intention to celebrate the craft of the talented people whose contribution to the movie is neglected, forgotten or otherwise limited in general recognition.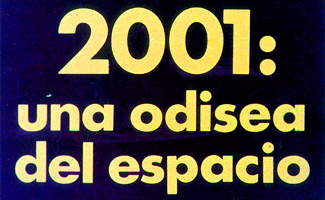 • Go to 2OO1: una odisea del espacio
• Go to Gallery: 2OO1: una odisea del espacio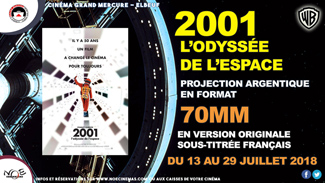 • Go to Le Cinéma Grand Mercure d'Elbeuf, à présenter le film "2OO1: L'ODYSSÉE DE L'ESPACE" en 70mm

• Go to NEUE 70mm Filmkopie von "2001: odyssee im weltraum" in der Schauburg
---
"2001:A Space Odyssey" Yet another soundtrack
By Claus Berthelsen
The HAL monologue montage is a treat, the suite of Ligeti's Requiem, Atmospheres and Adventure is a painstaking musical journey. And the CD as a whole is yet another proof that Kubrick is by far the most daring director in American commercial film. His choice of music is by no means safety first, and it reflects his ability to read and understand the underlying philosophical concept of music, an ability that seems unique if you compare Kubrick's choice of music to the choices made by other American directors of his generation.
"2001" A Concert Article
By Jim Barg
From the beginning notes of Ligeti's Atmospheres to the closing performance of the Blue Danube, their performance made familiar notes come alive and the hairs on the back of your neck stand up.
---
---
---
"Good day, gentlemen. This is a pre-recorded briefing, made prior to your departure and which, for security reasons of the highest importance, has been known on board during the mission only by your H-A-L 9000 computer. Now that you are in Jupiter's space, and the entire crew is revived, it can be told to you. 18 months ago, the first evidence of intelligent life off the Earth was discovered. It was buried 40 feet below the lunar surface, near the crater Tycho. Except for a single, very powerful radio emission aimed at Jupiter, the four million-year old black monolith has remained completely inert, its origin and purpose still a total mystery."