TODD-AO CINEMAS
The First Todd-AO Theatre in Scandinavia
By Thomas Hauerslev
3 Falke Bio is regarded by projectionists and devoteés of 70mm film as the best Danish cinema there ever was. It is sadly missed and vividly remembered as the cinema to watch 70mm and 6 Track Stereophonic Sound.
The Rivoli Theatre
By John Belton
In preparation for the premiere of "Oklahoma!", the Rivoli underwent an extensive, $350,000 renovation, including the installation of a new booth and new 1600 seats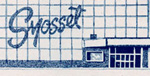 Cinerama and Todd-AO at the Syossett
by Joe Kelley
The screen frame had an adjustable curvature to accommodate the Todd AO specified deep chord depth while permitting 35mm Flat and Scope wide screen formats to form lesser chord depths.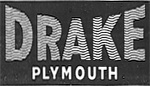 The Drake, Plymouth, England

By Kinematograph Weekly
The aim in designing The Drake was to match up to the conception of the showman's ideal form of presentation. We aimed at nothing less than perfection in public entertainment.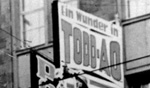 Todd-AO at the Savoy
By Udo Heimansberg
There were not too many 70mm screenings at the Savoy, because Düsseldorf already had six Todd-AO and one Cinerama theatre
---
TODD-AO DISTORTION CORRECTION
Distortion Correcting Printing Process
By Grant Lobban
The process was originally designed to eliminate keystone distortion, distortion resulting from using a deeply curved screen, plus correcting the distortion arising from use of the extremely wide-angle lenses
---

• Go to You are in the Show with Todd-AO
---

• Go to You are in the Show with Todd-AO
TODD-AO FEATURE FILMS

• Go to Fred Zinnemann's "Oklahoma!" in Todd-AO

• Go to "Around the World in 80 Days" in Todd-AO
FotoKem Restores "South Pacific"
FotoKem used its Imagica "Bigfoot" scanner to digitally recapture the faded glory of "South Pacific," the 1958 65mm Todd AO classic. 20th Century Fox tapped FotoKem's Large Format Group for the photochemical preservation and video mastering on the project, taking advantage of the facility's 65mm scanner and its high speed 4K transfer capabilities.

• Todd-AO Film Data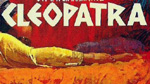 Howard Terpning and Joseph L. Mankiewicz's "Cleopatra"
By Gerhard Witte
A look at the different "Cleopatra" posters and the controversy surrounding the making of the famous poster art. Howard Terpning is a painter and illustrator of our time. He is the most renowned and honored Western artist painting today.
Todd-AO at "Sea"
By Thomas Hauerslev


Ron Fricke was very pleased to know "Baraka" was shown

in a Copenhagen swim bath. It was one of his original ideas to have it shown outside regular cinemas

• Baraka credits
• Baraka - A Visual Journal
---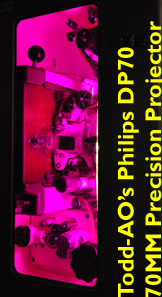 The successful demonstration of the Todd-A.O. system on the 15th of October 1954 concluded a long period of laborious research and experiments. At the beginning, normal 35mm projectors modified for the purpose were used for the experiments. Soon it was found, however, that these modified 35mm projectors - although usable for the experiments – were by no means suitable for normal use. The Cinema Department of the Philips works in Eindhoven (Netherlands) were therefore asked to develop a special projector which had to be suitable for running 70mm films with magnetic sound tracks and which after replacement of some easily removable parts could be made suitable rapidly for the reproduction of 35mm films with optical sound track and of CinemaScope films with four magnetic sound tracks. It will be obvious that for the projection of 70mm films the projector must satisfy special demands.

• Go to Todd-AO Projector
• Go to The Todd-AO Projector News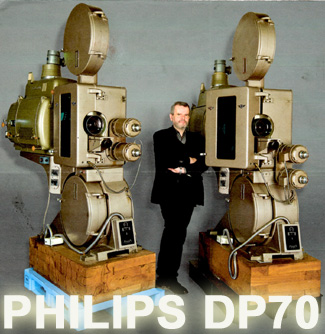 • Go to DP70 / Norelco AAII
TODD-AO SHORT FILMS
Todd-AO 65mm Test
By Thomas Hauerslev
Wednesday 9 February 1994, review of a very interesting reel of 65mm film which had been discovered at the Nederlands Filmmuseum in Amsterdam.
The Miracle of Todd-AO Final review May 1, 1956
Todd-AO's intense feeling of realism and its possibilities for intimacy and emotional participation convinced Richard Rodgers and Oscar Hammerstein that this was the medium in which to present on the screen their American classic, "Oklahoma!"

• Go to Full credits for "The Miracle of Todd-AO"
Full credits for "The March of Todd-AO"
Louis de Rochemont Associates has produced for Magna Theatres a colorful and absorbing 1500 foot film to be shown as a prologue to the roadshow engagements of "South Pacific".
"Man in the 5th Dimension"
By Thomas Hauerslev
One of the most unique and rarely seen Todd-AO films ever produced, was a 28 minute film filmed in 1963 to be shown exclusively at the Billy Graham Pavilion at the 1964-65 Worlds Fair in New York
Full credits for "CineSpace 70"

Demonstration Film in four major parts. Purpose of the demonstration film is to show the merits of filming with updated 65mm Todd-AO cameras. Following examples are included: zoom, steadicam, low light, high speed, slow motion, time lapse, CU´s to infinity, aerial, under water, exterior, people, nature, daytime, nighttime, extreme wide angle to telephoto etc.
---

• Go to Motion pictures photographed in Dimension 150

• Go to Mike Todd Jr.'s "Scent of Mystery" in Smell-O-Vision
---

• Go to You are in the Show with Todd-AO