Looking for digital video in cinemas? Go elsewhere this is all about film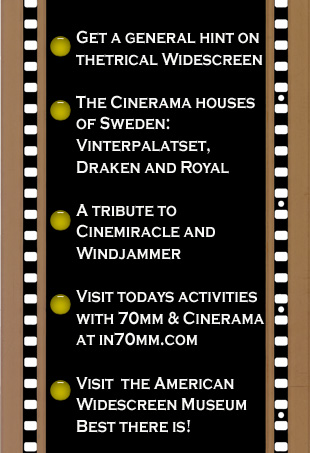 Stefan Adler's
Swedish Widescreen Pages
In a time when it's possible to win tons of Academy Awards for pictures with a total lack of scope, computer rendered reality and a camera negative, once it has been cropped to its "widescreen glory", about the size of a hotted 16mm frame...
(If there is at all a film frame still involved...)

Maybe it's time to put things back into perspective...?

This site is an act of love (or plain hardcore if you are so disposed) and rememberance over a series of more or less out of use theatrical widescreen systems with the common factor, that they all completely wipe out anything you can see or hear in a theatre today - if you are able to find one.

copyright notice: Much of the material used in this site is used by kind permission of nice people and companies.
You may not use anything without the exlicit permission of the copyright holder!