LATEST 70MM NEWS AND FEATURES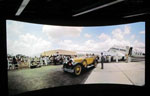 The 2015 European Cinerama Festival Tour in Oslo
By Anders M Olsson
I've seen these films many times, but only on deeply curved screens, and on my own smallish TV. Never before had I seen them on a large flat screen. When seated at least halfway back into the cinema, the smilebox process made the illusion of a curved screen complete. If I hadn't known better, I could have sworn that I was actually sitting in front of a curved screen.

• Go to Gallery: Cinerama Remaster, Oslo, Norway
70MM in Varnsdorf – eine neue Hoffnung?
Von Ulrich Rostek
Was macht der Abhängige, wenn ihm das Suchtmittel ausgeht? Er sucht sich neue Quellen. Nachdem das traditionelle Widescreen Weekend in Bradford auf den Herbst verschoben wurde und ich das 70mm-Event in Krnov aus terminlichen Gründen leider nicht wahrnehmen konnte, war ich froh, auf "In70mm.com" die Ankündigung eines bislang noch nicht in Erscheinung getretenen 70-mm-Festivals im tschechischen Varnsdorf zu entdecken. Gespannt machte ich mich auf einen wieder einmal weiten Weg.
70MM in Varnsdorf - a new hope?
By Ulrich Rostek
Hard times for a 70mm addict. The traditional Widescreen Weekend in Bradford was shifted to October and business kept me away from Krnov. So I felt happy, when an up till then unknown event was announced on "In70mm.com". Once again I took a long journey only to watch a couple of movies. Imbedded in a beautiful landscape not too far away from either the German or the Polish border the Czech smalltown Varnsdorf is not the center of the world and tourist attractions are somewhat limited.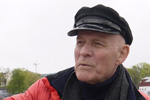 Sold Out "Windjammer"
By Randy Gitch
After 22 days on marquees and movie screens, the 2015 European Cinerama Festival Tour has closed its' last show in Oslo, Norway with a sold-out presentation of "Windjammer: The Voyage of the Christian Radich" at the Norwegian Film Institute's Cinemateket. The film is a Norwegian favorite.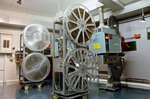 Visiting 70MM Cinemas of London's West End, September 1990
By Thomas Hauerslev
In September 1990, I visited London to see and photograph the 70mm cinemas. Looking at the pictures from London in 1990 so many years later inspired me to make a gallery to share the images for the first time. Maybe someone will see them and enjoy looking back at a time when things were different, and of course - a lot better. In fact, at least 70mm better.

• Go to 70MM Cinemas Gallery
---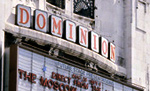 Dominion, London
By Thomas Hauerslev
The Dominion on Tottenham Ct. Road, London. More than 2000 seats in several floors. Once the home of "South Pacific" in Todd-AO where it played for 4 years and 22 weeks. A world record. Has been used a live theatre for 25-30 years, with the occasional film presentation in between.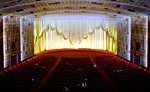 Empire, Leicester Sq., London
By Thomas Hauerslev
The magnificent Empire on Leicester Square in London, England. One of the most beautiful large cinemas of the modern age. For many years one of the the leading 70mm houses in England. Home of many 70mm premieres including "Far and Away", "Backdraft", "Black Rain", "Top Gun", "Brainstorm", "Ryan's Daughter", "Doctor Zhivago" and "Ben Hur".

• Go to Empire Cinema, Leicester Sq., London
---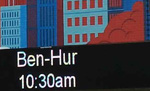 "We keep you alive to serve this ship. Row well, and live."
By Morgan Montague
To celebrate our 10th anniversary, my wife and I decided to make a train trip up to Seattle from Portland. Our intent, being fans of Charlton Heston's films, and "Ben-Hur", in particular, was to take advantage of the 1 day showing at the newly upgraded Cinerama Theatre. And Seattle is such a great weekend destination for fun and culture!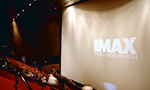 The First 70MM IMAX Cinema in England
By Thomas Hauerslev
I went up to Bradford to see National Museum of Photography, Film & Television on a 1-day return trip by train during a visit to London. I had read about this new museum in Screen International some years before and it came highly recommended. I was especially interested to see the IMAX cinema.
UPDATED - UPDATED
HTWWW's "World Preview" in Paris
By Gerhard Witte
The Cinerama movie "How the West Was Won" (USA) had its official World Premiere on Thursday, November 01, 1962 at London's Casino Cinerama Theatre, where it subsequently successfully ran for more than 120 weeks. Previously, there had already been a "World Preview" of the movie at the Empire Cinerama Theatre in Paris on Tuesday, October 02, 1962.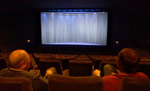 Smilebox® Wows On Curved Or Flat Screens
By Randy Gitsch
In Karlsruhe's Schauburg Cinerama Theater, where the screen is curved 120 degrees, Smilebox® had viewers recalling seeing analog Cinerama in Berlin, when it first premiered there, in 3-strip projection, in 1959.

• Go to Picture Highlights from the 2015 European Cinerama Festival Tour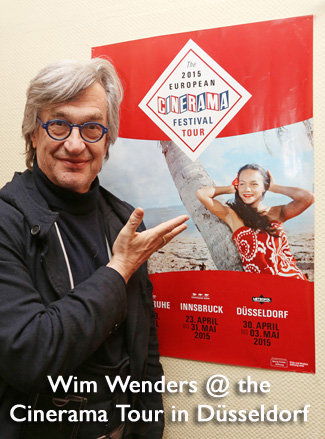 • Go to The 2015 European Cinerama Festival Tour
---

• Go to 10th 70mm Festival Pictures
• Go to KRRR! 70MM SEMINAR KRNOV
---
Cinerama 70mm short subject remastering work completed
By Dave Strohmaier
The 6-track magnetic prints were certainly faded to the usual Eastman color magenta, and we realized that at some point we should do a digital makeover to protect the assets. Tom March and I went to the vaults last January to pull the titles and examine them for overall condition. We could see that the fading was even more severe that when the prints were shown a few years back. Since no negatives were ever located we would have to relay on color recovery techniques to try to rebuild back as much color as possible.
---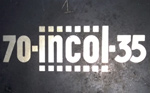 An Incol 70/35 projection booth as found
By Paulo Roberto P. Elias
When the 70mm craze of the 1960's was in progress a significant number of regular 35mm theaters refurbished their installations to give shelter to the relative more complex 70mm projection system. It took quite a long time but when the demise of the 70mm format exhibition started there was a coincidental decadence of the so-called street theaters and palace theaters that was due to the financial burden imposed by public administrators and service providers to major exhibitors and independent theater owners.
---
RECENT NEWS
• Portland, Oregon USA 70mm Update
• 70mm Film Festival in Centrum Panorama Varnsdorf
• Movies with artificial smells in cinemas
• The 2015 European Cinerama Festival Tour
• KRRR! 10th 70mm Film Fest Krnov 2015
• The Ethel O'Brien Printer. Letters from Walt
• "An Homage To D W Griffith"
• 10th 70mm Festival in Krnov

• Go to 2015 news
---
COMING TO IN70MM.COM

• Sales Manual For Louis De Rochemont's Windjammer
By The Cinemiracle Process
• David Samuelson interview
By Lyndon / Hauerslev
• Wonderama, Cinerama - "Flying Clipper" in the USA.
By Gerhard Witte
• Visit to La Geode, Paris
By Thomas Hauerslev
• Visit to Kinepolis, Bruxelles
By Thomas Hauerslev
• Show "Lawrence" in 70 on a DP70
By Thomas Hauerslev
• Goodbye 70MM IMAX Bradford
By Vaughan / McGregor
• Remastering The Best of Cinerama
By Dave Strohmaier
• Brian O'Brien, Jr.'s Todd-AO Scrapbook
• Vintage articles about Todd-AO, Showscan, Panavision & Dolby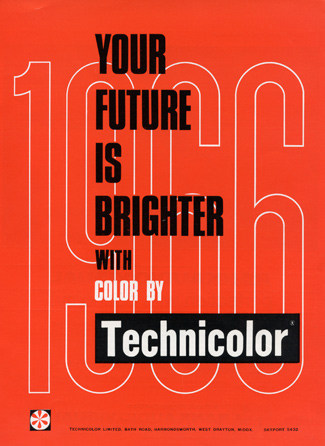 • Go to A Small Collection of Vintage Industry Adverts
---
FILMS IN 70MM
• Todd-AO
• Ultra Panavison 70
• MCS 70 - Superpanorama
• Super Panavision 70
• ARRI 765
• DEFA 70
• Dimension 150
• Super Technirama 70
• Sovscope 70
• Showscan

• Chronological premiere list of major 70mm films
---
THE 70MM RUMOUR MILL
JUNE 2016

Picturehouse (UK) are installing 70mm


• Go to The 70mm Rumour Mill
---

Go to David Lean's Film of "Doctor Zhivago"
---
---


• Go to Interview & People


• Go to Short stories

• Go to Super Panavision 70
---
---
Introduction of CinemaScope
By David Samuelson
Fox's introduction of CinemaScope proved to be every bit as momentous as the introduction of sound, and the cinema has benefitted from the continued development and perfection of an imperfect original invention. The fidelity of the sound in "The Jazz Singer" (1927) is a long way from the sound we experience in the cinema today, and so it is with anamorphic lenses. Chretien, Skouras, Sponable and Gottschalk would not believe the image quality we see on our screens today.
---
---
IN70MM RULE #106
"How to handle a woman?
There's a way," said the wise old man,
"A way known by ev'ry woman
Since the whole rigmarole began."
"Do I flatter her?" I begged him answer.
"Do I threaten or cajole or plead?
Do I brood or play the gay romancer?"
Said he, smiling: "No indeed.
How to handle a woman?
Mark me well, I will tell you, sir:
The way to handle a woman
Is to love her...simply love her...
Merely love her...love her...love her."

---
RAMA and FUN
THE RAMA PAGES
All readers are invited to send in their RAMAs. The "Rama" pages, now in its 6th year. More than 100 new and vintage RAMAs documented so far. Send your RAMA now!

• Go to 2008 | 2009 | 2010 | 2011 | 2012 | 2013 | 2014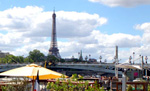 26 Things Movies Taught You
By Bill Kallay
Rather than wasting bullets, megalomaniacs prefer to kill their archenemies using complicated machinery involving fuses, pulley systems, deadly gasses, lasers and man-eating sharks, which will allow their captives at least 20 minutes to escape.
Loading
---
IN70MM e-NEWSLETTER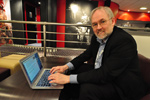 in70mm.com publishes an e-mail newsletter which is sent to users. If you want to join or discontinue, please send an e-mail to Bill Lawrence, in70mm.com.

• Go to e-Newsletter page
• See Past Issues
---
---
IN70MM.COM PARTNER
in70mm.com is proud to be associated with one of the finest cinemas in Europe, Schauburg Kino, home of the annual Todd-AO Festival in Karlsruhe, Germany.

• Go to Schauburg Cinerama | Todd-AO Festival
---
SCHAUBURG 2015 TODD-AO FESTIVAL
11. Todd-AO 70mm-Festival 2015
KARLSRUHE, May 2015 / in70mm.com news. We have launched the 11th instalment of the "Todd-AO 70mm Festival" to be held from 9 - 11 October 2015 at the Schauburg Cinerama in Karlsruhe, Germany. For three days in October Filmtheater Schauburg celebrates the world of LARGE FORMAT film, by offering a series of epic films in 70mm - the HD of film formats.

We feel our 2015 program has it all: Space adventures, Musical, Drama, War, Nazis, Religion, Music, Songs, Mystery, Cars, Chases, Panzer, Adventure, Revenge and true love. Bring your family, your children, your grand mother to see the films again in a big cinema.

One of very few original cinemas, still equipped with 70mm projectors. The huge screen is 18 meters wide, curved and covered by a "Cinerama red" curtain. It's the perfect framework to present 70mm in the splendour of 6-track magnetic sound. For 2015, a brand new Harkness screen will be installed prior to the festival. No expenses are spared to give you the very best experience.

Herbert Born
Filmtheater Schauburg

• Go to Schauburg Cinerama, Karlsruhe, Germany
The Greatest Show in Todd-AO: Mission Report from Karlsruhe
By Thomas Hauerslev
The Todd-AO Festival at the Schauburg is not only pretzel, sekt, schnitzel and Hoepfner's hefewize, it is indeed about going to the movies in style. An experience all by itself. Seeing the films at the Schauburg like seeing the films as they were originally presented - in a big cinema, on a a huge curved screen with red curtains and a Gong. It's all about showmanship and presentation, and very few cinemas do it better than the staff of the Schauburg.
---
---
WHAT PEOPLE HAVE SAID ABOUT IN70MM.COM
I continue to be impressed by the dedication you have to the continuing wellbeing of 70mm. I would like you to have met my colleague and friend, the late Robert Gottschalk, founder and driving force of Panavision. He was of the unshakeable opinion that picture quality, real picture QUALITY, depended on a big piece of negative, the bigger the better.

All good wishes, Sir Sydney Samuelson, December 2009

• Go to Testimonials
• Go to Sir Sydney
---
THE 70MM NEWSLETTER
The original idea was

"Encourage film makers to produce and make new films in 65mm, present them in 70mm with 6-track discrete digital sound on big curved screens".

"The 70mm Association Newsletter" was the "voice" of The International 70mm Association.

For 7 years, when the magazine was produced regularly, it was edited and published in Copenhagen. The magazine was never a commercial venture - nor was it intended to be. It had a lot of fans and the number of subscribers climaxed in 2000. The last issue was published in the fall of 2001. Special edition issues 68, 69 & 70 have been made for the Widescreen Weekend.

• Go to The 70mm Newsletter | Back issues

• Go to Presented in 70mm Dolby Stereo

• Go to Stanley Kubrick's "2OO1: A Space Odyssey"
---

• Go to Presented in 70mm Dolby Stereo
---
---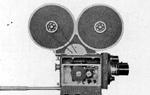 Introduction to Projection and Wide Film (1895-1930)
By Rick Mitchell (posthumously)
It is the intention of this book to deal with the subject of "Wide Screen" as it relates to the mainstream theatrical motion picture industry and its history, with reference, where appropriate, to its effect upon such related areas as documentary, industrial, and non-theatrical production and exhibition. Notable techniques and processes, the events and situations within the industry which precipitated their introduction, and the subsequent loss of popularity of some them will be covered mostly in chronological order as new developments were generally founded upon, or a reaction to, a previous one.

• Go to W.K.L. Dickson and the 1.33:1 Frame
• Go to Projection and Wide Film (1895-1930)
---
TODD-AO PAGE
Todd-AO Birth date
By Brian O'Brien
On October 15th, 1952 I received a phone call from a Michael Todd in New York City, who wished to come to see me at Rochester that evening. I had never heard of Todd, but it seems that he is a well-known Broadway producer.

• Go to Todd-AO | Filmed in Todd-AO | The First Movie Produced By Todd-AO | Walter Siegmund Remembered
---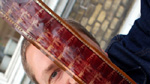 How to Create the Best experience in the Cinema
By Thomas Hauerslev
Films like "Titanic" and "Braveheart" should have been shot in 65mm simply because they are "big" movies. But shooting in 65mm doesn't need to be limited to the obvious mega productions. Small independent movies would benefit enormously with the sharper picture. I'd enjoy seeing films like "Enemy of the State", "As Good As It Gets" and "You've Got Mail" and many more, shot on 65mm stock and presented in 70mm. I and most of our readership would certainly seek out cinemas presenting films in 70mm.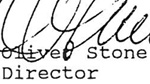 70mm Presentations - Letters from Directors
By Paul Rayton
Back in the heydays of 70mm exhibition of movies, it was not uncommon for a projectionist to open a shipping case of a 70mm title and find a "personal" letter from someone associated with the film. Typically it would be signed by the Director, or the Producer. Subjects addressed would be things like the illumination level on screen, and the audio playback level. Apparently many cinemas typically ran sound a bit too low. These messages were typically reminding us projectionists to run the sound at the "Dolby Standard" of a fader setting of "7".
---
NOW SHOOTING IN 65MM

• Go to The Hateful Eight - in 65mm?
• Go to Sunset Song Filming in 65mm