• Go to in70mm.com news 2017
---
LATEST 7OMM NEWS AND FEATURES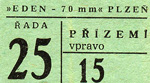 Z historie 70mm kina Eden v Plzni
By Ludek Brejcha
A tak v roce 1967 proběhla premiéra 70mm filmu Old Shatterhand ve zcela zrekonstruovaném kinu, jehož celý název zněl "Panoramatické kino Eden". Kino si získalo velkou popularitu díky skvělému obrazu a zvuku. Návětěvníci se sjižděli z celého kraje /byly pořádány zájezdy/. Na mnoha místech v Plzni byly instalovány plechové tabule - směrníky, udávající směr ke kinu Eden.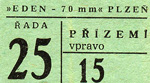 70mm Cinema Eden, Pilsen, Czech Republic
By Ludek Brejcha
I'm former professional projectionist from Pilsen, Czech Republic and now I'm a fan of all aspects of film and projection techniques. In Pilsen, there was a cinema called EDEN for 70 and 35mm projection, and "my" cinema, the HVEZDA (The Star). Both cinemas EDEN and HVEZDA are closed. Projectors ended up God knows where.
Which films were probably never shown in Super Technirama 70?
By Thomas Hauerslev
Far from all Technirama films were given the 70mm treatment, and simply released in 4-perf Technirama. For many years in the 70mm enthusiast community, some Technirama titles have given rise to speculation. "Were 70mm versions released, or not?". in70mm.com lists 9 films, which may have been shown in 70mm somewhere in major markets. Comments and information about "Which films were probably never shown in Super Technirama 70?" is most welcome, and will be included in the page.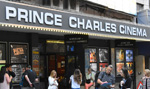 Visiting the Prince Charles Cinema in London's West End
By Thomas Hauerslev
The Prince Charles Cinema have many posters on display on their facade, many of which are of their own design. The tag "Presented in 7OMM 6 Track Dolby Stereo" is prominently placed with BIG letters on the posters. It is very nice to see this kind of showmanship still being used to promote 70mm in London. Take a look at their web site too - search for "70mm", and you can see the same logos and advertising. If you are in London, do check out their web site and go back to memory lane for some 70mm magic.

• Go to the gallery Prince Charles Cinema, London's West End, UK

• Go to gallery 3 Falke Bio, Denmark
• Go to The First Todd-AO Theatre in Scandinavia
---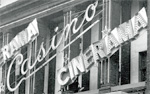 Ken Draper interviewed
By Mikael Barnard
I started work at the Casino on 19 September 1954, eleven days before opening night on 30 September. We had to pick it up quickly but we did many rehearsals and were well prepared. I started with the début screening of This is Cinerama, and then in 1956 we ran Cinerama Holiday. I left in 1957 for a job at MGM British Studios at Borehamwood where I worked in the preview theatre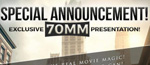 Why 70mm Matters
By Brian Walters
The 70mm format has experienced a phoenix like re - birth due to the efforts of film makers like Christopher Nolan, Paul Thomas Anderson and Quentin Tarantino, who have against the odds, released films using the large negative 70mm release print format, after being instrumental in brokering a deal with the six major Hollywood studios to guarantee the availability of Eastman Kodak film negative for a further five years.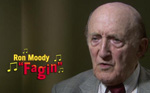 No esplendor do 7OMM
By Paulo Roberto P. Elias
Quando Oliver! foi exibido no Vitória, o cinema ficou abarrotado. A expectativa em torno do filme e da estória atraiu o grande público. Tivesse Carol Reed se proposto a mais uma versăo em filme do romance clássico "Oliver Twist", escrito por Charles Dickens, o impacto talvez năo tivesse sido o mesmo. Mas, se tratava de uma megaproduçăo, com sets em larga escala no estúdio, poucas cenas rodadas em locaçăo, controle total de uma produçăo baseada em uma versăo musical da estória.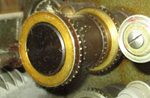 Abandoned Prevost 70/35 projectors at Ariston Cinema in Meran
By Dietmar Zingl
Not much is know about the abandoned Prevost 70/35 projectors at the Ariston cinema in Meran, Italy / South Tirol. As far as we know, the Prevost-projectors have been removed and saved and stored in a kind of technical museum in Bozen/Bolzano. Did the Ariston ever show films in 70mm? Maybe some in70mm.com readers can share some stories about it?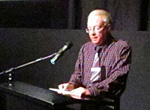 Cinema like never before in Munich, Germany
By Anders M. Olsson
I heard that the Film Museum in Munich was going to show a couple of the digitally restored Cinerama titles, as well as David Strohmaier's documentary "Cinerama Adventure". David Strohmaier couldn't be there to introduce the films and he suggested me as his replacement. Much to my surprise, the museum agreed to cover the cost of my flight and hotel room, so off I went to Munich on January 6 2017.
• Go to Welcome to "Cinerama Adventure"
• Go to Welcome to "This is Cinerama"
KRRR! 12th 70mm Film Fest Krnov 2017
The next 70mm Film Fest regularly taking place in Krnov is knocking on the door again. After a year the majestic cinema Mir 70 will become a place where true film fans of celluloid from many European counties - especially enthusiasts loving widescreen format - will meet. Three days of a rare occasion to see great 70mm movies screened on a 105 square meters of slightly curved screen and good opportunity to remember history of "old school" cinema technology in today's sterile digital era.
---
RECENT NEWS
• The Restoration of DP70 #1820
• The Making of 'Ellston Bay'
• The Thrill of a Lifetime
• "Comanche Stallion"
• Visiting John Harvey
• Počátky Todd-AO
• "Oklahoma!" screening & Report of visit to the studios in Los Angeles
• Rogue One: A Star Wars Story - The IMAX Experience
• The passing of Debbie Reynolds and Carrie Fisher
• The Dunkirk 70mm Imax preview, plus the support film, Star Wars Rogue One

• Go to 2017 News
---

• Go to 12th 70mm Seminar, Kino Mir 70

• Go to The Thrill of a Lifetime
---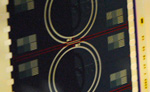 "Vox Lux" to be photographed in 65mm, and presented in 7OMM
By Thomas Hauerslev
Hollywood media announced the news about director Brady Corbet's next film titled "Vox Lux". The production will be photographed on 65mm film, and it's planned to be released with 7OMM prints. The 28 year old actor-turned-director hope the film will reach cinema screens in 2017. Production is planned to begin shooting in February 2017.
---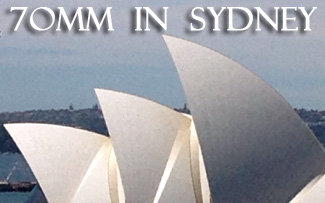 • Go to 70mm Release Summary Sydney
• Go to cinemas: Centre on George Street | Pitt Centre | Hoyts Entertainment Centre | Village Cinema City
• Go to format: CinemaScope 55 | Panavision | Spherical | Super Panavision 70 | Super Technirama 70 | Todd-AO | Ultra Panavision 70 | VistaVision
---

• Go to in70mm.com's IMAX Page


• Go to Interview & People

• Go to DP70 / The Todd-AO Projector News
---
MY FAVORITE THINGS
• Go to Brian Guckian
• Go to Wolfram Hannemanns
• Go to Gerhard Witte

---
COMING SOON TO IN70MM.COM

• The Prince Charles Cinema, London, UK
By Paul Vickery
•

Cinemiracle Theatre Survey


By R. H. McCullough
• Visit to La Geode, Paris
By Thomas Hauerslev
• Visit to Futuroscope, Poitiers
By Thomas Hauerslev
• Visit to Kinepolis, Bruxelles
By Thomas Hauerslev
• Georges Loisel's list of 7OMM in Paris
By Olivier Rousseau
• Brian O'Brien, Jr.'s Todd-AO Scrapbook
Coming soon
• Rare black/white images from American Optical Company
Coming soon
• "Oklahoma!" on opening night at the Rivoli
Coming soon
• Vintage articles about Todd-AO, Showscan, Panavision & Dolby

in70mm.com Mission:
• To record the history of the large format movies and the 70mm cinemas as remembered by the people who worked with the films. Both during making and during running the films in projection rooms and as the audience, looking at the curved screen.
• in70mm.com, a unique internet based magazine, with articles about 70mm cinemas, 70mm people, 70mm films, 70mm sound, 70mm film credits, 70mm history and 70mm technology. Readers and fans of 70mm are always welcome to contribute.
---
SEARCH 70MM.COM
Loading
---
THE 70MM RUMOUR MILL
FEBRUARY 2017

"Kong: Skull Island" will get a limited release in 5/70mm, 8 March 2017 - see: 70mm Blow Up List 2017

"Alien: Covenant" to be released in IMAX 15/70 mm (IMAX DMR blow-up, dual strip 3D) in May 2017

• Go to The 70mm Rumour Mill
---
IN7OMM e-NEWSLETTER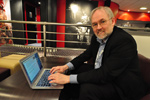 in70mm.com publishes an e-mail newsletter which is sent to users. If you want to join or discontinue, please send an e-mail to Bill Lawrence, in70mm.com. 882 readers already signed up.

• Go to e-Newsletter page
• See Past Issues
---
IN70MM.COM PARTNER
in70mm.com is proud to be associated with one of the finest cinemas in Europe, Schauburg Kino, home of the annual Todd-AO Festival in Karlsruhe, Germany.

• Go to Schauburg Cinerama | Todd-AO Festival
• Go to Schauburg's Technicolor Film Festival
---

• Go to Chronological premiere list of major 70mm films
---
WHAT PEOPLE HAVE SAID ABOUT IN70MM.COM
I continue to be impressed by the dedication you have to the continuing wellbeing of 70mm. I would like you to have met my colleague and friend, the late Robert Gottschalk, founder and driving force of Panavision. He was of the unshakeable opinion that picture quality, real picture QUALITY, depended on a big piece of negative, the bigger the better.

All good wishes, Sir Sydney Samuelson, December 2009

• Go to Testimonials
• Go to Sir Sydney
---
The 7OMM Engagements
By Mike Coate
The following are lists of the 70mm first-run engagements of a hand full of film titles in North America:
• "Yes, Georgio"

• "The Entity"

• "The Great Race"

• "The Dirty Dozen"

• "The Manitou"


• Showcase Presentations in the Silicon Valley


• Go to 70mm Engagements
• Go to in70mm.com's list of films blown up to 7OMM
---

• Go to Presented in 70mm Dolby Stereo

• Go to The RAMA Pages
• Go to Alphabetical listing of Ramas