Which films were probably never shown in Super Technirama 70?
By Thomas Hauerslev
Far from all Technirama films were given the 70mm treatment, and simply released in 4-perf Technirama. For many years in the 70mm enthusiast community, some Technirama titles have given rise to speculation. "Were there released in 70mm versions, or not?". in70mm.com lists 9 films, which may have been shown in 70mm somewhere in major markets. Comments and information about "Which films were probably never shown in Super Technirama 70?" is most welcome, and will be included in the page.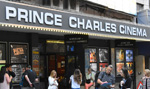 Visiting the Prince Charles Cinema in London's West End
By Thomas Hauerslev
The Prince Charles Cinema have many posters on display on their facade, many of which are of their own design. The tag "Presented in 7OMM 6 Track Dolby Stereo" is prominently placed with BIG letters on the posters. It is very nice to see this kind of showmanship still being used to promote 70mm in London. Take a look at their web site too - search for "70mm", and you can see the same logos and advertising. If you are in London, do check out their web site and go back to memory lane for some 70mm magic.

• Go to the gallery Prince Charles Cinema, London's West End, UK

• Go to gallery 3 Falke Bio, Denmark
• Go to The First Todd-AO Theatre in Scandinavia
---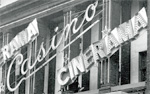 Ken Draper interviewed
By Mikael Barnard
I started work at the Casino on 19 September 1954, eleven days before opening night on 30 September. We had to pick it up quickly but we did many rehearsals and were well prepared. I started with the début screening of This is Cinerama, and then in 1956 we ran Cinerama Holiday. I left in 1957 for a job at MGM British Studios at Borehamwood where I worked in the preview theatre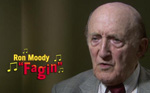 No esplendor do 7OMM
By Paulo Roberto P. Elias
Quando Oliver! foi exibido no Vitória, o cinema ficou abarrotado. A expectativa em torno do filme e da estória atraiu o grande público. Tivesse Carol Reed se proposto a mais uma versăo em filme do romance clássico "Oliver Twist", escrito por Charles Dickens, o impacto talvez năo tivesse sido o mesmo. Mas, se tratava de uma megaproduçăo, com sets em larga escala no estúdio, poucas cenas rodadas em locaçăo, controle total de uma produçăo baseada em uma versăo musical da estória.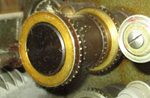 Abandoned Prevost 70/35 projectors at Ariston Cinema in Meran
By Dietmar Zingl
Not much is know about the abandoned Prevost 70/35 projectors at the Ariston cinema in Meran, Italy / South Tirol. As far as we know, the Prevost-projectors have been removed and saved and stored in a kind of technical museum in Bozen/Bolzano. Did the Ariston ever show films in 70mm? Maybe some in70mm.com readers can share some stories about it?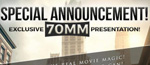 Why 70mm Matters
By Brian Walters
The 70mm format has experienced a phoenix like re - birth due to the efforts of film makers like Christopher Nolan, Paul Thomas Anderson and Quentin Tarantino, who have against the odds, released films using the large negative 70mm release print format, after being instrumental in brokering a deal with the six major Hollywood studios to guarantee the availability of Eastman Kodak film negative for a further five years.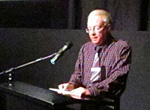 Cinema like never before in Munich, Germany
By Anders M. Olsson
I heard that the Film Museum in Munich was going to show a couple of the digitally restored Cinerama titles, as well as David Strohmaier's documentary "Cinerama Adventure". David Strohmaier couldn't be there to introduce the films and he suggested me as his replacement. Much to my surprise, the museum agreed to cover the cost of my flight and hotel room, so off I went to Munich on January 6 2017.
• Go to Welcome to "Cinerama Adventure"
• Go to Welcome to "This is Cinerama"
KRRR! 12th 70mm Film Fest Krnov 2017
The next 70mm Film Fest regularly taking place in Krnov is knocking on the door again. After a year the majestic cinema Mir 70 will become a place where true film fans of celluloid from many European counties - especially enthusiasts loving widescreen format - will meet. Three days of a rare occasion to see great 70mm movies screened on a 105 square meters of slightly curved screen and good opportunity to remember history of "old school" cinema technology in today's sterile digital era.

• Go to DP70 / The Todd-AO Projector News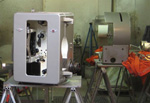 The Restoration of DP70 #1820
By Emiel de Jong
DP70 no. 1820 is back almost where it was born: it's now on permanent display in the lobby of "Centrum Hofdael", arthouse cinema / general art-centre in Geldrop, close to Eindhoven, The Netherlands.
The Making of 'Ellston Bay'
By Nicholas Eriksson
Principal photography on the ambitious large-format short film 'Ellston Bay' concluded recently, marking the first time in a very long period that the 35mm VistaVision format has been utilised exclusively for a dramatic production. Below, Director and Cinematographer of the project Nicholas Eriksson talks further about the challenges of originating on VistaVision, and the benefits of using such a large negative area.

• Go to Gallery: Photography at the Pinewood Studios' Underwater Stage
---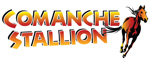 "Comanche Stallion" filmed in Superama 65mm by Fatali Eye Productions
By Fatali
I am so thrilled to be chosen by Clyde Lucas to become a partner filming Comanche Stallion. This script was the legendary John Ford's pet film project, which never reached the screen. Comanche Stallion, based on the novel by Tom Milstead, it's the story of the Comanche's search for a mystical horse, while suffering the wrath of General Lathrop. Ford wanted Burl Ives for the role of the general, but Ives' health was not up to the task, and Ford's own health also failed.
The Thrill of a Lifetime
A Diary from the set of "Cinerama Holiday"
By Betty York
Even on the 12th of January, Christmas is still hanging on with trees and tinsel seen occasionally in restaurants and stores. We finally met the great man himself - De Rochemont. We were both so scared we felt like dolts and could hardly speak. After all, what can one say to a person so great as he must be to produce the fine movies which we have seen.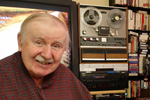 Visiting John Harvey
By Tom March
I just got back from visiting John Harvey in Dayton Ohio where he has been living at the Pinnacle Pointe Nursing and Rehabilitation Centre since 1998. Never ceasing to amaze, John had a big new curved screen TV set up in his room and, when I arrived, it was all cued up to run the Rockaway Playland roller coaster.
Počátky Todd-AO
By Thomas Hauerslev
Co si máme představit pod pojmem systém Todd-AO? Todd-AO je sedmdesátimilimetrový film s obrovským rozlišením a ostrostí, který se promítá na obří plátno rychlostí posuvu 30 políček za vteřinu. Svou nedostižnou kvalitou obrazu je sedmdesátimilimetrový film nesmírně působivý právě díky velikosti obrazového pole a vysoké snímkové frekvenci. Negativ je 4 x větší než klasický 35mm širokoúhlý film. Systém Todd-AO se stal vzorem pro 65mm a 70mm film a inspiroval filmový průmysl po celých šedesát let od svého vzniku. Sedmdesátimilimetrový filmový formát si dnes často spojujeme zejména s historickými velkofilmy a muzikály 60. let.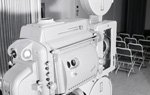 "Oklahoma!" screening & Report of visit to the studios in Los Angeles
By Fred C. Matthews and Frank Riffle, August 1955
Projection equipment was a Phillips 70mm projector containing both 6 track magnetic pickup equipment and a single track optical pickup built in the projector itself. Picture and sound quality was excellent. The light source utilized was a Peerless Hicandescent arc lamp operating at 180 amperes with National Carbon Company Hitex 13.6mm positive carbon.
"IN 70MM.COM" NEWS
2016, 2015, 2014, 2013, 2012, 2011, 2010, 2009, 2008, 2007, 2006, 2005, 2004, 2003, 1998-2002
---
"THE 70MM NEWSLETTER" NEWS
2005, 2004, 2002, 2001, 2000, 1999, 1998, 1997, 1996, 1995, 1994
---
5 YEARS AGO - 2012
• Some Notes on Shooting "Lawrence of Arabia"
• Dolby Stereo Surround On 70mm
• Windsor "Todd-AO theater in Săo Paulo, Brazil
---
10 YEARS AGO - 2007
• Grant's Blow-up Blog
• Remembering Miklos Rozsa
• The true history of Circlorama 1962-65
---
15 YEARS AGO - 2002
• Filming of "Lewis and Clarke" in IMAX
• How The West Was Won - in Cinerama
• 26 Things Movies Taught You
---
20 YEARS AGO - 1997
• The Basics of The Rolling Loop IMAX Projector
• Dimension 150 Driving Simulator
• Movies Are Never What They Seem
---

• Go to in70mm.com auf Deutsch


• Go to in70mm.com news 2017

• Go to The Thrill of a Lifetime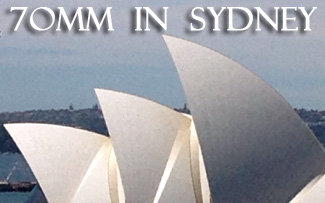 • Go to 70mm Release Summary Sydney
• Go to cinemas: Centre on George Street | Pitt Centre | Hoyts Entertainment Centre | Village Cinema City
• Go to format: CinemaScope 55 | Panavision | Spherical | Super Panavision 70 | Super Technirama 70 | Todd-AO | Ultra Panavision 70 | VistaVision
The 7OMM Engagements
By Mike Coate
The following are lists of the 70mm first-run engagements of a hand full of film titles in North America:

• "Yes, Georgio"

• "The Entity"

• "The Great Race"

• "The Dirty Dozen"

• "The Manitou"


• Showcase Presentations in the Silicon Valley


• Go to 70mm Engagements
• Go to in70mm.com's list of films blown up to 7OMM