The Making of 'Ellston Bay'
By Nicholas Eriksson
Principal photography on the ambitious large-format short film 'Ellston Bay' concluded recently, marking the first time in a very long period that the 35mm VistaVision format has been utilised exclusively for a dramatic production. Below, Director and Cinematographer of the project Nicholas Eriksson talks further about the challenges of originating on VistaVision, and the benefits of using such a large negative area.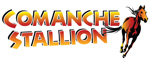 "Comanche Stallion" filmed in Superama 65mm by Fatali Eye Productions
By Fatali
I am so thrilled to be chosen by Clyde Lucas to become a partner filming Comanche Stallion. This script was the legendary John Ford's pet film project, which never reached the screen. Comanche Stallion, based on the novel by Tom Milstead, it's the story of the Comanche's search for a mystical horse, while suffering the wrath of General Lathrop. Ford wanted Burl Ives for the role of the general, but Ives' health was not up to the task, and Ford's own health also failed.
The Thrill of a Lifetime
A Diary from the set of "Cinerama Holiday"
By Betty York
Even on the 12th of January, Christmas is still hanging on with trees and tinsel seen occasionally in restaurants and stores. We finally met the great man himself - De Rochemont. We were both so scared we felt like dolts and could hardly speak. After all, what can one say to a person so great as he must be to produce the fine movies which we have seen.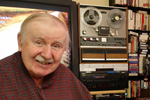 Visiting John Harvey
By Tom March
I just got back from visiting John Harvey in Dayton Ohio where he has been living at the Pinnacle Pointe Nursing and Rehabilitation Centre since 1998. Never ceasing to amaze, John had a big new curved screen TV set up in his room and, when I arrived, it was all cued up to run the Rockaway Playland roller coaster.
Počátky Todd-AO
By Thomas Hauerslev
Co si máme představit pod pojmem systém Todd-AO? Todd-AO je sedmdesátimilimetrový film s obrovským rozlišením a ostrostí, který se promítá na obří plátno rychlostí posuvu 30 políček za vteřinu. Svou nedostižnou kvalitou obrazu je sedmdesátimilimetrový film nesmírně působivý právě díky velikosti obrazového pole a vysoké snímkové frekvenci. Negativ je 4 x větší než klasický 35mm širokoúhlý film. Systém Todd-AO se stal vzorem pro 65mm a 70mm film a inspiroval filmový průmysl po celých šedesát let od svého vzniku. Sedmdesátimilimetrový filmový formát si dnes často spojujeme zejména s historickými velkofilmy a muzikály 60. let.
"IN 70MM.COM" NEWS
2016, 2015, 2014, 2013, 2012, 2011, 2010, 2009, 2008, 2007, 2006, 2005, 2004, 2003, 1998-2002
---
"THE 70MM NEWSLETTER" NEWS
2005, 2004, 2002, 2001, 2000, 1999, 1998, 1997, 1996, 1995, 1994
---
5 YEARS AGO - 2012
• Some Notes on Shooting "Lawrence of Arabia"
• Dolby Stereo Surround On 70mm
• Windsor "Todd-AO theater in Săo Paulo, Brazil
---
10 YEARS AGO - 2007
• Grant's Blow-up Blog
• Remembering Miklos Rozsa
• The true history of Circlorama 1962-65
---
15 YEARS AGO - 2002
• Filming of "Lewis and Clarke" in IMAX
• How The West Was Won - in Cinerama
• 26 Things Movies Taught You
---
20 YEARS AGO - 1997
• The Basics of The Rolling Loop IMAX Projector
• Dimension 150 Driving Simulator
• Movies Are Never What They Seem
---

• Go to in70mm.com auf Deutsch


• Go to in70mm.com news 2017