KRRR! 10th 70mm Film Fest Krnov 2015
By The Kino Mir 70 Team
Under patronage of the Municipal centre of information and culture Krnov, together with Ministry of Culture, under the patronage of town major of Krnov, the Kino Mir 70 theatre will again be the meeting point for film enthusiasts from not only the Czech Republic but also visitors from many counties, including Austria, Denmark, France, Germany, Holland, Poland, United Kingdom and the United States. The event is organized in collaboration with town Krnov, supported by the Ministry of Culture of the Czech Republic.
70mm Film Festival in Centrum Panorama Varnsdorf
By Pavel Nejtek
The Centrum Panorama in Varnsdorf (Czech Republic) is planning a 70mm film festival. Titles for the 70mm Film Festival in Centrum Panroma Varnsdorf, May 5 to May 10, 2015 are Hello,Dolly!, Goya, Doctor Zhivago, Spartacus and Can Can.
The Ethel O'Brien Printer. Letters from Walt
By Walter P Siegmund
During our big move from Pomfret to Brooklyn many things were found which were long hidden and forgotten, including more old Todd-AO files and photos. You will may find the enclosed material of further interest in connection with the printing of the Todd-AO "Process". These are descriptions and original calculations on various ideas about corrective printing the release prints.
"An Homage To D W Griffith" A short Film In Ultra Panavision 70
By Dan Sherlock
The last Ultra Panavision 70 film that was released was reportedly KHARTOUM in 1966. As it turns out, there was one more Ultra Panavision 70 short subject that was made over 20 years later. In 1988, the equipment and lenses were used for a special short subject that was also the only time the format used a speed of 30 frames per second rather than the normal 24 frames per second format.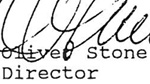 70mm Presentations - Letters from Directors
By Paul Rayton
Back in the heydays of 70mm exhibition of movies, it was not uncommon for a projectionist to open a shipping case of a 70mm title and find a "personal" letter from someone associated with the film. Typically it would be signed by the Director, or the Producer. Subjects addressed would be things like the illumination level on screen, and the audio playback level. Apparently many cinemas typically ran sound a bit too low. These messages were typically reminding us projectionists to run the sound at the "Dolby Standard" of a fader setting of "7".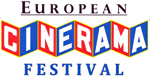 The 2015 European Cinerama Festival Tour
Randy Gitsch has announced that Dave Strohmaier and he have been invited to present a slate of motion pictures they've digitally re-mastered, in a traveling film festival in four cities in Germany, Austria and Norway. Each venue will program from a roster of available titles, including features and short-subjects originally from 3-panel and 70mm. THE 2015 EUROPEAN CINERAMA FESTIVAL TOUR, as it is now called, will kick off on April 18 with multiple screenings at the Schauburg Cinerama in Karlsruhe, Germany.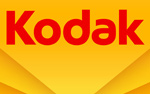 Kodak Finalizes Motion Picture Film Agreements with Major Hollywood Studios
Kodak announced today that it has finalized new film supply agreements with all six major Hollywood studios. As part of these agreements, Kodak will continue to provide motion picture film to the six major Hollywood studios for their movie and television productions. Kodak has been engaged in broad discussions with prominent filmmakers, studios, independent artists, production companies, and film processors to enable film to remain a fundamental medium.
10th 70mm Festival in Krnov
By Johan C. M. Wolthuis
Krnov is a little town in the north east of the Czech Republic, on the Opava River, near the Polish border. The city was founded in 1221. Krnov has an 18th-century castle, several churches and abbeys as well as a lookout tower from 1903. The Krnov Synagogue is one of the few large synagogues to have survived the Nazi occupation of Europe. Its industrial center manufactures textiles, beverages and musical instruments.
"Scent of Mystery" Playdate History
By David Coles
In its original "SCENT OF MYSTERY" incarnation a new sound concept was featured, which unfortunately was never used again. Todd-Belock 8-channel Stereophonic sound was essentially normal 6-track magnetic 70mm sound, but with Perspecta-like encoding on the 6th surround channel. This automatically directed that track to left, right and rear auditorium speakers, as appropriate, during the showing.
70MM Impressions from Oslo
By Thomas Hauerslev
By far 2015 has been the most successful 70mm festival since the beginning in 2000. Several shows have been sold out, including "South Pacific" and "War and Peace" (1. February). A presentation of the festival appeared on national television with more than a million viewers. Jan have also been interviewed on radio to talk about the festival. 70mm is indeed back and "to be seen on the big screen" in Oslo.

• Go to Gallery: 70mm Festival in Oslo, 2015
---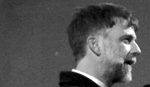 "Inherent Vice" Red Carpet 70mm Premiere in Paris
By Jean-Luc Peart
Producer JoAnne Sellar, Joaquin Phoenix and Paul Thomas Anderson were present, for the a brief Q&A before the screening. The screening was perfect. It's a blow-up, well done, nice contrast, perfect 70mm projection stability and brightness. 1.85:1 ratio as expected.
German Release of "El Cid"
By Gerhard Witte
Samuel Bronston's epic premiered in 70mm in Hamburg at the impressive "Ufa-Palast am Gänsemarkt" on 25.05.1962. On the same day the movie also debuted at the Berlin Cinerama Capitol-Filmtheater. "El Cid" ran at the "Ufa-Palast" for 14 weeks until 30.08.1962.
---

• Go to KRRR! 70MM SEMINAR KRNOV
---
Kinopanorama around the World
By Alain Dorange
This is a listing as complete as possible of the countries in the world where the Kinopanorama three strip movies were exhibited. From Russia to Belgium. From Sweden to Japan. Kinopanorama was everywhere. Alain Dorange has all the details for you. Get the overview in this page, and send any additional Kinopanorama season to the editor.
---

• Go to Presented in 70mm Dolby Stereo

Go to David Lean's Film of "Doctor Zhivago"
---
SCHAUBURG 2015 TODD-AO FESTIVAL
KARLSRUHE, November 2014 / in70mm.com news. The 11th edition of the "Todd-AO 70mm Festival" will take place from 9-11 October 2015 at the Schauburg in Karlsruhe, Germany. For three days in October Filmtheater Schauburg celebrates the world of LARGE FORMAT film, by offering

a series of epic films in 70mm -

the HD of film formats. Some films are in their original versions and some "70mm Vintage Classics", are dubbed into German.

Once again spectacular large format process names like CINERAMA, Super Technirama 70, DEFA70, Todd-AO, Panavision 70 and Super Panavision 70 will light up on the large 18 meter curved Cinerama screen.

One of very few original cinemas, still equipped with 70mm projectors. The huge screen is wide, curved and covered by a "Cinerama red" curtain. It's the perfect framework to present 70mm with 6-track sound in

Super Technirama 70, DEFA 70, Todd-AO and Ultra Panavision 70

.

• "in 70mm" is unlike anything you have ever seen - a High Definition movie experience with extremely sharp images and crystal clear 6 track stereo.
• "in 70mm" is very realistic, almost three dimensional and can make everything you have ever seen pale into insignificance. But don't take our word for it - come and see for your self.

• Go to Todd-AO Festival Program 2005 - 2014
---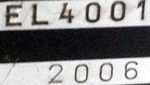 Magnificent 70mm Cinemas of Casablanca
By Dr HASSAN BELKADY
I was happy to hear that you are interested by the DP70s exposed at the hall of my cinema RIF. They have been renewed and they have been running since 2000 until 2013. I created a museum of 35mm and 70mm at the entrance of cinema RIF with Victoria 8 Cinemecanica, Westrex and DP70 projectors from my 3 cinemas ABC, RITZ & RIF in Casablanca.
Miramax Films Presents "El Cid"
"El Cid is one of the greatest epic films ever made. Anthony Mann's sense of composition, his use of space, and his graceful camera movements bring to life an ancient tapestry where the transformation of an ordinary man into a legend becomes almost a mystical experience." Martin Scorsese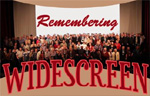 "REMEMBERING WIDESCREEN" on Blu-ray
By Wolfram Hannemann
A documentary about a very special "family" gathering which happens once a year in Bradford, UK - the "Widescreen Weekend" at the National Media Museum. If you ever wondered what "Widescreen Weekend" is all about, this brand new documentary may give you all the answers you need. Mostly filmed during 2013's "Widescreen Weekend" at the National Media Museum in Bradford (UK), Wolfram Hannemann's short film concentrates not just on the people running the festival, but on some of the regular delegates as well.

• Go to 11th Oslo 70mm Festival, January 2015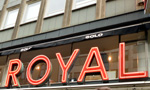 "Search for Paradise" Cue Sheet
The soundtrack of a Cinerama feature could be formatted as 6-track stereo, with mono surround or as 7 or even 8 track stereo with stereo surrounds. In some films surround format would change within the feature. The projectionist would follow a cue sheet indicating when sound channels had to be changed during the performance. This is an example from Malmø in Sweden.
70mm, Cinerama and Cinemiracle shown in Sweden
By Thomas Hauerslev
Which large format films were shown in Sweden in 70mm, Kinopanorama or Cinerama? See the list and let in70mm.com know if you can add more details to it. All contributions: titles, dates and adverts are most welcome. Many 70mm prints are archived in cold conditions near Stockholmat the official Swedish State Film Archive.
Remastering the soundtrack of "The Best Of Cinerama"
By Robert Weisgerber
Sepia Records and I have started the editing process for a CD release of "The Best Of Cinerama." What makes this different than the other Sepia Cinerama CD's is that the source elements are 35mm 7-track full coats of the production. The full coats are a mixture of the only surviving Cinerama 7-track audio of Act I, with narration and Act II, the music and effects without narration
---
ALL "IN 70MM" NEWS
2014, 2013, 2012, 2011, 2010, 2009, 2008, 2007, 2006, 2005, 2004, 2003, 1998-2002
---
ALL "THE 70MM NEWSLETTER" NEWS
2005, 2004, 2002, 2001, 2000, 1999, 1998, 1997, 1996, 1995, 1994
---
5 YEARS AGO - 2010
• Todd-AO at the Savoy, Düsseldorf, Germany
• Some ruminations after "The Reel Thing XXV"
• Fred Waller's 1950 Diary
---
10 YEARS AGO - 2005
• "Man in the 5th Dimension"
• 70mm films in Mexico
• Olivier Brunet's "Fanny's Wedding"
---
15 YEARS AGO - 2000
• "The Witness" in Super Panavision 70
• Technirama on Wheels
• A Brief History of Philips Cinema
---
20 YEARS AGO - 1995
• A Message from Freddie A. Young
• My first encounter with 70mm film
• Todd-AO - Distortion Correcting Printing Process
---

• Go to Presented in 70mm Dolby Stereo

• Go to Miramax Films Presents "El Cid"
The Latest Word on DAVID LEAN'S Film of DOCTOR ZHIVAGO
By METRO-GOLDWYN-MAYER
"Doctor Zhivago" is playing to record breaking business in its second week at the Loew's Capitol Theatre in New York and the Paramount Theatre in Hollywood with both engagements having the largest advance sales of any Metro-Goldwyn-Mayer roadshow attraction in the history of the company. David Lean's film of Boris Pasternak's Nobel Prize winning novel completed its second capacity week at the Loew's Capitol, January 5, with a smashing gross of $70,224.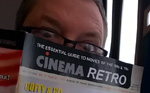 Cinema Retro Magazine Goes Curved in Issue #31
By Thomas Hauerslev
Cinema Retro is essential reading. The latest issue is no exception. Contributions from Raymond Benson, DVD, books and music CD reviews of films from that era, Gareth Oven takes us back to Pinewoods Past plus the usual entertaining articles about long forgotten films of the 60s and 70s. 64 pages in full (Techni)color. Cinema Retro magazine is unique, and if you are tired of (or don't give a dam about most) contemporary films - and adore the films from the 60s and 70s, THIS is THE magazine for you.
A restauração de Oklahoma, parte II
By Paulo Roberto P. Elias
A conversão de filme em película para vídeo a partir do interpositivo costuma dar resultados não condizentes com a resolução do Blu-Ray, mas neste caso a imagem supera todas as expectativas, mesmo do usuário mais exigente e, na minha opinião, superou todas as outras transcrições semelhantes, lançadas em passado recente. Sendo este um esforço que beneficia o resgate da história tecnológica do cinema, a presença deste set no mercado brasileiro deveria ser obrigatória, mas a Fox local ainda não se pronunciou a respeito.
The restoration of Oklahoma! on Blu-Ray
By Paulo Roberto P. Elias
The current Blu-Ray release will prove that the restoration done for Oklahoma! was indeed first rate. The sharpness and increased depth of focus of the picture that can be noticed is also a bonus in the magnitude of the field of vision achieved by the Todd-AO format. More importantly, the new restoration manages to put the colour balance back into the film. Hues and saturation are retrieved in perfect harmony, to the extent of making the picture look like new.
70mm, Cinerama and Cinemiracle films shown in Norway
Edited by Thomas Hauerslev
Which large format films were shown in Norway in 70mm, Kinopanorama or Cinerama? See the list and let in70mm.com know if you can add more details to it. All contributions: titles, dates and adverts are most welcome. Many 70mm prints are archived in cold conditions near the Arctic Circle in the official Norwegian State Film Archive.
11th Oslo 70mm Festival, January 2015
By Jan Olsen
The Norwegian film institute proudly presents the 11th Oslo 70mm festival 23. January - 4. February 2015. The program is a mix of vintage original prints, blow-ups and restored classics. This festival, dedicated to a movie format that was introduced more than 50 years ago, is a dream for many movie fans around the world.