"IN 70MM" NEWS
Das Vergessene Tal In Innsbruck
Von Udo Heimansberg
1969 wurde im Gschnitztal in Tirol in der Nähe des kleinen Ortes Trins der Film "Das Vergessene Tal" gedreht. Zu den Dreharbeiten eingeflogen wurden Stars wie Michael Caine, Omar Sharif, Per Oscarsson und Florinda Bolkan, Einheimische spielten mit als Statisten und verwandelten sich so in ihre Vorfahren zur Zeit des 30jährigen Krieges.
Attending the Widescreen Weekend from 10 to 13 April 2014
By Gerhard Witte
2006 had been the last time I visited Bradford's Widescreen Weekend. At the time, of course, I was particularly impressed by the 3-strip screenings of "Windjammer" and the all-time hit "How the West Was Won". All projected onto the deeply curved screen in the Pictureville Cinema. Now, 8 years later the great opportunity watching the last two Cinerama `holy grails´ "Seven Wonders of the World" and "Search for Paradise" on the curved Cinerama screen. That was the reason why I travelled to England.
Circarama at the "EXPO" in Lausanne, Switzerland
By Gerhard Witte
The "EXPO" in Lausanne in 1964 is often called it "EXPO of Projection". In the hall of the Swiss Federal Railways "CIRCARAMA" was presented on 9 screens and with 9 projectors. For the EXPO a new CIRCARAMA film was produced in Eastman Color and 35mm film with Mitchell cameras to ensure the best image quality.
"Violet" Partly Photographed in 8-perf 65mm
By Bas Devos, director
We shot in an 8-perf format to approach the 4:3 ratio. We wanted to achieve a heightened reality for certain shots. Approx. 12 min in the films final cut is 65mm footage. This includes a monolithic ending sequence of 6˝ min. Due to the length of an 8 perf 65mm reel, we had to cut the shot in two parts and stich it together in post to have one fluent 6˝ min shot.
2014 Widescreen Weekend Introductions
Having dubbed Wood as well as Moreno, Nixon felt she deserved a cut of the movie-album royalties. Neither the movie nor the record producers would bow to her demands. Leonard Bernstein broke the stalemate by volunteering a percentage of his income, a gesture of loyalty-royalty since Nixon had been a performer-colleague of his at New York Philharmonic concerts. He ceded one-quarter of one percent of his royalties to her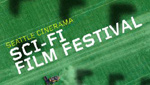 Seattle Cinerama shows "2001" and "Brainstorm" in blazing 70MM
The Festival's banner event is Douglas Trumbull's forward-looking film, UFOTOG. The 12-minute science fiction adventure was written and directed by Trumbull and demonstrates his new technical process, MAGI − a new cinematic language that invites the audience to experience a powerful immersion in the story that is not possible using conventional film standards. Christie Digital will provide a special digital projector to premiere the footage, which was captured in 4k 3D at 120 frames per second.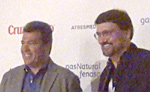 "Holiday in Spain" Screens in Spain
By Dave Strohmaier
Upon hearing that this rare film, which was largely filmed in Malaga had been reconstructed and re-mastered, Festival director Juan Antonio Vigar and local newspaperman and film historian, Francisco Grinan contacted David Strohmaier about the possibility of showing the film at this years festivities.
Schauburg Cinerama restores "Vigilant Switzerland"
By Herbert Born
All three panels were scanned from the original and faded but mint 70mm archive prints and are now in the process of being color graded to get the original look back. "FORTRESS OF PEACE" will be shown in 70mm at the 2014 Todd-AO 70mm festival this October. An original 3-Panel-screening of the DCP's in work is planned later this year.
La Suisse Vigilante
By Freek Dozy
When I was 20 years old I visited the Swiss exhibition 1964. I have in my collection the original prospectus (16 pages) of the Swiss Army pavilion 1964 Lausanne. Also an article in the 'Kinotechniek' from Germany.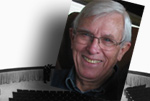 Carl W. Williams Passed Away
The Williams Family
It was at UCLA that he and fellow faculty member, Dr. Richard Vetter, invented a wide-screen photographic and presentation system called Dimension-150. Introduced in 1966, the system was soon being installed in movie theaters around the world and for a time, the D-150 process was one of Cinerama's chief rivals
Book signing in Aalborg - Johan Wolthuis to attend 70mm Event
By Thomas Hauerslev
On Saturday April 26 Johan Wolthuis, Dutch 70mm enthusiast of the International 70mm Publishers, will be present in Aalborg (Denmark) on the occasion of Biffen's 25th Anniversary. Johan will be present to talk about his passion for 70mm, sell his latest publication "Widescreen History", and do book signing during the 70MM Event.
2001: A Space Odyssey - The Missing Pieces
By Ken Kunkel
It is strange how the mind works. The older one gets, one can forget what happened yesterday but can remember details from decades ago. When I was a senior in high school, I took my two younger sisters to the Warner Cinerama Theatre in downtown Pittsburgh to see "2001: A Space Odyssey." It was the first week in town.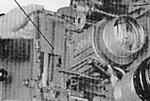 Which 70mm Projector is this?
Is there anyone among the readers of in70mm.com, who might know what brand this 70mm machine is? Maybe of Italian origin, but it does not look like a FEDI or a Prevost. Any comments about the brand and use of this 70mm projector is most welcome, please. Pictures are also most welcome.
"Interstellar" Goes IMAX 70MM
...a page in progress
This is a page in progress with stories about Christopher Nolan's new film "Intersellar", which is being released in IMAX 70mm by November 2014. The idea is to update the page regularly with information about IMAX cinemas showing the film in 70mm, bits and pieces, links and stills as they become available. You - the reader - is invited to contribute with information, reviews, adverts etc - anything you see fit to share.
---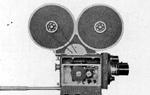 Introduction to Projection and Wide Film (1895-1930)
By Rick Mitchell (posthumously)
It is the intention of this book to deal with the subject of "Wide Screen" as it relates to the mainstream theatrical motion picture industry and its history, with reference, where appropriate, to its effect upon such related areas as documentary, industrial, and non-theatrical production and exhibition. Notable techniques and processes, the events and situations within the industry which precipitated their introduction, and the subsequent loss of popularity of some them will be covered mostly in chronological order as new developments were generally founded upon, or a reaction to, a previous one.

• Go to W.K.L. Dickson and the 1.33:1 Frame
• Go to Projection and Wide Film (1895-1930)
CENTRUM PANORAMA Varnsdorf, Czech Republic
By Pavel Nejtek
Jako majitel kina CENTRUM PANORAMA Varnsdorf který bylo projektováno jako 70mm kino a do dnešního dne přes veškerou modernizaci tj. digitalizace jsme uchovali v provozu původní vybavení kina s projektory UM3570 takže jsme schopni projekce jak 6-kanálového magnetického záznamu tak i záznamu DTS.
CENTRUM PANORAMA Varnsdorf, Czech Republic
By Pavel Nejtek
As owner of the cinema CENTRUM PANORAMA Varnsdorf, which was designed as 70mm cinema and despite all possible modernization including digitalisation we keep running the original equipment of the cinema with projectors UM3570 so that we are able to provide projection of the 6-chanel magnetic recording as well as DTS recording.
Introduction to How The West Was Won
By Professor Sir Christopher Frayling
How The West Was Won began life not with a script commission from the executives at Cinerama Inc or with an original treatment sent in from an agent, but with a series of seven historical articles in Life magazine—running from April 6th to May 18th 1959.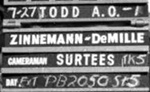 Newly Restored Oklahoma! to open TCM Classic Film Festival
This unique 4k presentation, painstakingly restored from 65mm Todd-AO elements by Twentieth Century Fox and Fotokem, will be screened at 30 frames per second — the same frame rate as when the film was originally released in 1955. The original 6 - track soundtrack has been also restored and re - mastered at Twentieth Century Fox, in collaboration with End Point Audio and Chase Audio by Deluxe.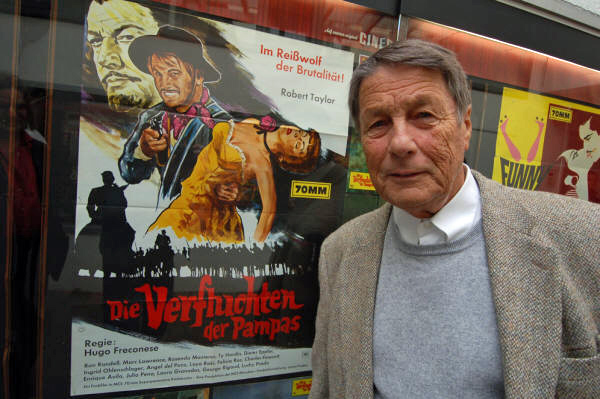 Dieter Gäbler Verstorben
Von Herbert Born
Dieter Gäbler verstarb vergangenen Mittwoch, 5. März 2014 nach schwerer Krankheit. Viele Gäste unseres 70mm Festivals lernten Dieter Gäbler als einen aufgeschlossenen und freundlichen Zeitzeugen kennen, der zweimal als Ehrengast unser Festival besuchte.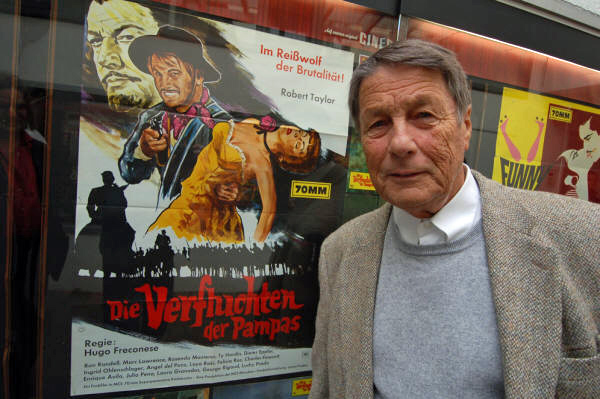 Dieter Gäbler passed away
By Herbert Born
Dieter Gäbler, German DoP and well known MCS-70 camera technician, passed away last Wednesday, March 06, 2014. We remember him as a very passionate filmmaker and a very friendly and likable friend who was always very helpful in answering questions during our long research conversations.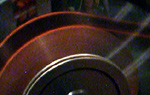 Me and It's a Mad, Mad, Mad, Mad World - a 50 year Love Story
By Stefan Adler
I might as well have bought a private 70mm print to get it right from the beginning! What's $ 20.000:- or more for nostalgic remembrance purposes for an old 70 mil' projectionist? A mere trifle! The possibility of having "prime beef" running through two lusty warm purring kittenlike DP70:s in the living room was appealing, but somewhat hard to get a household majority to vote for.
"War and Peace" Souvenir Program
WAR AND PEACE follows the fortunes and intricate relationships of four aristocratic families in Russia during the eight turbulent years, 1805-1812 when the vast country was caught up in the swirling and irresistible tides of history. The families are the ROSTOVS, the BOLKONSKYS, the KURAGINS, and the BEZUKHOVS. The story begins in 1805 when the spectre of Napoleon hung over the tapestry of Eastern Europe like a shroud.

• Go to "War and Peace" Souvenir Program Stills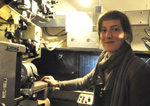 Leo Kino, Innsbruck, Austria
By Thomas Hauerslev
I visited the Leo Kino on a very sunny Saturday in February to give a lecture about film formats, followed by a 4K presentation of "A Year Along The Abandoned Road" and a rare screening of "Gorillas in the Mist" in 70mm and Dolby A. Here you have some images of the only remaining 70mm cinema in Austria
ALL "IN 70MM" NEWS
2013, 2012, 2011, 2010, 2009, 2008, 2007, 2006, 2005, 2004, 2003, 2002, 2001, 2000, 1999, 1998
---
ALL "THE 70MM NEWSLETTER" NEWS
2005, 2004, 2002, 2001, 2000, 1999, 1998, 1997, 1996, 1995, 1994
---
5 YEARS AGO - 2009
• "The Alamo" lost 70mm version
• Large Format in Brazil / 70mm In Rio
• "Where Eagles Dare" - 40th Anniversary 1969 - 2009
---
10 YEARS AGO - 2004
• Facts about the new "Mad World" 70mm print
• The Danes And The Windjammers
• Sensurround Horror Stories
---
15 YEARS AGO - 1999
• Planning the Wide Screen Weekend
• The Work of Jan Jacobsen
• Radio City Music Hall
---
20 YEARS AGO - 1994
• 65mm Todd-AO Concept Tests
• The 70mm Promotion Tour 1994 Part #1
• A new Newsletter
---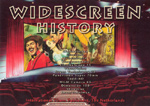 Widescreen History
By Johan Wolthuis
The new WIDESCREEN HISTORY publication summarise the history of Widescreen processes and related subjects. The intention was to make a publication with a lot of information on Cinerama, CinemaScope systems, 70mm, etc., With a little history about sound and color and as important aspect: a lot of classic illustrations in colour and black and white.
"2001: A SPACE ODYSSEY" Production Information
By Warner Brothers, 2001
"2001: A Space Odyssey" tells the story of astronauts Dave Bowman and Frank Poole, aboard the spaceship Discovery, who are sent on an exploratory mission to a point near the outer reaches of the Solar System. The operation runs smoothly at first but then slowly, inexplicably, things begin to go wrong. The true nature of the mission is called into question and Discovery's highly sophisticated onboard computer, the HAL-9000, appears to be sabotaging the crew he was designed to assist, jeopardizing not only the mission but the lives of everyone onboard.
2001: A Space Odyssey Essential Presentation Procedure
By METRO-GOLDWYN-MAYER
The Running time of 2001: A Space Odyssey is 2 hours 20 minutes, plus 10 minutes of OVERTURE, ENTRACTE and EXIT MUSIC. Play OVERTURE music (3 minutes) with full House lights on. Dim House lights towards end of overture - allow for Censor certificate and open full screen on LION TRADE MARK
2001: a space odyssey Campaign
By Donn Reyes, MGM
I found an unbounded enthusiasm for 2001 on the part of local managers and/or agents which is reflected positively and powerfully in the work of their publicity and promotion departments. In my opinion, a large measure of this enthusiasm springs from the fact that the managers/agents and their pub/promo people have never had a picture quite like 2001 to sell before, and as such, 2001 constitutes a definite challenge to them.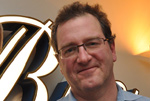 Mr. Todd visits in70mm.com
By Thomas Hauerslev
On Monday 27. January 2014 I had invited expatriate and Copenhagen resident Mr. Oliver Todd to our house for dinner and a talk about his life. Three hours went by very quickly talking about family, film and food and living in Copenhagen. Despite admitting he only knows very little about his famous granddad and 70mm, Oliver has agreed to be interviewed about his life some times soon.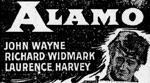 70mm Films I Saw Growing Up
By Ashley Ward
My first 70mm film was "The Alamo". It was at the 2:00 matinee, on December 24, 1960. Yes, it was the full-length roadshow version of the film. The venue was the Valley Theatre, in Cincinnati, Ohio. The Valley Theatre had a seating capacity of 1500 persons, and was configured as a Todd-AO house. It had a 120 degree curved screen.
CINERAMA HOLIDAY CD Soundtrack
First time on CD is the original movie sound track to the 1955 released "Cinerama Holiday" re-mixed from the movie audio tapes combined with music from the studio recording issued on the LP, making this Morton Gould score release as complete as possible for sound track buffs.
70MM Film Event at Biffen, Aalborg Denmark, 26. April 2014
By Nielsen & Hauerslev
"Biffen" in Aalborg, Denmark, is celebrating its 25th anniversary with a 1-day 70MM Festival. One day with 70mm films, lectures, format demonstrations, and the odd surprise on the 10 meter wide and deeply curved screen. It will be an unique opportunity to experience true 70MM in one of the best Danish cinemas.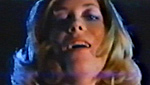 "Panorama Blue" in 70mm
By Daniel Sherlock
In 1974, an unusual movie was released to a relatively small number of theaters. The movie was PANORAMA BLUE, and it was billed as "the world's mightiest adult film" and "photographed in 70mm Super Widescreen Panoramascope". Was the movie actually photographed using 65mm cameras, or was it blown up from 35mm anamorphic 'scope format, or blown up from spherical 35mm?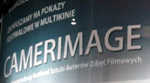 Cinerama at The Camerimage Film Festival
By Strohmaier & March
The International Film Festival of the Art of Cinematography CAMERIMAGE is the greatest and most recognized festival dedicated to the art of cinematography and its creators. Travelling this day were Dave Strohmaier, Douglas Knapp ASC, Rebecca Olkowski and Tom March. Dave and Doug were invited to give two presentations that were moderated by Jon D. Witmer, associate editor of the American Cinematographer magazine.
KRRR! 9th 70mm Film Fest Krnov 2014
By Klima & Tomesek
One of the main task of the 70mm festival is to recall now unused film format which dazzled visitors in its time by brilliant display of details in picture and and insurmountable sound to nowadays public - DESPITE ALL THE DRAWBACKS THAT OLD AND WORN-OUT COPIES OF 70mm FILMS BRING.
Widescreen Weekend, Bradford, 2014
The dates for the next Widescreen Weekend are 10 – 13 April 2014. The one change to note here is that Widescreen Weekend commences on Thursday evening with a double bill and concludes after the last show on Sunday evening. We will be announcing programme information in January 2014 and will be in touch in December to update you and let you know when passes will be on sale.