BRAZIL / PORTUGUESE
Falecimento de Orion Jardim de Faria
Por Paulo Roberto P. Elias
O pioneiro de filmes 70mm brasileiro Orion Jardim de Faria faleceu no dia 25 de dezembro de 2012. Ele vivia uma vida plena, ainda dedicada a filmes, em sua vida pessoal. Um amante do cinema, o seu profundo conhecimento de todos os aspectos de realização e exibição de filmes tornaram o seu alcance da alta tecnologia bem mais fácil.
---
FRENCH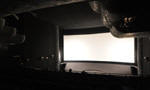 Max Linder Panorama
By Pascal Belguiral
Avant tout je suis spectateur et ainsi chaque séance que j'exécute ce doit d'être irréprochable : point, cadrage, fixité, niveau sonore. Il en va du respect du public, de l'œuvre projeté et de la fierté que j'éprouve à ce que chaque projection soit de qualité.
---
Widescreen Film Festival, 2010
By Francis BARBIER
Cinerama, Ultra Panavision 70, CineMiracle, Super Panavision 70, Todd-AO, Gonflage 70mm, Sovscope 70, VistaVision, MCS-70… des noms barbares aux oreilles et aux yeux des spectateurs les plus récents.
En 70mm au PARAMOUNT OPÉRA
By Francois Carrin
Un événement s'est produit mercredi 24 septembre 2008, un nouveau film est sorti ce jour-là en 70mm - "Faubourg 36"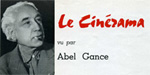 l'esprit vers le Cinerama
By Abel Gance
La celebre lettre de Abel Gance ecrite pour le programme de "Windjammer"en Fevrier 1962. Souvenez vous que le titre francais etait "La Grande Rencontre"
Jean-René FAILLIOT: La restauration de "Play Time" | Sylvian Coudène: Le CAPRI Juan Les Pins | Loïc LEDEZ: Meet the Chief | "Faubourg 36" in 70mm in Paris, France |
---
IRISH
Tuairisc Todd-AO agus Cinerama in Éirinn
Le Brian MacEochaidhín
Thosaigh "Breath-taking Todd-AO" in Éirinn ar Lá le Stiofán 1958 i bPictiúrlann Adelphi i mBaile Átha Cliath. B'é "South Pacific" in éineacht leis an gearrscannán "The Miracle of Todd-AO" an chéad clár Todd-AO a léireadh san tír seo. Ag an am sin, b'é an Pictiúrlann Adelphi ceann is mór de na pictiúrlanna sa cathrach, le níos mó ná 2000 suíocháin.
---
RUSSIAN
Советская Кругорама
By Grigorij Shandorovich
Во время своей поездки по США, Хрущев посетил циркораму и был ею восхищен. По приезду на родину, генсек возжелал «догнать и перегнать» Америку и за три (3!) месяца была построена наша кругорама!
---