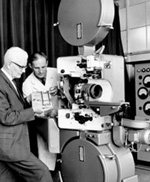 Construction of the Philips "All Purpose" projector DP70
The Cinema Department of the Philips works in Eindhoven (Netherlands) were asked to develop a special projector which had to be suitable for running 70mm films with magnetic sound tracks and which after replacement of some easily removable parts could be made suitable rapidly for the reproduction of 35mm films with optical sound track and of CinemaScope films with four magnetic sound tracks.
---
THE DP70 WEB SITE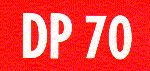 The web site is in three parts: a simple story about the the DP70 / Universal 70-35 Projector / Norelco AA11 machine and several lists of cinemas and serial numbers.
---
SERIAL NUMBERS
0600-2729 - see many numbers and where ther are
---
COUNTRY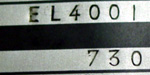 = new information/images

Algeria | Argentina | Australia | Austria | Belgium | Brazil | Canada | Chile | China | Denmark | England | Finland | France | Germany | Holland | Hong Kong | Iceland | Iraq | Ireland | Israel | Italy | Jamaica | Japan | Lebanon | Mexico | New Zealand | Malaya | Malta | Morocco | Northern Ireland | Norway | Philippines | Portugal | Rumania | Russia | Scotland | Spain | Sweden | Switzerland | South Africa | Thailand | Tunis | USA
| Venezuela | Vietnam
---
ASISTANCE NEEDED
Please send the following DP70 information to the editor:

* Serial number
* Present location (Cinema or private)
* City
* Country
* and a picture
---
RECENTLY ADDED NUMBERS AND MACHINES
• 1466 + 1469 in Australia

• 864 + 869 with Stephen Rowley, UK

• 651 + 652 now with Tim Burke
• 1920 + 1924 in Boston, Massachusetts
• 1492 + 1493 in Germany
• New images from Marocco and Oklahoma
• 2006 + 2007 added from Morocco
• 1984 + 1989 added
• New image from Swizerland and Africa
• New image of DP70 2125
• 2304 moved to Bob Leader
• 880+881 from Warner (DC), are scrapped
• 2311+2312 moved to the Academy, California (CA)
• 1352 is a now a museum exhibit in England
• 1513 was taken to the scrap dealer in April 2013
• 1960+1967 added to the list of D70s in Virginia (VA)
• 2171 moved to new home in Denmark

---
TESTIMONIALS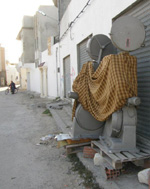 • Wonderful stuff on the DP70s site – where do you find the time?!! Jim Slater, Cinema Technology, UK

• It's a great job you'v done! My compliments. Keep on!
Best regards, Volker Hannemann, Germany

• Very interesting website as I just have been looking it over. Bill Dubiel, USA

• Hi, Enjoyed your wide-screen site very much. Charles Slater, Australia

• Congratulations for all what you do in favour of DP70. I am a fan of these machines. Best Regards, Gerard Cortés, Spain.

• Your web site? YEAHHH, STILL GREAT !!!! Best regards, Luc, France

• Just a quick note to congratulate you on your excellent website in respect of the Philips DP70, projector a machine I worked with for a few years at the Queens Theatre in Newcastle On Tyne. U.K. Neil Thomson, Odeon Cinemas, Newcastle, England

• Go to more testimonials
---
BUILDING OF THE DP70
Jan Jacob Kotte
By Anton P Kotte

Philips is known all over the world for electrical shavers, food processors, consumer electronics and a "millon" other things. Little known today perhaps is that Philips was a leading company in manufacturing a series of outstanding motion picture projectors.
A Brief History of Philips Cinema
By C. G. Nijsen
The Philips Light bulb factory was founded in 1891 by Gerard Philips and Dr. Anton Philips. When the "Philips" brand became so successful, they decided to enlarge their scope from lamps only to everything electrical or electronic.
DP70 - A MASTERPIECE
I think DP70s are a sight to behold in their own right and were the most visionary piece of engineering imaginable

Trevor Wilson, 10.04.2006
THE DP70 NEWS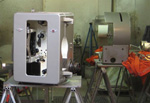 The Restoration of DP70 #1820
By Emiel de Jong
DP70 no. 1820 is back almost where it was born: it's now on permanent display in the lobby of "Centrum Hofdael", arthouse cinema / general art-centre in Geldrop, close to Eindhoven, The Netherlands.

• Go to DP70 / The Todd-AO Projector News
---
DP70: A Story of the Todd-AO Projector
By Thomas Hauerslev
Today, when most cinemas have converted to digital presentations, there is less need for the DP70 – or any other film projector – and most of the machines are now redundant, with notable exceptions such as the Schauburg, and other 70mm venues.
DP70: Die Geschichte des Todd-AO Projektors
Von Thomas Hauerslev
Heute haben die meisten Kinos auf digitale Vorführverfahren umgestellt und der DP70 wird - wie auch alle anderen Filmprojektoren - nur noch selten benötigt. In den meisten Kinos haben sie nun ausgedient, es gibt jedoch ein paar rühmliche Ausnahmen wie etwa die Schauburg oder andere 70mm-Kinos.
A new film gate for the DP70 projector
By Emmy Rosbeek
We have some news about the DP70 projector: We made a new film gate for this projector.

More updates for the DP70
• RED-LED reverse scanner
• Reverse scanner
• Cinefocus
• Photo mask by Todd-AO
---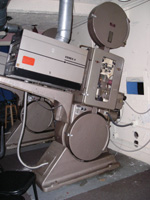 • 70mm film projection lenses for the DP70

• All those who have helped finding the DP70 information

• North American DP70 brochure (PDF)
• Norelco AAII Universal 70-35 Projector (PDF)
• European DP70 Brochure (PDF)
• Der Projector DP70 (PDF)
• British Kinematograph - Philips DP70 (PDF)
• Norelco AAII / DP70 Theatre List (PDF)
---
BROCHURES AND ADVERTS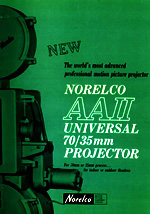 Three DP70 Brochures
DP70, Universal 70/35mm Projector and Norelco AAII

Classic trade magazine DP70 adverts from Denmark, France, Germany, North America, Holland and many more

Original 1957 DP70 invoice:

• Haus Savoy, Hamburg 1957
• Haus Savoy, Hamburg, Rechnung April 1957
• Haus Savoy, Hamburg, Rechnung December 1957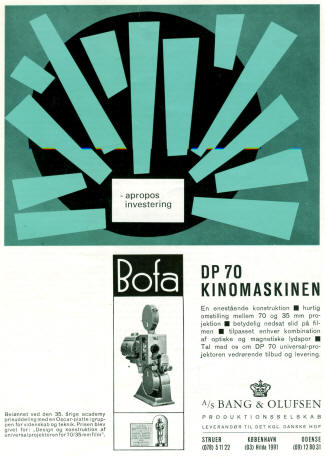 • Go to DP70s in Denmark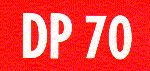 The DP70 Story | Modernizing the DP70 | DP70 Brochures | Magazine adverts for the DP70 | Who helped finding DP70 information |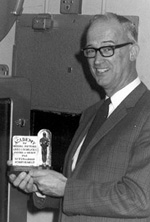 The Story of the DP70, the Todd-AO projector. The famous and time proven 70mm film projector developed by Philips in Holland more than 55 years ago. The DP70 was a remarkable 70mm projector. On Monday April 8, 1963 Fred J Pfeiff, technical manager of the motion picture equipment department of Norelco (North American Philips), received the 1962 Class 2 Oscar plaque for:

"The design and engineering of the Norelco Universal 70/35mm motion picture projector".
---
ABOUT THE DP70 WEB SITE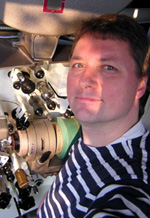 This is a labour of love - and a fair amount of insanity. The history of one of the most remarkable film projectors; the DP70 Todd-AO projector.

In 1982, as a teenager, I started my film-life as a projectionist apprentice at the 3 Falke Bio, my favourite cinema which was "purpose built" for Todd-AO in 1958. My new interest became the history of the Philips DP70 projector. I was intrigued and wondered "Why did the DP70 receive an OSCAR and what was Todd-AO?".

My collection of DP70 information started to build and soon I discovered how much the DP70 was appreciated everywhere. I also discovered the wonderful story about Todd-AO and have spent a lot of effort and time to document the Todd-AO process and the DP70 projector.

I remember finding the original European sales brochure of the DP70 with a list on the back cover of all DP70 installations by August 1960. I started to collect DP70 serial numbers from Copenhagen, and soon expanded the search to Denmark and soon to Malmø in Sweden and in Hamburg in Germany.

Just how many machines were made? An intriguing question which I have tried to answer here.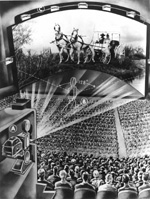 I wrote letters to cinemas and soon answers arrived with serial numbers and pictures from fans all over the world. This was amazing! The list grew and I sent out regularly updated lists to all contributors in return for their help. Today, nearly 30 years later, the lists are too long to do that, and instead you can find the information online.

It would not have been possible to find all this data without continuing support from enthusiasts everywhere. To those individuals who have assisted me I am very grateful. My thanks to everyone and keep up the good work. We still have a long way to go ;-)

It is very difficult to record all DP70 cinemas and serial numbers. Projectors are moved and often re-installed in new places. Cinemas open, close and sometimes the machines are destroyed when cinemas are demolished. When available those details have been included on the cinema lists.

So far I have collected DP70s in:

44 countries, 592 Serial Numbers and 1073 Theatres (to be updated)

Little did I know, so many years ago, what this interest and lifelong hobby, would bring me of wonderful visits to projection rooms, cinemas and unique historical places connected to the DP70 story. Imagine the thrill to receive a letter from The Todd-AO Corporation in Hollywood with serial numbers and images of their machines. What joy to find 24 machines in one single day in Paris' projection rooms - and by the end of the day be able to say "70mm" and "DP70" in French - fluently.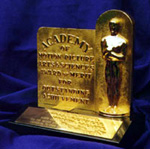 I have traced the story back into the home town of the chief engineer, met his son, shared memorabilia and information. I have seen the birthplace of the DP70 and photographed the Academy Award Jan Jacob Kotte won in 1963 for his achievement. I have seen American Optical in Southbridge in the United States, the birthplace of Todd-AO, and met with several key people from the early days of Todd-AO.
---