LATEST 70MM NEWS AND FEATURES
The Hateful Eight
Set six or eight or twelve years after the Civil War, a stagecoach hurtles through the wintry Wyoming landscape. The passengers, bounty hunter John Ruth and his fugitive Daisy Domergue, race towards the town of Red Rock where Ruth, known in these parts as "The Hangman," will bring Domergue to justice. Along the road, they encounter two strangers: Major Marquis Warren, a black former union soldier turned infamous bounty hunter, and Chris Mannix, a southern renegade who claims to be the town's new Sheriff.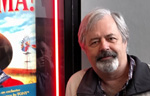 Reflections on the 60th Anniversary of Todd-AO screening of Oklahoma
By Dick Whitney
I began working at American Optical 41 years ago, and today I work for Zeiss, which is now sponsoring the Museum. They purchased AO's eyeglass business 10 years ago. My Father, Donald Whitney, began working at AO in 1947 in ophthalmic lens design. He was hired by John Davis, who later would be involved in Todd–AO.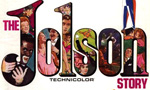 "What's On" with Udo Heimansberg
Looking through a collection of old dust covered boxes I've found some older "What's On"- Issues from my trips to London in 1969 and 1971/72. My first trip to London was in August 1969. Of course my main reason was not at all sightseeing but visiting record shops to buy soundtrack albums and going to the movies, especially those running 70mm films. I didn't care much about "Swinging London"- which I regret today…

• Go to The Original 70mm Engagements Of "Star Wars"
• Go to The Original Engagements Of "Star Wars"
• Go to List of first-Week Engagements Of "Star Wars"
---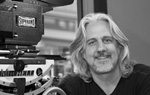 A Hunter of Light in 65mm
By Fatali
I have been a hunter of light in the American landscape for nearly thirty-years now. I have been very lucky to acquire several 65mm cameras. My experiences of capturing images with 65mm has really just begun. Seven years it took for me to build the cameras, cranes, dollies, MOCO systems and even a Cinebulle to move the cameras into some amazing remote and rugged wildernesses.
UP, DOWN, UP, DOWN
By Bob Whearley
A crew from Panavision Inc. mounted $25.000 worth of camera gear on a Cyclone Racer car at the Nu-Pike last week. They were shooting some spectacular action footage to show to potential buyers of the 65-mm. wide-screen process. The cameramen, headed by John R. Moore, executive vice president of Panavision, then climbed aboard the cars and spent an entire afternoon hanging on for dear life.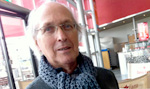 Is there still a Future for 65mm Filming and Original 70mm prints?
By Johan Wolthuis
Let us hope and emphasize that all cinema directors, their projection supervisors and other staff members will do their utmost to handle the new 70mm prints with the highest possible care to prevent any damage on these new unique 70mm prints with Datasat (DTS) time code. So we will be able to watch these for a long time without any scratches ! Not only in the United States, but also in Europe there is still a lot of interest in 70mm film.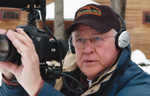 High impact immersive widescreen filmmaking with Douglas Trumbull
Interviewed by Tony Earnshaw
I have discovered that if you embrace digital technology from a new perspective and you say, 'Let's just get rid of all the historical artefacts and beliefs of what an image is or what it should look like and start over and do it all digitally and take advantage of high resolution cameras that are available and that very people use, the high resolutions projectors that are available that very people use and take advantage of the fact that the digital projectors that are in tens of thousands of movie theatres can run at 144fps and no one's using it.
Wide Screen Weekend 2015
By Mark Lyndon
Having been cancelled, for reasons which remain unclear, the Wide Screen Weekend strand of the sadly defunct Bradford International Film Festival, returned triumphantly to the Pictureville Cinema, following intense behind the scenes lobbying of the Science Museum hierarchy. The Picturehouse organisation can feel justly proud of their achievement.

• Go to Francois Carrin's trip to the Widescreen Weekend
• Go to Wide Screen Weekend gallery 2015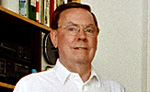 Richard Vetter Passed Away
By Robert Weisgerber
With all the trials and tribulations that Dick went through over the years in Hollywood he always believed firmly in the 70mm format and the value it brought to feature films, yesterday, today and tomorrow. He was extremely knowledgeable and was willing to share it all, but most importantly a true gentleman. We will all miss him!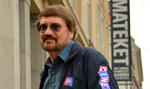 Cinerama, Dave Strohmaier and the "We have all seen it as a kid" thing
By Thomas Hauerslev
We went to see "Seven Wonders of the World" in 1957, It was an interesting and very unique movie experience, because because seeing that in the widescreen format was kind of mind boggling. That is probably why Cinerama lasted so long, because it was so different. Not only did it create a wide screen in the cinema, but it was different on its own right, and people felt they were moving with the theatre.

• Go to Copenhagen Gallery: 2015_Cinerama Festival Tour
2015 Widescreen Weekend Introduction
By Wolfram Hannemann
To get the look he wanted for the film, director Norman Jewison told Director of Photography Oswald Morris, to shoot the film in an earthy tone. Morris saw a woman wearing brown nylon hosiery, thought "That's the tone we want," asked the woman for the stockings on the spot, and shot the entire film with a stocking over the lens. Morris did shoot the film in anamorphic Panavison on 35mm film stock and it was blown up to 70mm for roadshow engagements.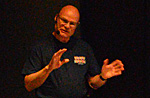 Interview with producer Randy Gitsch
By Thomas hauerslev
Cinerama has not played here in years. Many, many years, and you can now get a clue as to the excitement of the live experience, seeing it in a real theatre on a big screen, and enjoy that experience. It is very theatrical. There is a lot of Showmanship in Cinerama and this is a chance to go back to a theatre and learn about what that was like.

• Go to Copenhagen Gallery: 2015_Cinerama Festival Tour
---
The music of BENJAMIN FRANKEL
By Udo Heimansberg
The music for BATTLE OF THE BULGE was his only score recorded in full stereophonic sound- and also his last one! In 1967 Warner records published a soundtrack album featuring the original recordings, but only about 40 minutes of music, including the infamous "Tank Men's Song". The LP quickly disappeared, became a collector's item sold at high prices. There was a Japanese Vinyl re-issue in the 80s and a CD in the 90s, also from Japan. Beside a long playing record of "THE NIGHT OF THE IGUANA" no other works by Benjamin Frankel were available- until 1998!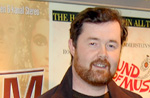 The Passing of Brian Guckian, Ireland
By Mark Lyndon
Over the years, our friendship grew, extending to my wife Margaret. We were looking forward to our reunion with Brian and were deeply shocked and saddened by the tragic news from Dublin. Brian achieved much in his tragically short life. He was a passionate advocate for film, at a time when film exhibition was becoming increasingly rare, less valued and appreciated. A co founder of the 70mm workshop, his scholarship and research made a considerable contribution to our knowledge of the subject.
Ken Annakin. Director in Todd-AO and Ultra Panavision 70
Von Thomas Hauerslev
Doch was die Entscheidung angeht, die "Fliegenden Kisten" in Todd-AO zu drehen, so war dies einfach die logische Wahl. Es war damals das größte Filmformat und ich wusste, dass ich die Leinwand mit vielen Menschen und Flugzeugen füllen wollte. Wirklich beeindruckend sind nun diese winzigen Flugzeuge in einem riesigen leeren Himmel, und das erreicht man nur mit 70mm.
"Push the button Max!"
By Thomas Hauerslev
All this in 70MM would not be the same without the Schauburg with its rich history, red curtains and curved screen. From the box-office lady who welcomes you in a friendly voice, to the rare GONG before the film begins, or the exhibited DP70 projector in the foyer.

• Go to Todd-AO Festival Images

• Go to "Drück aufs Knöpfchen, Max!"

• Go to Motion pictures photographed in Dimension 150

• Go to Odeon Marble Arch D-150 brochure
---
THE 70MM RUMOUR MILL
DECEMBER 2015

"The Hateful Eight" to be released in 70MM with 6 more minutes of footage compared to general digital release version. Longer and w i d e r in 70MM only!

New "The Hateful Eight" trailer

More on: The Hateful Eight

• Go to The 70mm Rumour Mill
---
---
FILMS IN 70MM
• Todd-AO
• Ultra Panavison 70
• MCS 70 - Superpanorama
• Super Panavision 70
• ARRI 765
• DEFA 70
• Dimension 150
• Super Technirama 70
• Sovscope 70
• Showscan


• Go to Chronological premiere list of major 70mm films

• Go to Motion pictures photographed in Ultra Panavison 70

• Go to Super Panavision 70
---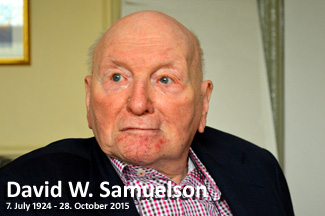 • Go to David Samuelson: A Lifetime with the Movies


• Go to Interview & People


• Go to Short stories
---
---
RAMA and FUN
THE RAMA PAGES
All readers are invited to send in their RAMAs. The "Rama" pages, now in its 8th year. More than 100 new and vintage RAMAs documented so far. Send your RAMA now!

• Go to 2008 | 2009 | 2010 | 2011 | 2012 | 2013 | 2014
---

• Go to in70mm.com auf Deutsch
---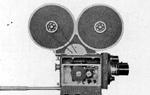 Introduction to Projection and Wide Film (1895-1930)
By Rick Mitchell (posthumously)
It is the intention of this book to deal with the subject of "Wide Screen" as it relates to the mainstream theatrical motion picture industry and its history, with reference, where appropriate, to its effect upon such related areas as documentary, industrial, and non-theatrical production and exhibition. Notable techniques and processes, the events and situations within the industry which precipitated their introduction, and the subsequent loss of popularity of some them will be covered mostly in chronological order as new developments were generally founded upon, or a reaction to, a previous one.

• Go to W.K.L. Dickson and the 1.33:1 Frame
• Go to Projection and Wide Film (1895-1930)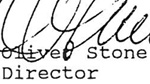 70mm Presentations - Letters from Directors
By Paul Rayton
Back in the heydays of 70mm exhibition of movies, it was not uncommon for a projectionist to open a shipping case of a 70mm title and find a "personal" letter from someone associated with the film. Typically it would be signed by the Director, or the Producer. Subjects addressed would be things like the illumination level on screen, and the audio playback level. Apparently many cinemas typically ran sound a bit too low. These messages were typically reminding us projectionists to run the sound at the "Dolby Standard" of a fader setting of "7".
---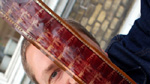 How to Create the Best experience in the Cinema
By Thomas Hauerslev
Films like "Titanic" and "Braveheart" should have been shot in 65mm simply because they are "big" movies. But shooting in 65mm doesn't need to be limited to the obvious mega productions. Small independent movies would benefit enormously with the sharper picture. I'd enjoy seeing films like "Enemy of the State", "As Good As It Gets" and "You've Got Mail" and many more, shot on 65mm stock and presented in 70mm. I and most of our readership would certainly seek out cinemas presenting films in 70mm.
My 47-year Odyssey with "2OO1"
By Edward Oines
I first saw '2OO1' as a not quite 14 year old in January 1969. It was being shown at the smallest theater in Sioux Falls, SD, and was leaving in 2 days, and I had to convince my mother to let my then 18 year old brother to take me on a school night. My memories were mainly of being struck by how realistic everything looked, when compared to Star Trek. I was hooked
Todd-AO Festival Film Introductions, 2015
By Wolfram Hannemann
Welcome to the 11th Todd-AO 70mm film festival. With our intros we want to give our projection team enough time to perfectly lace up those big, wide rolls of film in our DP70. Beware! It will be one of the most colourful festivals we had in recent years. That means that we won't be just treated to red or magenta, but to real colours – thanks to two brand new 70mm prints, two Orwo prints and two post 1982 prints. But don't panic: you will also be able to see those unique faded prints as well! You see, we got everything covered!
Loading
---
IN70MM e-NEWSLETTER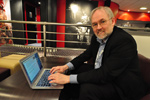 in70mm.com publishes an e-mail newsletter which is sent to users. If you want to join or discontinue, please send an e-mail to Bill Lawrence, in70mm.com. 785 readers already signed up.

• Go to e-Newsletter page
• See Past Issues
---
IN70MM.COM PARTNER
in70mm.com is proud to be associated with one of the finest cinemas in Europe, Schauburg Kino, home of the annual Todd-AO Festival in Karlsruhe, Germany.

• Go to Schauburg Cinerama | Todd-AO Festival
---
WHAT PEOPLE HAVE SAID ABOUT IN70MM.COM
I continue to be impressed by the dedication you have to the continuing wellbeing of 70mm. I would like you to have met my colleague and friend, the late Robert Gottschalk, founder and driving force of Panavision. He was of the unshakeable opinion that picture quality, real picture QUALITY, depended on a big piece of negative, the bigger the better.

All good wishes, Sir Sydney Samuelson, December 2009

• Go to Testimonials
• Go to Sir Sydney
---
THE 70MM NEWSLETTER
The original idea was

"Encourage film makers to produce and make new films in 65mm, present them in 70mm with 6-track discrete digital sound on big curved screens".

"The 70mm Association Newsletter" was the "voice" of The International 70mm Association.

For 7 years, when the magazine was produced regularly, it was edited and published in Copenhagen. The magazine was never a commercial venture - nor was it intended to be. It had a lot of fans and the number of subscribers climaxed in 2000. The last issue was published in the fall of 2001. Special edition issues 68, 69 & 70 have been made for the Widescreen Weekend.

• Go to The 70mm Newsletter | Back issues

• Go to Presented in 70mm Dolby Stereo
---
TODD-AO PAGE
Todd-AO Birth date
By Brian O'Brien
On October 15th, 1952 I received a phone call from a Michael Todd in New York City, who wished to come to see me at Rochester that evening. I had never heard of Todd, but it seems that he is a well-known Broadway producer.

• Go to Todd-AO | Filmed in Todd-AO | The First Movie Produced By Todd-AO | Walter Siegmund Remembered

• Go to Fred Zinnemann's "Oklahoma!" in Todd-AO
---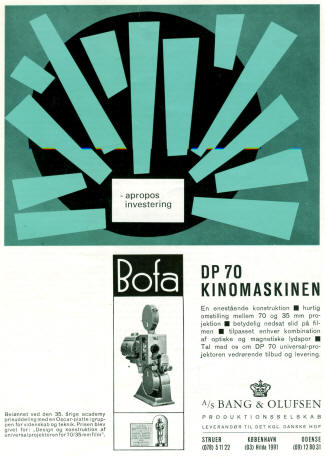 • Go to DP70 The Todd-AO Projector
---
COMING TO IN70MM.COM

• Schauburg Projection Technique
By Thomas Hauerslev
• Magnetic Sound Heads
By Clemens Shearer
• Sales Manual For Louis De Rochemont's Windjammer
By The Cinemiracle Process
• Visit to La Geode, Paris
By Thomas Hauerslev
• The DP75 Story
By Colin Bainbridge
• Visit to Futuroscope, Poitiers
By Thomas Hauerslev
• Visit to Kinepolis, Bruxelles
By Thomas Hauerslev
• Brian O'Brien, Jr.'s Todd-AO Scrapbook
Coming soon
• Vintage articles about Todd-AO, Showscan, Panavision & Dolby
• "The Golden Head"
By Gerhard Witte
• 1930's Large Format Equipment at the USC Archive
By Dan Sherlock
---
RECENT NEWS
• George Florence and 70mm at The Astor
• My father never really talked about the motion picture business
• Brand new DP75 70MM Projector for sale
• The man with the camera. Coburg's film historian
• Douglas Trumbull's "Silent Running" screens in Bradford
• Todd-AO Festival Preparations
• David Samuelson: A Lifetime with the Movies
• Letters and Dust Devils

• Go to 2015 news