LATEST 7OMM NEWS AND FEATURES
"Logan's Run": The 70mm Engagements
By Mike Coate
The following is a list of the North American 70-millimeter engagements of "Logan's Run". These were full-frame (2.20:1) prints blown-up from anamorphic 35mm photography. The audio was discrete six-track. A few of the prints were encoded with Dolby Noise Reduction, the first known usage of Dolby in connection with the 70mm format. The Saul David production/MGM release was directed by Michael Anderson and starred Michael York and Jenny Agutter.
"Gremlins": The 70mm Engagements
By Mike Coate
The following is a list of the 70mm first-run engagements of "Gremlins" in North America. These were pillarboxed blow-ups (approximately 1.85:1) sourced from spherical 35mm photography. The audio was Six-Track Dolby Stereo ("A" encoded, single-surround). The Amblin production/Warner Bros. release, directed by Joe Dante and starring Zack Galligan and Phoebe Cates, opened on June 8th, 1984.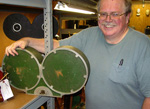 1930's Large Format Equipment at the USC Archive
By Dan Sherlock
The University of Southern California has one of the most respected schools of cinema-television in the world. Many famous directors, cinematographers, editors, and others involved in the production of motion pictures and television programs learned their craft at this school. Located below one of the buildings is the USC Moving Picture archive. The archive includes over 18,000 student films, 35mm films, cameras and projectors.

• Go to Gallery: "Antique" Wide-Gauge movie cameras and projector equipment at the USC
---
Showcase Presentations in Salt Lake City: A History of Large Format and Roadshow Exhibition, 1956-Present
By Michael Coate & Grant Smith
A chronological, easy-to-read reference list of 70-millimeter presentations in Salt Lake City, Utah. Also the 70mm blow-ups, large-format three-panel processes CineMiracle and Cinerama, and roadshows. As well, an overview has been included of the SLC area cinemas in which the subject films played.
A Century of Widescreens at the World's Fairs
By Alain Dorange
The British Edward Muybridge is shooting the gallop of a horse in June 1878. The various images are put on a record, allowing the rotation in front of a magic lantern and projected onto a screen. This process is called Zoopraxiscope and considered as the very first projector in the world. This projection is shown at this World's Fair in a "theatre" called: Zoopraxographical Hall. This hall is the first movie theatre.
7Omm Weekend in Varnsdorf – more than a fistful of classic film jewels!
By Gerhard Schwach
Dispite all this optical splendour "The Big Fisherman" is a slow going drama that demands endurance from the audience. The movie doesn't offer all too much physical action, compared with other biblical movies such as "Ben-Hur" or "Quo Vadis". I wonder what would have been the result if Cecil B. de Mille or William Wyler had made this movie? Nevertheless, box office in 1960 was great, but - without any understandable reasons - the film completely disappeared from official screenings and was only shown once in German TV many years ago.
Varnsdorf reloaded
By Ulrich Rostek
Many of the prints presented this year came from the collection of "Kinomuseum Berlin e.V.". The founder of this association, Jean-Pierre Gutzeit, was present at the festival, always ready to discuss and report about technical details, giving a lot of behind-the-scenes information. At this point I want to thank Pavel Nejtek and his team for their hospitality, their open-mindedness, and their patience when another crowd of enthusiastic delegates burst into the tight space of the projection booth.


• Go to Varnsdorf, die zweite!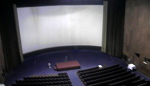 DP70, Victoria 8 and Prevost P70 in Argentina
By Eduardo Cesar Gómez
Actualmente hay dos cabinas de proyeccion instalada con 3 victoria8, una y la otra 2 PREVOST 35/70 las salas ya no funcionan como cines comercial. le voy a adjuntar unas fotos de lasmismas. En nuestro pais hubo dos salas con instalacion de CINERAMA, una ya desaparecida y la otra funciona con tres salas digitales actualmente y se hubica en la Pca de Cordoba. Muchos saludos y lo felicito por su hermosa pagina.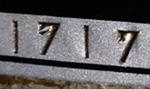 DP70 information from Spain. #850 #1708 #1717
By Gerardo Cortes
New DP70s have been found here in Barcelona, Spain. Including one of the DPs installed in Cine Kursaal (Barcelona). After many years projectors were move to Cine Femina (Barcelona) and both worked until 1991 once the cinema burned. #850 was restored and has been installed in a private cinema room in La Vall de Bianya - Barcelona.
What is the correct colour of a DP70?
By Clive Woodward
We are puzzled by trying to work out the correct colour to repaint them. Ours are a brownish 'hammertone' / 'hammertex' colour. I note from photos on your website many appear to be grey. Even the brown on our units varies from part to part. Do you know of the 'official' original colour for DP70 projectors?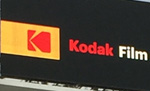 Kodak is making investments in introducing 65mm film processing in Europe
By Kodak
Kodak will open and operate a motion picture film-processing lab in New York City later this year, which will service 35mm, S16, Super 8 film processing and scanning. Kodak is also working with partners to sustain film processing capabilities around the world. In London, Kodak is making investments in introducing 65mm film processing in a region that has seen a huge increase in major productions shot on film.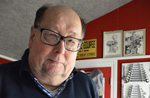 Une Visite Chez Monsieur Cinerama
By Martial DASSONVILLE
François CARRIN est plus connu à l'ALICC sous le pseudo de Mr. CINERAMA. En effet, notre conseiller à la rédaction d' Infos-Ciné est passionné par les techniques d'écran large. Il a consacré toute sa vie professionnelle aux activités de métreuréconomiste de la construction. En marge de sa profession, il a été projectionniste dans un cinéma de la banlieue de Valenciennes de 1963 à 1973, à Quiévrechain, petite ville de 7000 habitants à la frontière belge.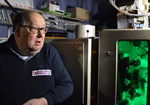 En Conversation Avec François Carrin
By Martial DASSONVILLE
François CARRIN. S'intéresser à l'écran large, au triple écran, avoir été projectionniste et avoir fréquenté ces installations un peu hors normes, ce n'est pas courant à l'ALICC. François nous explique donc son CINEMA PARADISIO personnel.
Scent of Mystery at the TCM Classic Film Festival 2016
By Dave Strohmaier and Tom March
The 2016 TCM Classic Film festival is a really big Hollywood event held over four days between April 28 and May 1 in the heart of Hollywood. The Cinerama contribution was the Mike Todd, Jr.'s "Smell-O-Vision" Cinerama Dome screening of "Scent of Mystery". It screened on May 1 at 10:00AM to a full house. It was hosted by LEONARD MALTIN - Film Critic and Historian with a special guest appearance by BEVERLY BENTLEY who played the decoy Sally Kennedy in the film.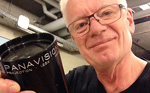 Orla Nielsen shows "The Hateful Eight" in Aalborg
By Thomas Hauerslev
You can't keep a man down who want to show 7OMM! That statement seems to be true with Orla Nielsen from Aalborg in Denmark. Orla Nielsen opens a temporary cinema to show "The Hateful Eight". The local multiplex declined Orla's offer to set up 7OMM screenings earlier this year. Instead, Theatre Nordkraft's manager Jakob Jørgensen came to the rescue and offered his theatre to Orla for a limited season.

• Go to Gallery "The Hateful Eight", Roadshow, Aalborg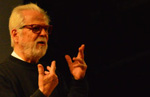 It's All in the Writing. Jan Harlan in Denmark
By Thomas Hauerslev
While I was in New York working for a data processing company I got to know Stanley very well – he was already married to my sister since 1957. This was in 1963/64. After that I continued with my work in Germany and Switzerland. Stanley worked with Arthur C. Clarke in New York while I was there to prepare "2OO1" but the family later moved to England to film "2OO1" at the MGM studios in Borehamwood. I lived in Zurich then doing my job but visited Stanley and the family from time to time in England.
Loading
---
IN7OMM e-NEWSLETTER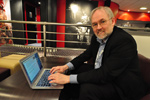 in70mm.com publishes an e-mail newsletter which is sent to users. If you want to join or discontinue, please send an e-mail to Bill Lawrence, in70mm.com. 802 readers already signed up.

• Go to e-Newsletter page
• See Past Issues
---
IN70MM.COM PARTNER

• Go to 12. Todd-AO 70mm-Festival: Come and enjoy the world of LARGE FORMAT film. From vintage classics to the latest Roadshow 70mm films, all of which proudly carry trade names of large format motion picture processes. Join us and be part of this unique event and share the excitement together with visitors from all around the world - including Austria, Switzerland, Holland, Germany, Denmark, England, USA, Japan, Sweden and France - and many more.
in70mm.com is proud to be associated with one of the finest cinemas in Europe, Schauburg Kino, home of the annual Todd-AO Festival in Karlsruhe, Germany.

• Go to Schauburg Cinerama | Todd-AO Festival
---
WHAT PEOPLE HAVE SAID ABOUT IN70MM.COM
I continue to be impressed by the dedication you have to the continuing wellbeing of 70mm. I would like you to have met my colleague and friend, the late Robert Gottschalk, founder and driving force of Panavision. He was of the unshakeable opinion that picture quality, real picture QUALITY, depended on a big piece of negative, the bigger the better.

All good wishes, Sir Sydney Samuelson, December 2009

• Go to Testimonials
• Go to Sir Sydney
---
THE 70MM NEWSLETTER
The original idea was

"Encourage film makers to produce and make new films in 65mm, present them in 70mm with 6-track discrete digital sound on big curved screens".

"The 70mm Association Newsletter" was the "voice" of The International 70mm Association.

For 7 years, when the magazine was produced regularly, it was edited and published in Copenhagen. The magazine was never a commercial venture - nor was it intended to be. It had a lot of fans and the number of subscribers climaxed in 2000. The last issue was published in the fall of 2001. Special edition issues 68, 69 & 70 have been made for the Widescreen Weekend.

• Go to The 70mm Newsletter | Back issues

• Go to Presented in 70mm Dolby Stereo
---
TODD-AO PAGE
Todd-AO Birth date
By Brian O'Brien
On October 15th, 1952 I received a phone call from a Michael Todd in New York City, who wished to come to see me at Rochester that evening. I had never heard of Todd, but it seems that he is a well-known Broadway producer.

• Go to Todd-AO | Filmed in Todd-AO | The First Movie Produced By Todd-AO | Walter Siegmund Remembered

• Go to Quentin Tarantino's "The Hateful Eight"
---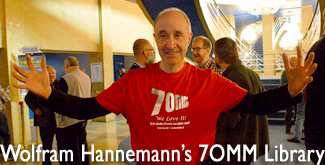 • Go to Wolfram Hannemanns's in70mm.com Library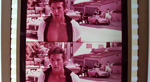 The 70mm Trailer Anomaly
By Brian Walters
Some of the excellent sounding 70mm trailer examples were for "The Fly", "Commando" and "Full Metal Jacket", all wonderfully dynamic sounding trailers that far exceeded the sound of the feature presentations which were to be in 35mm stereo optical sound only. The picture quality of these trailers, even though only blow ups from 35mm, was also usually superior because of the improved brightness, picture stability and improved definition from longer focal length lenses employed with 70mm projection.
---
RECENT NEWS
• Varnsdorf, die zweite!
• 70mm Arrives in Barnsley
• Julie, Sebastian and Zhivago
• Varnsdorf Presents "The Big Fisherman" in Super Panavision 70
• KRRR! 2016 Festival Report
• THE HATEFUL EIGHT 70mm ROADSHOW Screening in BARNSLEY!
• Batman vs. Superman in 15/70 IMAX 70mm‏

• Go to 2016 News