LATEST 70MM NEWS AND FEATURES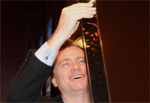 France's Grand Mercure Cinema, will be showing INTERSTELLAR in 70mm
By Richard PATRY, Président Directeur Général
The Grand Mercure Cinema, in Elbeuf, Normandy, France will be the only French cinema to show Christopher Nolan's INTERSTELLAR in the optimal conditions as envisioned by the director: in 70mm film format. Christopher Nolan, wished to promote the distribution of his new masterpiece, INTERSTELLAR, on a 70mm print with 5 perforations. In Europe, only five cinema theatres will screen the film in 70mm: in Berlin, Copenhagen, London, Milan and at the Grand Mercure Cinema in Elbeuf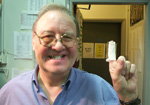 Tony Cutts Passed Away
By Duncan McGregor
Tony Cutts – projectionist extraordinaire – lost his two year fight against cancer and passed away in the Marie Curie Hospice here in Bradford. He saw the introduction of widescreen cinema in 1952, the transition to wide gauge 70mm film, the introduction of stereophonic surround sound in cinemas, 3D, VistaVision, Imax, Cinerama – Tony saw and experienced it all first hand.

• Go to Tony Cutts Gallery from Bradford 1996 - 2012
---
Report from The 10th Todd-AO 70mm festival in Karlsruhe
By Johan Wolthuis
The beautiful Schauburg Theatre in Karlsruhe, was the place to be for 70mm fans from all over the world. In the first weekend of October people from Germany, England, Switzerland, Danemark, Austria, France, Tjech Republic, the Netherlands and even an enthousiastic film student from Japan, came especially to visit this famous film festival. With its unique program of famous 70mm films presented on the large curved Cinerama screen.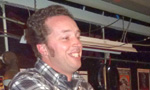 Projectionist and Head Programmer Dan Halsted is bringing 70mm back to The Hollywood Theatre
By Morgan Montague
Dan has been a projectionist in the Portland for over 10 years, has served as the technical director at the Hollywood and moved into programming for the theatre. He first started doing his own events by presenting rare 35mm prints of obscure exploitation films, and eventually became the head programmer. He initiated the 70mm project and it is virtually his entire doing.
"Holiday In Spain" released on Blu-Ray
Redwind Productions Inc., in association with Cinerama Inc, is proud to present for the very first time – the lost and now re-mastered 70mm treat, filmed entirely in Spain…Originally titled "Scent of Mystery" and presented in "Smell-O-Vision", this unique and magical adventure, follows a mystery novelist, played by Denholm Elliott, who discovers a plan to murder an American heiress, played by Beverly Bentley, while on vacation in Spain.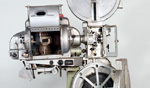 Kinopanorama Paris Update
By Jean-Noël Grosmenil
The so called "control desk" was the pre-control table to test the SOUND equipement before a Kinopanorama Show (3x35 and 70 with sep mag sound). It was also used to do the intermission from the booth, during the early 70mm years. At the bottom of that desk, located very close to the sound dubbers, there was 18 pre-amplifiers racks. The MAIN theatre control table was removed since 1974, during the new orchestra refit.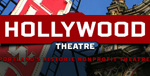 Help the Hollywood Theatre Bring 70mm Film Back to Portland!
By Morgan Montague
Exciting news here in Portland, Oregon. An achievable goal for our area. This cinema was Portland's 3 Strip and 70mm Cinerama venue back in the day. The foundation that is running it is trying to modernize the theatre while at the same time keeping much of its glorious past in tack as well. As this comes to past I hope to be the Jimmy Olson cub reporter on the spot to provide updates to In70mm.com readers.

• Go to "Interstellar" opens in 5/70 and IMAX 70MM
Todd-AO Festival 70mm Film Intro
By Wolfram Hannemann
The 10th anniversary program features more colors than just the "official Todd-AO pink". Thanks to Sovscope! Obviously communism was able to succeed where capitalism failed – striking 70mm prints which do not fade. However, pink will still be very present during this weekend, in various stages. A fact that we all have to live with. At least we still get organic material fed into our projectors at 24 frames per second as opposed to zeros and ones coming from a hard drive. And I am sure that this is exactly the reason we all are here for.
Forget the Hateful Eight, here comes the Glorious Ten!!! - 70mm Foreword for 2014
By Mark Lyndon
Wilkommen, Bien-venue, Welcome! Meine Damen und Herren, Ladies and Gentlemen, it gives me great pleasure to write these words of welcome to the tenth Todd-AO Film Festival in what promises to be a vintage year, here at the Schauburg Cinerama Theatre in Karlsruhe.


• Go to Vergessen Sie "The Hateful Eight", hier kommen die glorreichen Zehn!!!
Pictures from the 10th Todd-AO Festival
See some snap shorts from the Todd-AO Festival at the grand Schauburg Cinerama cinema in Karlsruhe, germany. Gallery will be updated evry day as the festival continues through the weekend

• Go to Poster Displays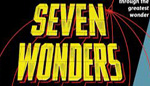 Flicker Alley presents "Seven Wonders of the World" and "Search for Paradise"
Flicker Alley, in association with Cinerama, Inc., releases two historic gems - Seven Wonders of the World and Search for Paradise - presented in brand new, beautifully restored editions. Release Date: November 11, 2014. Flicker Alley and Cinerama, Inc. invite you to celebrate the rich spectacles of Cinerama's Seven Wonders of the World and Search for Paradise, both newly restored and never before seen on home video. Both Deluxe Blu-ray/DVD Combo Editions are available for pre-order on the Flicker Alley website.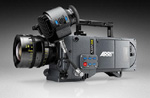 ALEXA 65 - le 70 mm redevient le format d'excellence au cinema
Jacques Morell
On attendait la sortie imminente de la nouvelle caméra Panavision numérique 65mm développée avec le concours de la NASA. L'information est parue en début d'année avec une photo d'une version prototype. Et depuis plus rien. Surprise! La bonne nouvelle est venue d'Allemagne. ARRI, dont les différentes versions de caméras numériques de la gamme ALEXA sont la référence depuis des années sur les plateaux de tournages en Europe et dans le monde entier, sera non seulement la marque leader du cinéma 35mm numérique

• Go to ALEXA 65 - The splendor of 70mm is reborn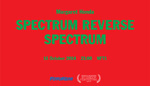 Spectrum Reverse Spectrum
By BFI
A film made not with a camera but by exposing 70mm print stock to precisely calibrated colored light in a film printer, resulting in a uniform field of color with no frame lines. The color moves gradually through the visible light spectrum from violet to red, then back to violet. Symmetrical in its construction, it is the same film shown starting from either end and is not rewound between screenings. The film can be presented only by means of a 70mm film projector.
A Visit to ARRI in München
By Thomas Hauerslev
Gerhard welcomed us by the end of the train platform and drove us to Türkenstrasse 89, the home of the ARRI Group, the world leading manufacture of motion picture cameras and everything else a movie production needs. The ARRI name was certainly not unfamiliar to me. ARRI have made cameras in all formats, size and shapes since 1917, and had recently moved into the digital world too.

• Go to the gallery A Visit to ARRI in München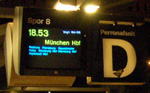 Re-visiting Large Format With Gerhard Fromm
By Thomas Hauerslev
In the late 1990s, Mr. Gerhard Fromm invited me to come to München to talk about movies and cameras and in 2009 I was on my way to see him. I left Copenhagen on a cold Thursday January night, and I was not travelling alone for this epic adventure. My friend of many years, Orla Nielsen joined me en-route and boarded the City Night Line train in Odense. The following morning we would arrive - by train - in south Bavaria to look for traces of the MCS 70 film process.

• Go to Re-visiting Large Format With Gerhard Fromm
Loading
---
IN70MM e-NEWSLETTER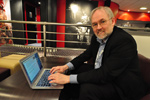 in70mm.com publishes an e-mail newsletter which is sent to users. If you want to join or discontinue, please send an e-mail to Bill Lawrence, in70mm.com.

• Go to e-Newsletter page
• See Past Issues
---
---
THE 70MM RUMOUR MILL
NOVEMBER 2014

In celebration of both Seven Wonders of the World and Search for Paradise and their Flicker Alley release on Blu ray this November 18th, the Cinerama Dome will have a special advance screening of each restored film on the big curved screen.

"Inherent Vice" is being released in 5/70 on Dec 12th, a month before the regular release of Jan 9th. Warner will probably make the announcement in the next week or two

"Interstellar" will open in 5/70 in Europe
• Berlin, ZOO Palast
• Copenhagen, Imperial Bio
• London, Odeon Leicester Sq, London

• Go to The 70mm Rumour Mill
---
IN70MM.COM PARTNER
in70mm.com is proud to be associated with one of the finest cinemas in Europe, Schauburg Kino, home of the annual Todd-AO Festival in Karlsruhe, Germany.

• Go to the Schauburg Kino | Todd-AO Festival
---
WHAT PEOPLE HAVE SAID ABOUT IN70MM.COM
I continue to be impressed by the dedication you have to the continuing wellbeing of 70mm. I would like you to have met my colleague and friend, the late Robert Gottschalk, founder and driving force of Panavision. He was of the unshakeable opinion that picture quality, real picture QUALITY, depended on a big piece of negative, the bigger the better.

All good wishes, Sir Sydney Samuelson, December 2009

• Go to Testimonials
---
THE 70MM NEWSLETTER
The original idea was

"Encourage film makers to produce and make new films in 65mm, present them in 70mm with 6-track discrete digital sound on big curved screens".

"The 70mm Association Newsletter" was the "voice" of The International 70mm Association.

For 7 years, when the magazine was produced regularly, it was edited and published in Copenhagen. The magazine was never a commercial venture - nor was it intended to be. It had a lot of fans and the number of subscribers climaxed in 2000. The last issue was published in the fall of 2001. Special edition issues 68, 69 & 70 have been made for the Widescreen Weekend.

• Go to The 70mm Newsletter | Back issues
---
RAMA
THE RAMA PAGES
All readers are invited to send in their RAMAs. The "Rama" pages, now in its 6th year. More than 100 new and vintage RAMAs documented so far. Send your RAMA now!

• Go to 2008 | 2009 | 2010 | 2011 | 2012 | 2013
---

• Go to Stanley Kubrick's "2OO1: A Space Odyssey"

• Go to Fred Zinnemann's "Oklahoma!" in Todd-AO

• Go to P T Anderson's "The Master" in System 65

• Go to Mike Todd Jr.'s "Scent of Mystery" in Smell-O-Vision
---
65/70MM WORKSHOP
"We thought at the time that there wouldn't be many places to play this in 70mm, but we were pleasantly surprised. There are still a lot of projectors, at least in US, that are 35mm and 70mm combined."

- Paul Thomas Anderson

• Go to 65/70mm Workshop
---
---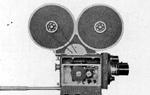 Introduction to Projection and Wide Film (1895-1930)
By Rick Mitchell (posthumously)
It is the intention of this book to deal with the subject of "Wide Screen" as it relates to the mainstream theatrical motion picture industry and its history, with reference, where appropriate, to its effect upon such related areas as documentary, industrial, and non-theatrical production and exhibition. Notable techniques and processes, the events and situations within the industry which precipitated their introduction, and the subsequent loss of popularity of some them will be covered mostly in chronological order as new developments were generally founded upon, or a reaction to, a previous one.

• Go to W.K.L. Dickson and the 1.33:1 Frame
• Go to Projection and Wide Film (1895-1930)
---
TODD-AO PAGE
Todd-AO Birth date
By Brian O'Brien
On October 15th, 1952 I received a phone call from a Michael Todd in New York City, who wished to come to see me at Rochester that evening. I had never heard of Todd, but it seems that he is a well-known Broadway producer.

• Go to Todd-AO | Filmed in Todd-AO | The First Movie Produced By Todd-AO | Walter Siegmund Remembered
---
---
RECENT NEWS
• Schauburg Cinerama Premieres New "Oklahoma!" DCP
• Cinema Retro Issue #30
• AFI's Spectacular 70MM Festival
• Earth Shattering: Coasters, Quakes, Battles, Sounds and Lawyers
• Widescreen Weekend 2014
• CIRCARAMA at the Swiss Museum of Transport in Lucerne
• "Meine Lieder-Meine Träume" in Germany
• 70mm Retrospective in Paris

• Go to 2014 news
---
COMING TO IN70MM.COM

• Sales Manual For Louis De Rochemont's Windjammer
By The Cinemiracle Process
• New 6-track Magnetic Head
By Clemens Sherer
• Vintage articles about Showscan, Panavision & Dolby