• Go to What's on in 70mm
---

• Go to KRRR! 13th 70mm Film Fest Krnov 2018

• Go to 70mm Film Weekend 2018, Centrum Panorama

• Go to "The Best of 70mm". 14. Todd-AO 70mm-Festival. 28 - 30. September, 2018
---

• Go to The Technirama Story + Update
• Go to Films in Super Technirama 70
• Go to Probably never in Super Technirama 70?
---

• Go to Chronological premiere list of major 70mm films
---

• Go to 70mm Blow - Up Home Page
• Go to Grant's Blow-Up Blog
---


• Go to 70mm Engagements
---

• Go to 70mm Retro - Festivals and Screenings
---

• Go to Windjammer 60 εr pε Colosseum kino, Oslo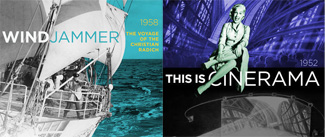 • Go to Flicker Alley presents "This is Cinerama" and "Windjammer: The Voyage of the Christian Radich" 2017 Authorized Restorations
• Go to 2018 European Cinema Cinerama Engagements
---
COMING SOON TO IN70MM.COM
• "Flying Clipper"– a Dream Voyage on the Giant Screen
By Gerhard Witte
• Cinerama titles around the world
By Alain Dorange
• More widescreens at the fairs
By Alain Dorange
• D-150 developing single film 3-D witout glasses
Kinematograph Weekly
• Georges Loisel's list of 7OMM in Paris
By Olivier Rousseau
• More about 70mm in SYDNEY
By Doug Louden
• Remembering Roadshows of the sixties
By Dave Worrall & Thomas Hauerslev for Cinema Retro
• "2OO1: A Space Odyssey" in Super Panavision 70, Cinerama and 6-track Stereo Sound
By Thomas Hauerslev for Cinema Retro
• Visit to Futuroscope, Poitiers
By Thomas Hauerslev
• Visit to Kinepolis, Bruxelles
By Thomas Hauerslev
• Visit to La Geode, Paris
By Thomas Hauerslev
• Vintage articles about Todd-AO, Showscan, Panavision & Dolby
Coming soon
• Rare black/white images from American Optical Company
Coming soon
• "Oklahoma!" on opening night at the Rivoli
Coming soon
SEARCH 70MM.COM
Loading
---

in70mm.com Mission:
• To record the history of the large format movies and the 70mm cinemas as remembered by the people who worked with the films. Both during making and during running the films in projection rooms and as the audience, looking at the curved screen.
• in70mm.com, a unique internet based magazine, with articles about 70mm cinemas, 70mm people, 70mm films, 70mm sound, 70mm film credits, 70mm history and 70mm technology. Readers and fans of 70mm are always welcome to contribute.
---
IN7OMM e-NEWSLETTER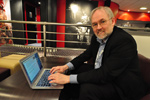 in70mm.com publishes an e-mail newsletter which is sent to users. If you want to join or discontinue, please send an e-mail to Bill Lawrence, in70mm.com. 902 readers already signed up.

• Go to e-Newsletter page
• See Past Issues
---
IN70MM.COM PARTNER
in70mm.com is proud to be associated with one of the finest cinemas in Europe, Schauburg Kino, home of the annual Todd-AO Festival in Karlsruhe, Germany.

• Go to Schauburg Cinerama | Todd-AO Festival
---
WHAT PEOPLE HAVE SAID ABOUT IN70MM.COM
I continue to be impressed by the dedication you have to the continuing wellbeing of 70mm. I would like you to have met my colleague and friend, the late Robert Gottschalk, founder and driving force of Panavision. He was of the unshakeable opinion that picture quality, real picture QUALITY, depended on a big piece of negative, the bigger the better.

All good wishes, Sir Sydney Samuelson, December 2009

• Go to Testimonials
• Go to Sir Sydney
---
THE 70MM RUMOUR MILL
MARCH 2018

"Ready Player One" will get a 5/70mm release

• Go to The 70mm Rumour Mill
---

• Go to You are in the Show with Todd-AO
• Go to Todd-AO How It All Began

• Go to Todd-AO - Wie alles begann
---

• Go to Louis de Rochemont's "Windjammer" in Cinemiracle
---

• Go to The RAMA Pages
• Go to Alphabetical listing of Ramas
---
THE DP70 NEWS

• Click the advert, or go to DP70 News

• Go to "Phantom Thread" full Production Notes