SCHAUBURG 2015 TODD-AO FESTIVAL
The music of BENJAMIN FRANKEL
By Udo Heimansberg
The music for BATTLE OF THE BULGE was his only score recorded in full stereophonic sound- and also his last one! In 1967 Warner records published a soundtrack album featuring the original recordings, but only about 40 minutes of music, including the infamous "Tank Men's Song". The LP quickly disappeared, became a collector's item sold at high prices. There was a Japanese Vinyl re-issue in the 80s and a CD in the 90s, also from Japan. Beside a long playing record of "THE NIGHT OF THE IGUANA" no other works by Benjamin Frankel were available- until 1998!
"Push the button Max!"
By Thomas Hauerslev
All this in 70MM would not be the same without the Schauburg with its rich history, red curtains and curved screen. From the box-office lady who welcomes you in a friendly voice, to the rare GONG before the film begins, or the exhibited DP70 projector in the foyer.
"Drück aufs Knöpfchen, Max!"
Von Thomas Hauerslev
All dies in 70mm wäre nicht dasselbe ohne die Schauburg mit ihrer ereignisreichen Vergangenheit, den roten Vorhängen und der gekrümmten Leinwand. Von der Dame an der Kasse, die sie freundlich begrüßt, bis zum seltenen GONG zu Vorführungsbeginn oder dem ausgestellten DP70-Projektor im Foyer.
Todd-AO Festival Film Introductions, 2015
By Wolfram Hannemann
Welcome to the 11th Todd-AO 70mm film festival. With our intros we want to give our projection team enough time to perfectly lace up those big, wide rolls of film in our DP70. Beware! It will be one of the most colourful festivals we had in recent years. That means that we won't be just treated to red or magenta, but to real colours – thanks to two brand new 70mm prints, two Orwo prints and two post 1982 prints. But don't panic: you will also be able to see those unique faded prints as well! You see, we got everything covered!


11. Todd-AO 70mm-Festival 2015
KARLSRUHE, May 2015 / in70mm.com news. We have launched the 11th instalment of the "Todd-AO 70mm Festival" to be held from 9 - 11 October 2015 at the Schauburg Cinerama in Karlsruhe, Germany. For three days in October Filmtheater Schauburg celebrates the world of LARGE FORMAT film, by offering a series of epic films in 70mm - the HD of film formats.

We feel our 2015 program has it all: Space adventures, Musical, Drama, War, Nazis, Religion, Music, Songs, Mystery, Cars, Chases, Panzer, Adventure, Revenge and true love. Bring your family, your children, your grand mother to see the films again in a big cinema.

Our "Todd-AO Festival" policy is simple. NO DIGITAL! No compromise at the Schauburg where 70mm is concerned! That is our Todd-AO Festival hall mark, as we honour 60 years of 70mm projectionist tradition, and present film as they were meant to be presented, on genuine 70MM film.



• Go to "Drück aufs Knöpfchen, Max!"
• Go to "Push the button Max!"
• Go to Todd-AO Festival Film Introductions
• Go to Pictures: 11. Todd-AO 70mm-Festival 2015
• Todd-AO Festival Flyer (PDF)

One of very few original cinemas, still equipped with 70mm projectors. The huge screen is 18 meters wide, curved and covered by a "Cinerama red" curtain. It's the perfect framework to present 70mm in the splendour of 6-track magnetic sound. For 2015, a brand new Harkness screen will be installed prior to the festival. No expenses are spared to give you the very best experience.

Herbert Born
Filmtheater Schauburg

On line ticket reservation here. For more information about the film festival, including screening times, visit: www.schauburg.de and www.in70mm.com

• Go to Todd-AO Festival Program 2005 - 2015

---
Thursday 8. October 2015
"Think Big" World Premiere (DCP)
"MacKenna's Gold" 35MM Technicolor 4-track mag
Friday 9. October 2015
"Signale - Ein Weltraumabenteuer"

"Vertigo"
"Tschaikowski"
"Inherent Vice"
Saturday 10. October 2015
"Camelot - Am Hofe König Arthurs"
"The Great Race"
"Interstellar"
Sunday 11. October 2015
"In den Schuhen des Fischers"

"Let's Spend the Night Together"
"Battle of the Bulge"
"Alien3"
---
SCHAUBURG 2014 TODD-AO FESTIVAL
The Greatest Show in Todd-AO: Mission Report from Karlsruhe
By Thomas Hauerslev
The Todd-AO Festival at the Schauburg is not only pretzel, sekt, schnitzel and Hoepfner's hefewize, it is indeed about going to the movies in style. An experience all by itself. Seeing the films at the Schauburg like seeing the films as they were originally presented - in a big cinema, on a a huge curved screen with red curtains and a Gong. It's all about showmanship and presentation, and very few cinemas do it better than the staff of the Schauburg.
---
TICKETS & CONTACT INFORMATION
Box office is open every day from 14:30, Saturday from 12:30 and Sunday from 9:30. Box office Telephone
+49 721 3500018

Filmtheater Schauburg
Att: Herbert Born
Marienstraße 16
76137 Karlsruhe
Germany

Mobil: 0151 - 1668 9172

• On line ticket reservation
• Todd-AO Festival Flyer (PDF)
• Hotel, use hrs.de to find acommodation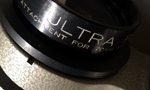 Brand new DP75 70MM Projector for sale
By Herbert Born
Complete Philips / Kinoton DP75 70MM Projector for sale at the Schauburg Cinerama in Karlsruhe in Germany. The machine have only 11 hours of running time and is as such brand new. The DP75 is equipped for 70mm, complete with DATASAT 70MM reader and Panavision's Ultra Panavision 70 projection lens. The machine is ready to Show "The Hateful Eight" in Ultra Panavision 70.
Todd-AO Festival Preparations
By Born & Hauerslev
The Todd-AO Festival is due to begin in a week from now. Here is a quick look behind the scenes about all the preparations which goes into this remarkable weekend. Festival planning actually starts a few days after the previous weekend has ended and continues through the year. The first 70mm prints starts to arrive in early August. Projection team are quality checking each reel of vintage 70mm film which has been brought out of the freezers after many years in storage.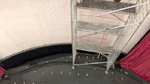 New Curved Harkness 70mm Screen For Schauburg
By Thomas Hauerslev
The Schauburg Cinerama in Karlsruhe will get a new screen installed early in September 2015. The current screen was 9 year old and we needed to replace it. Since we can take the screen aside and use the back stage for live performances too, wear and tear was starting to show on our screen. It is a Harkness Perlux 140 with a 1,4 gain which gives the most neutral colors and most pleasing look of all screen types and helps to eliminate the cross reflections of the deeply curved Cinerama screen at the Schauburg.
"MacKenna's Gold" at the Schauburg
in70mm.com/Schauburg Cinerama Press Release
Schauburg Cinerama and in70mm.com are proud to announce a rare presentation of a Carl Foreman production of a J. Lee Thomson film "MacKenna's Gold" from 1969 on Thursday 8. October, 2015. The film will presented in 35mm Technicolor and 4-track magnetic stereo. This screening is our farewell tribute to Egyptian actor Omar Sharif who played greatest film doctor of all time. "MacKenna's Gold" was the pinnacle of his acting career in the '60s.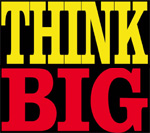 "Think Big" World Premiere Screening, 8. October 2015, Schauburg Cinerama, Karlsruhe
By Wolfram Hanneman
The Todd-AO Festival has become one of the most important festivals for 70mm films worldwide, luring audiences from all around the world each year into the unique Schauburg theatre! In this documentary German film maker Wolfram Hannemann is not only offering an inside view into the festival, but also gets the audience in front of the camera and lets them talk about their favorite subject. Their dedication speaks for itself!
"SAVAGE PAMPAS" will get a 4k digital restoration
By Thomas Hauerslev
Schauburg Digital Division will scan a pristine original 70mm print from the first release in 1966, which came directly from the 65mm camera original. This print already has the color corrections, but it is faded. The print will be cleaned and scanned at 4K Resolution. Schauburg's scan expert Vincent Koch will restore the color.
Report from The 10th Todd-AO 70mm festival in Karlsruhe
By Johan Wolthuis
The beautiful Schauburg Theatre in Karlsruhe, was the place to be for 70mm fans from all over the world. In the first weekend of October people from Germany, England, Switzerland, Danemark, Austria, France, Tjech Republic, the Netherlands and even an enthousiastic film student from Japan, came especially to visit this famous film festival. With its unique program of famous 70mm films presented on the large curved Cinerama screen.
Todd-AO Festival 70mm Film Intro
By Wolfram Hannemann
The 10th anniversary program features more colors than just the "official Todd-AO pink". Thanks to Sovscope! Obviousely communism was able to succeed where capitalism failed – striking 70mm prints which do not fade. However, pink will still be very present during this weekend, in various stages. A fact that we all have to live with. At least we still get organic material fed into our projectors at 24 frames per second as opposed to zeros and ones coming from a hard drive. And I am sure that this is exactly the reason we all are here for.
Pictures from the 10th Todd-AO Festival
See some snap shorts from the Todd-AO Festival at the grand Schauburg Cinerama cinema in Karlsruhe, germany. Gallery will be updated evry day as the festival continues through the weekend
Schauburg Cinerama Premieres New "Oklahoma!" DCP 2. October 2014
By Born & Hauerslev
Fred Zinnemann's beloved OSCAR winning musical "Oklahhoma!" (1955) will have it's European DCP premiere at one of the most prestigious 70mm cinemas; the Schauburg in Karlsruhe, Germany. It is a single screening of the new and much anticipated digital 4K restoration of this classic musical by Rodgers & Hammerstein.
---
MOST RECENT TODD-AO FESTIVALS
• 2015 | Intro | Foreword | Pictures
• 2014 | Intro | Foreword | Pictures
• 2013 | Introduction | Foreword | Pictures |

Todd-AO Festival Year by Year
---
KARLSRUHE TRAVEL PLANNING
• Tourist in Karlsruhe
• Train Timetables
• Weather
• Google street map



Festival Hotel:


• achat-hotels.com

---
SCHAUBURG HISTORY
FLAMMENDE JAHRE. Der erste 70mm Panorama-Spielfilm
Von Ruth Pergen & Klaus Zunker
Der Mensch ist groß. Aber wie schwer ist es, seine Größe, seine Größe in Leid und in Freude, zu erkennen und schwerer noch zu gestalten. Der berühmte ukrainische Schriftsteller und Regisseur Alexander Dowshenko besaß diese Menschenliebe und diese künstlerische Meisterschaft, in all seinen Werken dem Menschen ein Denkmal zu setzen.
70MM in FOCUS
By Born & Hauerslev
Welcome to the 9th Todd-AO festival at the Schauburg Cinerama in Karlsruhe. The international 70mm Film Festival, which celebrates LARGE format films as they were meant to be seen: IN 70MM on the CURVED screen. …and now, "Gong", start projector, cue curtain, dim the lights, open dowser, focus, check sound.....the show is running.........another unforgettable weekend at the Schauburg!


• Go to Go to Herzlich Wilkommen
Schauburg Celebrates Sensurround's 40th Anniversary
By Thomas Hauerslev
The Schauburg Cinerama cinema in Karlsruhe is proudly celebrating the 40th anniversary of SENSURROUND and shows "Earthquake" in 70MM in October 2014 during the 10th Todd-AO Film Festival. Cinema manager Herbert Born has started preparing this special performance: "It takes a lot of preparation. We are bringing in - literally - a truckload of subwoofers to re-create SENSURROUND.
Schauburg Cinerama restores "Vigilant Switzerland"
By Herbert Born
All three panels were scanned from the original and faded but mint 70mm archive prints and are now in the process of being color graded to get the original look back. "FORTRESS OF PEACE" will be shown in 70mm at the 2014 Todd-AO 70mm festival this October. An original 3-Panel-screening of the DCP's in work is planned later this year.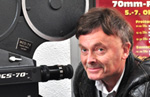 Interview with Mr Hans-Kristian Bukholm
By Thomas Hauerslev
70mm really started with me when I was 14 years old and I saw David Lean's masterpiece "Lawrence of Arabia" at a small cinema in Bergen on the west coast of Norway. Being able to count the grains of sand in the desert, that was a major thing for me when I decided to become a cinematographer.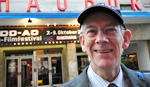 Kevin Brownlow @ the Schauburg
By Thomas Hauerslev
Kevin Brownlow gave his lecture to an enthusiastic audience on a October Friday evening. The OSCAR winner was warmly welcomed by the 70mm delegates, who all enjoyed hearing about early large format presentations
Jess Conrad visits 70mm Film Festival
By Thomas Hauerslev
Mr. Conrad was invited to Karlsruhe to attend the German 70mm premiere of the "forgotten" 9th Cinerama film "The Golden Head". This was the first time he saw the film - 45 years after the premiere.
The Last Billboard Painter of Karlsruhe
By Herbert Born
We are proud to use Mr. Haas' skills on our facade. Few cinemas have room for it, but we do, and the audience appreciate the work he does
Schauburg's Printed Program
By Herbert Born
I'm pleased to announce the web publication of all our printed programs brochures from the past Todd-AO Festivals. Publication also include our free monthly magazine (in German) with our current program. All free of charge for on-line reading and free down-load.
Who is Herbert Born?
Manager of the Schauburg Cinerama in Karlsruhe. I was born in the same year as CinemaScope had it's public birthday
The passing of Georg Fricker
By Peter Kohl, Karlsruhe
The great Karlsruhe cinema entrepreneur Georg Fricker is dead. He passed away last Saturday [07.06.2008] in a clinic near Munich.
Schauburg 1968
A Picture Gallery
---
SCHAUBURG TODD-AO FESTIVAL HISTORY

• Go to Todd-AO Festival Archive
---

• Go to Schauburg Cinerama, Picture Presentation