COMING SOON IN70MM ON THE SCHAUBURG CURVE
German versionS

10.04.2013
"2001: A SPACE ODYSSEY"

09.06.2013
"The Abyss"

23.06.2013
"Those Magnificent Men in their Flying Machines, or how I flew from London to Paris in 25 Hours and 11 Minutes"

04.08.2013
"Around the World in 80 Days"
35mm Technicolor Dye-Transfer

18.08.2013
"The Big Blue"

---
SCHAUBURG 2013 TODD-AO FESTIVAL
Friday 20th September 2013
Saturday 21th September 2013
Sunday 22th September 2013
---
TODD-AO FESTIVAL HIGHLIGHTS 2005 - 2012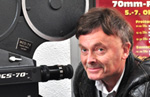 Interview with Mr Hans-Kristian Bukholm
By Thomas Hauerslev
70mm really started with me when I was 14 years old and I saw David Lean's masterpiece "Lawrence of Arabia" at a small cinema in Bergen on the west coast of Norway. Being able to count the grains of sand in the desert, that was a major thing for me when I decided to become a cinematographer.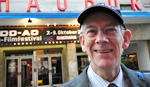 Kevin Brownlow @ the Schauburg
By Thomas Hauerslev
Kevin Brownlow gave his lecture to an enthusiastic audience on a October Friday evening. The OSCAR winner was warmly welcomed by the 70mm delegates, who all enjoyed hearing about early large format presentations
Jess Conrad visits 70mm Film Festival
By Thomas Hauerslev
Mr. Conrad was invited to Karlsruhe to attend the German 70mm premiere of the "forgotten" 9th Cinerama film "The Golden Head". This was the first time he saw the film - 45 years after the premiere.
---
TICKETS & CONTACT INFORMATION
Box office is open every day from 14:30, Saturday from 12:30 and Sunday from 9:30. Box office Telephone
+49 721 3500018

Filmtheater Schauburg
Att: Herbert Born
Marienstraße 16
76137 Karlsruhe
Germany

Mobil: 0151 - 1668 9172

• 9th Todd-AO Festival Flyer (PDF)
---
KARLSRUHE TRAVEL PLANNING
• Tourist in Karlsruhe
• Train Timetables
• Weather
• Street map



Festival Hotel:


• Renaissance Hotel

---
SCHAUBURG HISTORY
The Last Billboard Painter of Karlsruhe
By Herbert Born
We are proud to use Mr. Haas' skills on our facade. Few cinemas have room for it, but we do, and the audience appreciate the work he does
Schauburg's Printed Program
By Herbert Born
I'm pleased to announce the web publication of all our printed programs brochures from the past Todd-AO Festivals. Publication also include our free monthly magazine (in German) with our current program. All free of charge for on-line reading and free down-load.
Who is Herbert Born?
Manager of the Schauburg Cinerama in Karlsruhe. I was born in the same year as CinemaScope had it's public birthday
The passing of Georg Fricker
By Peter Kohl, Karlsruhe
The great Karlsruhe cinema entrepreneur Georg Fricker is dead. He passed away last Saturday [07.06.2008] in a clinic near Munich.
Schauburg 1968
A Picture Gallery
---
THREE MOST RECENT TODD-AO FESTIVALS
• 2012 | Program (DE) | Program | Wolfram's introductions | Poster gallery | Friday | Saturday | Sunday | Projection gallery

• 2011 | 7th Todd-AO Festival | Posters | Projection | Friday | Saturday | Sunday | Foreword | introductions | Kevin Brownlow | Billboard | Canadian 70mm Shorts |

• 2010 | 6. Todd-AO 70mm-Festival | As Good As It Gets | Introductions | Jess Conrad | Friday | Saturday | Sunday | Poster displays

SCHAUBURG TODD-AO FESTIVAL HISTORY

• Go to Todd-AO Festival Archive
---