2017
Todd-AO Festival Film Introductions, 2017
By Wolfram Hannemann
Welcome to our celluloid extravaganza, at the Schauburg Cinerama in Karlsruhe! I will be your anchorman for this weekend. As such I will tell you bits and pieces about the films before each screening and I will do this in German and English. To make it a little bit more interesting let me tell you that I won't repeat myself. So the things I am telling you in German will be different from the things I am telling you in English.
---
2016
Todd-AO Festival Film Introductions, 2016
By Wolfram Hannemann
On this weekend I would like to invite you to Minnie's Haberdashery, which the Hateful Eight will turn into a Little Shop of Horrors during the course of an evening, while some Gorillas in the Mist are tracked down by Dick Tracy during his Hunt for Red October.
---
2015
2015 Widescreen Weekend Introduction
By Wolfram Hannemann
To get the look he wanted for the film, director Norman Jewison told Director of Photography Oswald Morris, to shoot the film in an earthy tone. Morris saw a woman wearing brown nylon hosiery, thought "That's the tone we want," asked the woman for the stockings on the spot, and shot the entire film with a stocking over the lens. Morris did shoot the film in anamorphic Panavison on 35mm film stock and it was blown up to 70mm for roadshow engagements.
Todd-AO Festival Film Introductions, 2015
By Wolfram Hannemann
Welcome to the 11th Todd-AO 70mm film festival. With our intros we want to give our projection team enough time to perfectly lace up those big, wide rolls of film in our DP70. Beware! It will be one of the most colourful festivals we had in recent years. That means that we won't be just treated to red or magenta, but to real colours – thanks to two brand new 70mm prints, two Orwo prints and two post 1982 prints. But don't panic: you will also be able to see those unique faded prints as well! You see, we got everything covered!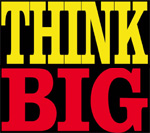 "Think Big" World Premiere Screening, 8. October 2015, Schauburg Cinerama, Karlsruhe
By Wolfram Hanneman
The Todd-AO Festival has become one of the most important festivals for 70mm films worldwide, luring audiences from all around the world each year into the unique Schauburg theatre! In this documentary German film maker Wolfram Hannemann is not only offering an inside view into the festival, but also gets the audience in front of the camera and lets them talk about their favorite subject. Their dedication speaks for itself!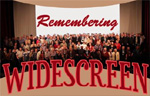 "REMEMBERING WIDESCREEN" on Blu-ray
By Wolfram Hannemann
A documentary about a very special "family" gathering which happens once a year in Bradford, UK - the "Widescreen Weekend" at the National Media Museum. If you ever wondered what "Widescreen Weekend" is all about, this brand new documentary may give you all the answers you need. Mostly filmed during 2013's "Widescreen Weekend" at the National Media Museum in Bradford (UK), Wolfram Hannemann's short film concentrates not just on the people running the festival, but on some of the regular delegates as well.
---
2014
Todd-AO Festival 70mm Film Intro
By Wolfram Hannemann
The 10th anniversary program features more colors than just the "official Todd-AO pink". Thanks to Sovscope! Obviousely communism was able to succeed where capitalism failed – striking 70mm prints which do not fade. However, pink will still be very present during this weekend, in various stages. A fact that we all have to live with. At least we still get organic material fed into our projectors at 24 frames per second as opposed to zeros and ones coming from a hard drive. And I am sure that this is exactly the reason we all are here for.
2013
Todd-AO Festival 2013 introductions
By Wolfram Hannemann
Good morning, Widescreeners! According to our mission statement that "we will show and watch everything, provided that it is 70mm wide", we have prepared another fine selection of rarities and oddities that will make your hearts jump. And to be honest: who cares about color, anyway? The wider the image, the better it compensates for faded colors, doesn't it?
---
2012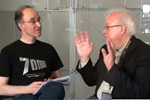 Douglas Trumbull - A Conversation
By Wolfram Hannemann
I'm absolutely confident that the digital image has caught up with film in terms of frame rate, resolution, steadiness, brightness and colour saturation. I've gone totally digital; I'm not interested in film at all.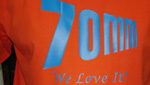 Limited Time Offer, 70mm T-shirt
By Wolfram Hannemann
I have constantly been asked by widescreen enthusiasts whether my 70mm t-shirt would be available for sale. I have decided to give it a try, and will offer a limited special edition of the "70mm" t-shirt.
---
2011
Karlsruhe Film introductions
Friday | Saturday | Sunday
By Wolfram Hannemann
Variety is the spice of life. And variety is also reflected in this year's festival. We have it all! And features quite a number of productions which haven't been shown before in this country!
---
2010
70mm Festival Film Introductions
By Wolfram Hannemann
On behalf of the Schauburg Cinerama Theatre it is my pleasure to welcome you to the 6. Todd-AO 70mm film festival to join us for our nostalgia trip in the splendor of Todd-AO!
There are more things in life than just widescreen!
By Wolfram Hannemann
I was waiting for the auditorium to open and Francois asked what I was waiting for, which I explained. "But this is not even widescreen!"! - he said in disbelief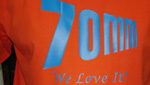 Limited Time Offer, 70mm T-shirt
By Wolfram Hannemann
I have constantly been asked by widescreen enthusiasts whether my 70mm t-shirt would be available for sale. I have decided to give it a try, and will offer a limited special edition of the "70mm" t-shirt.
VistaVision Introductions
Von Wolfram Hannemann
Einmal mehr laden wir Sie ein zu einer Reise in die Vergangenheit, als das gute alte Hollywood noch Hollywood war und sich mit wahrem Ideenreichtum gegen die drohende Konkurrenz des Fernsehens zur Wehr setzte.
"Earthquake" at the Schauburg
By Wolfram Hannemann
It must have been almost 30 years ago that I first saw "Earthquake" during its initial release here in Germany. "Earthquake" made a huge impression on me.
"Erdbeben" in der Schauburg
Von Wolfram Hannemann
Es muss fast 30 Jahre her sein, dass ich "ERDBEBEN" (OT: "EARTHQUAKE") zum ersten Mal gesehen habe, als der Film hier in Deutschland in die Kinos kam. "ERDBEBEN" hat mich sehr beeindruckt.