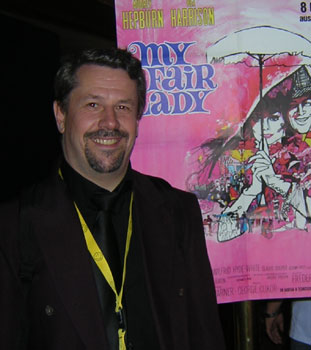 A real gentleman and 70mm fan, Mr. Sebastian Rosacker. Image by Thomas Hauerslev

In 1998 I started, together with SF Bio AB, "Classics at the Royal". The first film was my favourite "Doctor Zhivago" in the spring. We were 531 happy souls enjoying David Leans masterpiece in the best film format: 70mm.

Then, during 1998-1999 we showed "The Sound of Music", "Star!", "Gone With the Wind" (in 35mm) and "Funny Girl". 1999-2000: "Ben-Hur", "That's Entertainment", "Waterloo Bridge" (35mm) and "It's A Mad, Mad, Mad, Mad World". 2000-2001: "Cleopatra", "West Side Story", "Gone With The Wind" (35mm) and "Oliver!".

I was also lucky to arrange the 40th anniversary of the Royal in March 2001 in the presence of the brain behind Royal: Sten Löfberg (at the age of 95). For this we thought, why not show the film that opened the theater in 1961: "Windjammer". And it would only be fitting to charge the same price as 1961: SEK 4, 6 & 8. (about 30, 45 & 60 cents). Also attending was the film's director, Louis de Rochemont.

Happy to be at the Royal, he said that most movie makers never get a chance to experience their films 40 years later, and in a sold out theatre (682 people). One of the finest Swedish actors, Göran Stangertz read the inaugural speech from 1961. It surely was an evening to remember.

Further in 70mm reading:

Julie, Sebastian and Zhivago

Classics at the Royal

70mm screenings

Internet link: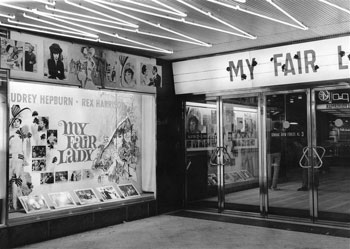 Royal during original run of "My Fair Lady"

So, soon it's time for another 70mm-party at the best movie theatre in Sweden.

Please, let me know how many tickets you would like and where you would like to sit. Royal has 22 rows. The last row is already full though.

It starts at 12n on April 29th, 2007 at the Royal on S. Tullgatan 4 in Malmö, Sweden.

Unfortunately Hans Braman, the great projectionist at the Royal, has retired but we have another great projectionist, also with lots of experience of 70mm-screenings at the Saga in Helsingborg: Roland Håkansson.

I'm treating so the tickets are free and you'll get coffee in the intermission.

If you would like to congratulate me, a small sum of money would be more than enough.

I can't wait to see you at the ROYAL.

Sebastian