TODD-AO FESTIVAL, SCHAUBURG, KARLSRUHE

• Go to 16. Todd-AO 70mm-Festival 2022
---
GENTOFTE KINO - COPENHAGEN


• Go to GIFF 70, Gentofte International Film Festival, Copenhagen, Denmark
---
KRNOV - KINO MIR 70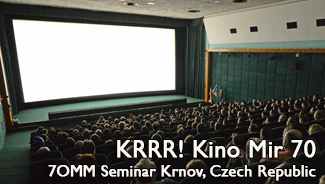 • Go to 7OMM Seminar, Kino Mir 70, Krnov, Czech Republic
---
KRRR! 2021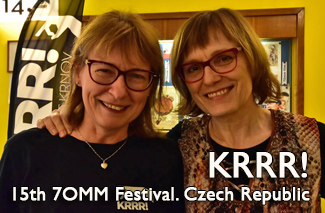 • Go to KRRR! 2022
---
CINEMATHEQUE PARIS - FRANCE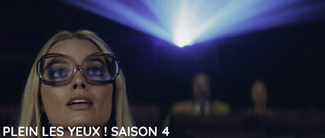 • Go to 7OMM in Paris: Plein Les Yeux!
CINEMATHEQUE FRANCE - PARIS
CINÉMA EN 70MM RETROSPECTIVE: 13 – 30 June 2014
Pour prolonger la conférence du Conservatoire des techniques sur le 70 mm, la Cinémathèque présente un corpus de onze films représentatifs de la production de ce format dit de prestige.
---
KARLSRUHE - SCHAUBURG CINERAMA

• Go to Schauburg Cinerama, Karlsruhe, Germany. Home of The Todd-AO Festival
---
OSLO 70MM FESTIVAL


• Go to Oslo 7OMM Festival
---
BRADFORD - WIDESCREEN WEEKEND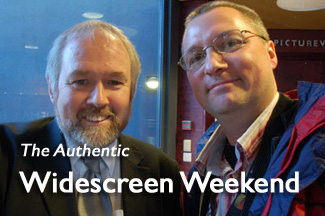 • Go to Widescreen Weekend, Bradford, England
---
IMPERIAL BIO - DENMARK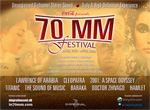 8 Great Films 1 Great Cinema
The grand Imperial Bio in downtown Copenhagen is hosting a 5-day program of the majestic 70mm film format.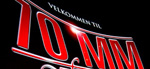 2nd 70mm Festival In Copenhagen
By Thomas Hauerslev
The 2nd 70mm Film Festival in Copenhagen runs from 26 - 30. April 2009. Come and see "Poltergeist", "Fame", The Abyss", "Titanic", "Out of Africa", Patton" and "Hello, Dolly!" in the LARGEST cinema in northern Europe.
---
BIFFEN DENMARK
70MM Film Event at Biffen, Aalborg Denmark, 26. April 2014
By Nielsen & Hauerslev
"Biffen" in Aalborg, Denmark, is celebrating its 25th anniversary with a 1-day 70MM Festival. One day with 70mm films, lectures, format demonstrations, and the odd surprise on the 10 meter wide and deeply curved screen. It will be an unique opportunity to experience true 70MM in one of the best Danish cinemas.
---
BERLIN - BERLINALE
70mm Retrospective Berlin 2009
By Betz, Born, Dittrich, Knapp, & Hauerslev
The most ambitious 70mm festival to date. Background about the festival, reviews and festival images.
70mm Retrospective - Mission Report
By Rayton & Hauerslev
70mm is given a superior place of recognition, at one of the most important film festivals in the world. This is the mission report from the middle of the 70mm "melting pot" in Berlin, Germany.
---
MILAN - ARCADIA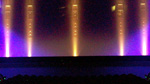 70mm Bigger Than Life - Multiplex Arcadia, Melzo, Italy
By
Laura Fumagalli

70mm Festival in Italy by Milan. 10 days of large screen cinema.
---
CINEMATEK - FRANKFURT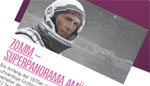 70mm-Superpanorama Amüsement
By Deutsches Filmmuseum
Das Kino des Deutschen Filmmuseums zeigt im Juli vier 70mm-Filme – eine seltene Gelegenheit, die man sich nicht entgehen lassen sollte. Bis Anfang der 1970er Jahre war 70mm das Format für aufwändige Großproduktionen. Nach wie vor gibt es Liebhaber des Formats: Paul Thomas Anderson drehte 2012 Teile von "THE MASTER" mit einer 65mm-Kamera, Christopher Nolan nutzte für den Dreh von "INTERSTELLAR" sowohl 35mm-Kameras als auch 65mm-IMAXKameras und sorgte dafür, dass sein Film zusätzlich zum digitalen Format auch als 70mm-Analogfilm in die Kinos kam.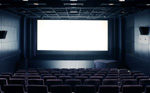 70mm Festival in Frankfurt am Main
By Deutsches Filmmuseum
Das Deutsche Filmmuseum präsentiert eine Auswahl an Filmen der Berlinale-Restropektive "70mm – Bigger Than Life"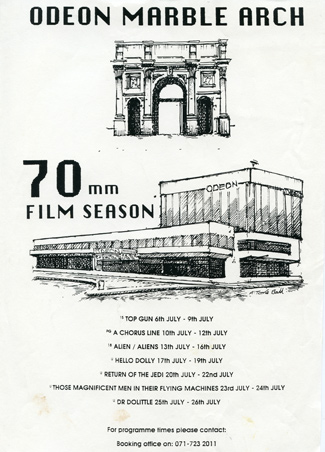 • Go to 70mm Retro - Festivals and Screenings
---
DUBLIN - IRELAND
70mm In the Emerald Isle
By Brian Guckian
IFI Cinemas' Pete Walsh reports that screenings of "Lawrence of Arabia" and "Vertigo" in70mm DTS went extremely well.
---
MUSIC BOX THEATRE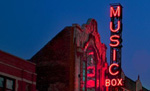 Music Box Theatre 70mm Festival
The Music Box Theatre is proud to bring you a two week festival of films presented in glorious 70mm on the big screen. To honour our commitment to film projection, the Music Box is very pleased to have commissioned a brand new 70mm DTS print of "2OO1: A Space Odyssey" from Warner Brothers, produced at Fotokem, the last full service 65/70mm lab in the United States.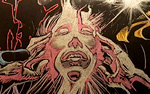 Chicago's Music Box Theater's 70mm Film Festival
By Andrew Kotwicki
Word has it the theater programmers are already looking into what to include for next year's 70mm Film Festival and based on the success of this one, I've a feeling it will be even larger than this year's rollout. Stay tuned for the next 70mm Film Festival by the Music Box Theater, arguably one of the finest movie houses in the nation and by far among the best curators of 70mm films in the world!
Music Box Theatre 70mm Festival
The Music Box Theatre is proud to bring you a two week festival of films presented in glorious 70mm. See these films as their creators wished them to be seen: on the big screen, in a theatre, on film, and in 70mm.
---
SEATTLE CINERAMA
Seattle Cinerama Big Screen 70MM Festival
Film buffs will be treated to classic widescreen movies during the "Big Screen 70MM Festival", including extremely rare 70mm prints from studio vaults and archives. The festival opens Sept. 13 and runs through September 29. The festival will feature two of only seven movies ever produced for Cinerama's three-projector technology, "This is Cinerama" and "How The West Was Won".
70mm Festival at Seattle Cinerama Theatre
By Greg Wood
15 classic 70mm and Cinerama movies screened during the Cinerama Film Festival, including extremely rare 70mm prints from studio vaults
---
LINCOLN CENTER, NEW YORK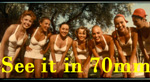 See It In 70mm! - 70mm Festival New York
The Film Society of Lincoln Center will present 15 films in their original 70mm glory, featuring a mix of beloved classics and rarely screened gems, all at the Walter Reade Theater from December 21 - January 1, 2013
---
MOMI, NEW YORK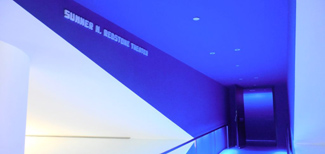 •

Go to

"SEE IT BIG!" 2021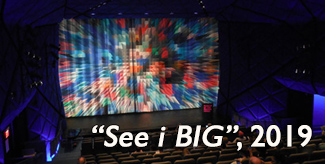 • Go to "SEE IT BIG!" 70MM Series @ Museum of the Moving Image, New York, USA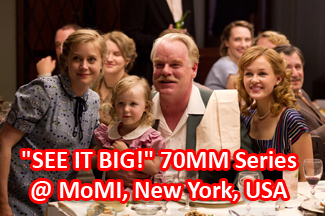 • Go to "SEE IT BIG!" 70MM Series @ Museum of the Moving Image, New York, USA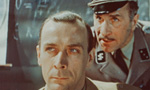 "SEE IT BIG!" 70MM Series
By MoMI, New York
Museum of the Moving Image will present its popular summer series See It Big! 70mm, featuring nine classic and contemporary films that will be projected in 70mm in the Museum's majestic Sumner M. Redstone Theater, July 19 through August 27. The series opens on Wednesday, July 19, with a preview screening of "Dunkirk"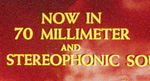 7OMM Festival in New York, USA
July 29–September 4
Museum of the Moving Image is committed to preserving the theatrical presentation of 70mm films in their original format, and the all-70mm version of See it Big! has now become an annual tradition. Opening with "2OO1: A Space Odyssey", the Stanley Kubrick classic that partly inspired the architectural design of the Museum's Sumner M. Redstone Theater, the series includes a selection of classic and recent examples of such visually spectacular genres as the western, musical, and the science fiction film.
---
AFI

• Go to AFI's Spectacular 70MM Festival
---
AMERICAN CINEMATHEQUE - HOLLYWOOD
Seeing the Big Picture
By American Cinematheque
Requiring special projector lenses sent to theaters to capture the film's visual impact, Quentin Tarantino's new Western, THE HATEFUL EIGHT, was shot in Ultra Panavision 70 - the first such production since KHARTOUM. Other films shot in Ultra Panavision include the star-studded comedy IT'S A MAD, MAD, MAD, MAD WORLD, which proved as side-splitting as it was screen-stretching, and the timeless classic BEN HUR, whose famous chariot race used the edges of the image to keep audiences on the edge of their seats.
VARNSDORF CENTRUM PANORAMA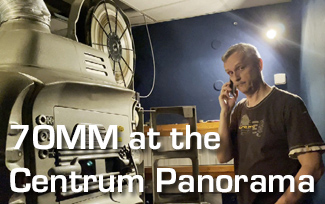 • Go to "70mm Film Weekend" Centrum Panorama Varnsdorf 2022


• Go to 70mm Film Weekend in Centrum Panorama Varnsdorf, Czech Republic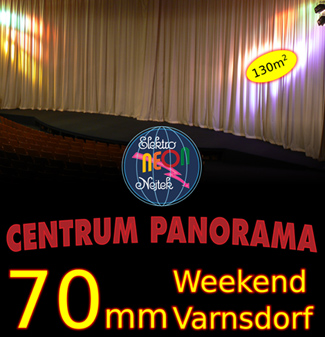 • Go to 70mm Film Weekend in Centrum Panorama Varnsdorf, Czech Republic


• Go to 70mm Film Weekend 2018, Centrum Panorama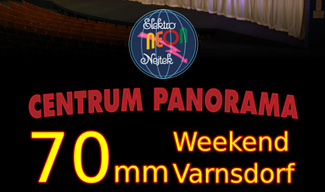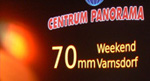 70mm Film Weekend in Centrum Panorama Varnsdorf, Czech Republic
By Zdenek Stepanek
On behalf of 70 mm Cinema Panorama in Varnsdorf, Czech Republic, on the border with Germany, we would like to invite you to a 70mm Weekend which will be held from 11th until 14th May, 2017 within the 14th Film Festival Nisa. Viewers will have a unique experience to watch large format films projected onto a panoramic screen about the size of 120 m2. We've got a long weekend full of special movies that are rarely shown at similar events or not at all, but also the very best of world cinema.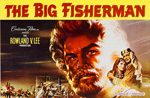 Varnsdorf Presents "The Big Fisherman" in Super Panavision 70
By Zdenek Stepanek
As a large pearl of our 70mm Weekend we present the film "The Big Fisherman" from 1959, directed by Frank Borzage. The film tells the biblical story of the angler Peter who became a follower of Jesus. The story is not only about Peter's redemption and forgiveness, but also about a young Arab-Jewish girl called Fara.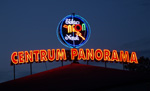 70mm Film weekend in Centrum Panorama Varnsdorf
By Zdenek Stepanek
70mm Cinema Panorama in Varnsdorf, Czech Republic, located on the border with Germany, celebrates this year its 45th anniversary of its opening. In 1971 there was built a brand new modern 70mm cinema in Varnsdorf. We take this opportunity to invite you to 70mm weekend that will be held on 12 - 14 May 2016. We will offer once again a unique experience with the royal film format to the audience.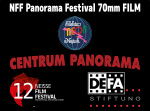 Centrum Panorama Varnsdorf
By Pavel Nejtek
We cordially invite you to the 12th Neisse Film Festival, on the section 70mm films entitled "NFF Panorama Festival 70mm FILM". The program are 70mm projection films, lectures, meetings with friends, fun and good food and drinks.
---
SOMERVILLE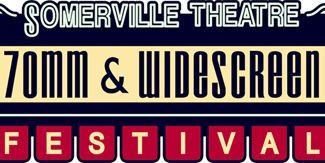 • Go to Somerville Theatre's 70mm & Widescreen Festival 2019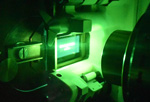 7Omm & Widescreen Festival @ the Somerville, USA
September 16-25, 2016
Join us for our first-ever celebration of the greatest motion picture format of all time - 70mm film! From September 16 through the 25th, each day we will be presenting classic titles on our big screen. In addition to key 70mm titles, we will also be screening a handful of widescreen 35mm features that emphasize the grandeur of the big screen.
---
ALAMO DRAFTHOUSE - THE RITZ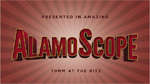 Presented in Amazing AlamoScope: 70mm at the Ritz!
In the world of film presentation, nothing can ever match the power and glory of 70mm film. A gargantuan creation of the 1950s, 70mm quickly became the permanent benchmark of quality, transforming every title released in the format into a mind-expanding epic.

• Go to 70mm Festivals and Screenings
---
SUN THEATRE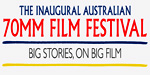 Inaugural Australian 70mm Festival - Film is back!
By Sam McCabe
To coincide with the launch of "Murder on the Orient Express" on 70mm, the Sun Theatre, Yarraville, Melbourne, Australia is hosting a whole week of 7 films on glorious 70mm. The festival will feature films new and old, classics and cult. Old style presentation is back at the sun too, with every film introduced, film programmes and intermissions on the longer films.
---
THE LOST DOMINION, QUEBEC
MUSEUM OF CIVILIZATION
The Lost Dominion 70mm Film Festival Report
By Paul Gordon
Vertigo looked amazing, a mint condition print! The Vista Vision negative really showed through on 70mm and the sound was great
I love the smell of mag in the morning!
By Bob Throop
Seeing all those reels of 70mm film at the Lost Dominion 70mm Film Festival made me think I'd died and gone to heaven! O' death where is thy sting?
The Lost Dominion 70mm Film Festival
By Paul Gordon
The Lost Dominion Screening Collective is proud to present the first annual 70mm Film Festival at the Canadian Museum of Civilization.
---

• Go to 70mm Retro - Festivals and Screenings
---
70MM FESTIVAL AND SYMPOSIUMS
Krnov 2008 | LFCA 2005 | Oslo 2004 | LFCA 2004 | Digital SymposiuM 2004 | Seattle 2003 | LFCA 2002 | LFCA 2001 | Royal 2001 | Egyptian Theatre 2000 | Euromax 2000 | Oslo 2000 | Egyptian Theatre 1999 | LFCA 1999 | Wide Screen Film Festival 1997 | Cinema Expo 1996 | Malmø 1996 | Euromax 1996 | ISTC 1996 | Format Seminar 1995 | Cinema Expo 1995 | | |