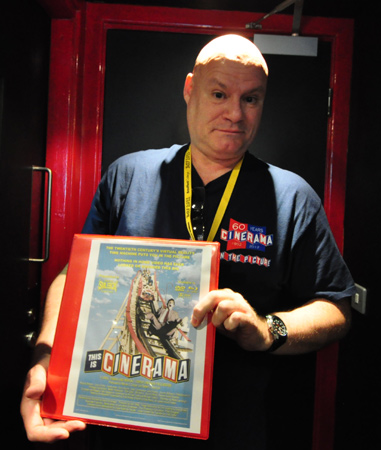 Randy Gitsch in Bradford 2012, presenting Cinerama. Image by Thomas Hauerslev

Armed with his dual major degree in Mass Communications-Journalism and Broadcasting and Film Production, Randy Gitsch wasted no time moving directly to Southern California upon graduating from college. After arriving, while sending out resumes and knocking on doors, he paid his first two months rent doing "extra work".

One of his first real jobs in Hollywood was as a staff researcher in the RKO Studio Archives, which led to his ultimately becoming that collections manager. There, Randy assisted the BBC in their 6-part studio history, entitled "Hollywood; The Golden Years", and veteran director, Richard Wilson, with the restoration of a "lost" Orson Welles feature, "It's All True".

After RKO's liquidation, Randy worked as a film sales librarian for both the Sherman Grinberg and Energy stock film libraries. Reacting to the film deterioration he found himself having to deal with on a daily basis, in 1990, he became one of the founding members of the Association of Moving Image Archivists, a professional group which champions the preservation of film and video.

So motivated to make a difference in the public perception of film archivism in the U.S., in 1999, he produced and co-wrote, with director Mark McLaughlin, the critically acclaimed documentary on film preservation and restoration, "Keepers of the Frame". Thereafter he teamed with Dave Strohmaier to produce another documentary motion picture, "Cinerama Adventure", and to bring preservation awareness to this historically important cinematic format and the handful of rarely seen, 3-panel films made in it.

He subsequently worked again with McLaughlin as an associate producer on the feature documentary and multi-part television series, "Hollywood Singing & Dancing". These days he can say, smiling, "Careful what you wish for", as he finds himself fortunate to be deeply involved, again with Strohmaier and a core restoration team, who have been given the funds to digitally re-master and recombine the entire 3-panel Cinerama library, insuring it's existence and relevance for a new generation of film lovers.

In addition to making motion pictures, Randy has remained a full-time archivist. With Pro-Tek Vaults, since 2001, he's worn a variety of hats as a Film Inventory Technician, and a Film Inspector. He's also worked off-site for Pro-Tek clients, including 20th Century Fox and Warner Bros. He now serves as the Supervisor for a crew of seven working to inventory and digitize the Warner Bros. still photo library.

He has been interviewed on the subject of all things-RKO in such programs as "The Passions of Howard Hughes" (Passport DVD) and "History Detectives" (PBS), and on film preservation on National Public Radio's Weekend Edition.

More in 70mm reading:

The 2015 European Cinerama Festival Tour

"Keepers of the Frame" - complete press kit

2013 Academy Member Randy Gitsch (USA)

The Cinerama Adventure

"Windjammer" Press Release


Scanning Cinerama Films

Dave Strohmaier

Internet link:


lac-group.com