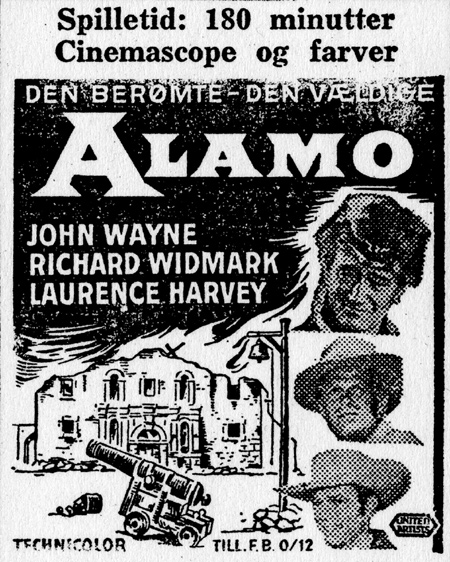 My first 70mm film was "The Alamo". It was at the 2:00 matinee, on December 24, 1960. Yes, it was the full-length roadshow version of the film. The venue was the Valley Theatre, in Cincinnati, Ohio. The Valley Theatre had a seating capacity of 1500 persons, and was configured as a Todd-AO house. It had a 120 degree curved screen.

Subsequently, I saw the following films on their 70mm roadshow or first run in the Cincinnati area: Mutiny on the Bounty, Lawrence of Arabia, 55 Days at Peking, It's a Mad Mad Mad Mad World, Fall of the Roman Empire, Lord Jim, Those Magnificent Men in Their Flying Machines, The Hallelujah Trail, The Great Race, Battle of the Bulge, Khartoum, The Bible, The Sand Pebbles, Doctor Dolittle, 2001: A Space Odyssey, Chitty Chitty Bang Bang, Ryan's Daughter, The Last Valley, Brainstorm, Far and Away, and Hamlet.

Later on, I saw the following 70mm reissues here: The Ten Commandments, Around the World in 80 Days, Spartacus, My Fair Lady, The Sound of Music, and Doctor Zhivago.

Finally, I saw the following 70mm blow-ups in the area…The Wild Bunch, Vertigo, Last of the Mohicans, Waterloo, Where Eagles Dare, Moonraker, Gone With the Wind, Days of Heaven, The Right Stuff, The Untouchables, Octopussy, The Edge, A Bridge Too Far, Tora, Tora, Tora, The Dirty Dozen, Nicholas and Alexandra, Young Winston, Star Trek, and Quest for Fire.

My own collection now includes the 70mm prints to The Alamo (short version), Circus World, and Ice Station Zebra. I also have a 70mm reel to Last of the Mohicans, and a reel of 70mm trailers.

More in 70mm reading:

My First 70mm

My first encounter with 70mm film

My First 70mm - Gaumont, Manchester, England

A Nostalgic View of 70mm in New York City - 1950-1970

Seeing 70mm Films in Mexico

70mm Pictures Are Few...and Prints Are Scarce

70mm Films and Ashley Ward

"The Alamo" lost 70mm version - This letter which started it all

Internet link: