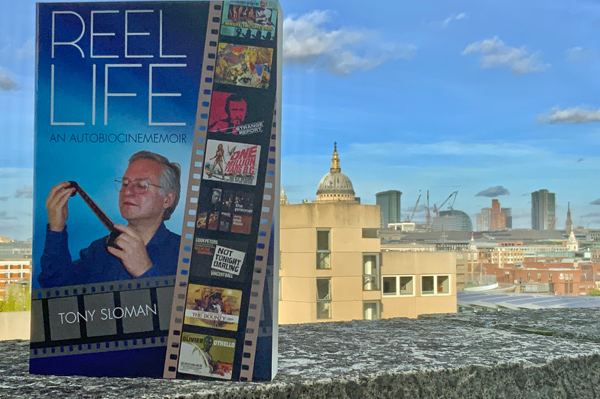 One of the best advantages of attending the Bradford Film Festival in the Golden Age of the Widescreen Weekend, was being educated, informed and entertained by the superb introductions to the films by Mr Slomon. In turn, witty, instructive and erudite, they were the best possible curtain raisers to these special screenings. No question, when it came to Cinema, that much loved art form, what Tony Slomon did not know about Cinema was not knowledge.

• Go to 'REEL LIFE', a memoir by Tony Sloman

For those of us of the baby boomer generation who grew up in London in the fifties and sixties, there is no better guide down memory lane, than Tony Sloman. In Reel Life, his hard won knowledge and expertise combine with a mordant wit and and a realistic appreciation of the frailties of human nature, not least his own. Were we boomers a self centered generation? Here is an advocate who could sway any jury. Reel Life grips and engages.

As Number 6 demanded to know in The Prisoner:
"How was this done?"
The answer? Great narration, evolved from exceptional film and sound editing skills. In confiding in the reader, he creates a special bond of friendship, introducing his collaborators along the way, who also, happen to be the biggest names not only on the craft side but also in show business, including Raquel Welch, The Beatles and the legendary Eric Sykes, amongst many others.

Much has been written about one of the most talked about screen productions of all time, The Prisoner. Nothing comes close to this insider's account of the Herculean efforts involved in bringing this masterpiece to the small screen. The Prisoner shattered many a comfortable illusion of what television should be. Some saw it as creating a comfort zone, to relax in, after a hard day. Others perceived it as essentially a brain washing machine confined to a corner of the living room churning out mostly mindless pap, or Prolefeed as Orwell had it.

This was something completely different. This was seen in the UK, at any rate, as something perniciously subversive, which in a sense it was. For others with a yearning for something more than pap, it was a true revelation, not so much a breath of fresh air, as a hurricane, sweeping away conventional notions of television content for good. This reviewer was lucky enough to see a pristine 35 mm print of one episode, Checkmate on a big screen in Cheltenham Town Hall, back in 1977. There, was the wonderful shock of realising that The Prisoner far transcended the medium in which it was presented. This was down to very high production values, for which the author of Reel Life was in no small measure responsible.

One stroke of genius is worth mentioning, the use of the Radetzky March, a much loved triumphalistic march as funeral music. Surrealism par excellence. This truly set the tone of the series for many. This was down to our author, having artistic as well as technical input in The Prisoner. Having been royally entertained by our author, the reader can then seek his monument, The Prisoner, is available now in HD bluray and hopefully in UHD 4K in the not too distant.

Reel Life is a highly readable, highly entertaining and highly recommended autobiography written by a master of the art as well as an outstanding advocate for the craft and creation that goes into the making of cinema.

ORDER REEL LIFE

Paperback, 304 pages with approx 40 photographs, ISBN: 978-1-911537-15-1

NOW AVAILABLE to pre-order at discounted pre-orde price:
PAPERBACK £9.99 (plus P&P IF OVERSEAS), full price will be £12.99

Click Quoit Media Limited to pre-order, depending on your location.

More in 70mm reading:

'REEL LIFE', a memoir by Tony Sloman

Speech for Tony Sloman 2004

Widescreen Weekend, Bradford, England