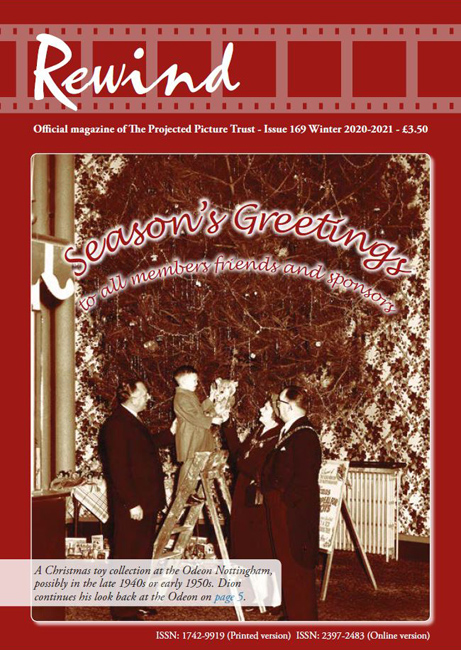 Front page of the latest issue of The Projected Picture Trust's quarterly magazine "Rewind"



The Projected Picture Trust would love to welcome you as a new member to be

part of the efforts to Preserve the Magic of Cinema. As a member you would be free to participate in the activities of the trust in any way that suits your time and skills and meet others with similar interests. Or you don't actually have to do anything except have the satisfaction of knowing you are aiding the trust in its efforts to preserve the magic of cinema. Members receive a copy of our magazine, Rewind, every three months, can participate in outings and visits, including those organised by the Cinema Theatre Association, access the Members' zone on this website and have their say at the annual general meeting.

Rates
Adult: £24 - receives one printed copy of Rewind.
Family: £27 - please note one copy of Rewind is sent to cover family membership.
E-member: £15 - receives Rewind in pdf format.

Rewind - Official magazine of The Projected Picture Trust
The latest issue of "Rewind" (Issue 169 Winter 2020-2021) contain stories (at a glance) about:

• Female projectionists in WW2
• Odeon Nottingham Part 2
• A modern film automation system
• Aga–Baltic projector
• Golden age of cinema still very much alive at the Plaza Stockport
• A 1930 view of the effect of the talkies and what would come next

For the fans of 70mm, in the current issue Dion Hanson tells the story of the Odeon Nottingham. Here's a short extract:
Odeon 2 downstairs had a pair of 35/70 Cinemeccanica Victoria 8s with large spool capacity, installed with Philips OMA6 transistorised sound. Rank did not consider the Cinemeccanica transistorised sound to be of sufficient quality at that time. Both cinemas were to have 70mm 6-track capabilities though it was envisaged that Odeon 1 would run mainly roadshow performances whereas Odeon 2, with the larger seating capacity, would screen more current release product. The opening was a very grand affair and was even covered on television, there exists a short news film made about the event which is now available online. In 1969 Odeon 2 had single-lens Cinerama installed with a ribbon screen. Cinerama, who did the installation, paid some of the projectionists to work for them on their days off, particularly with installing the new screen and frame for which the ceiling had to be raised. The fitting of the ribbons began in the centre and worked out to the sides. The first film in Cinerama was "Ice Station Zebra" which opened on 28 June.
For membership details, please send an addressed envelope to:

The Projected Picture Trust
Dean Clough Mills,
Halifax,
West Yorkshire,
HX3 5AX
UK

To join, visit www.theppt.org or e-mail Dion Hanson

More in 70mm reading:

The Projected Pictures Trust. A Visit to the archive in Halifax, UK

The PPT Looking after cinemas heritage