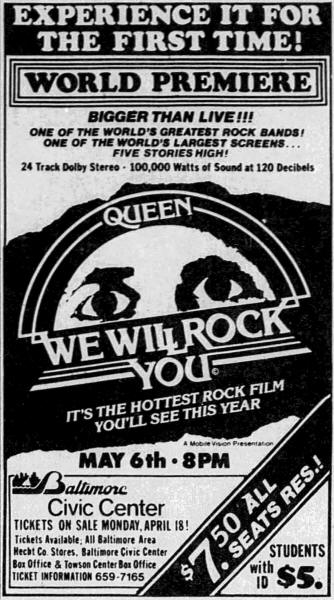 'Queen: We Will Rock You" MobileVision premiere advert, Baltimore Sun, May 1983

The following is a reference / historical listing of the large format Mobile Vision presentations of "Queen: We Will Rock You" in North America.

The Mobile Vision presentation was directed by Saul Swimmer and featured the rock band Queen in concert. The show was filmed at the Montreal Forum in November 1981.

The film's Mobile Vision prints were 8-perf 70mm Special Venue format blown up from spherical full-aperture 35mm photography. The audio was interlocked fullcoat 35mm and billed as 24-track Dolby Stereo.

"Queen: We Will Rock You" was subsequently screened in conventional cinemas in a standard 35mm version (1.85:1 / Dolby Stereo). Ancillary market editions have been released and/or broadcast under the alternative titles "Queen: We Will Rock You", "Queen: Live in Montreal" and "Queen Rock Montreal".

The band lineup during this performance was Freddie Mercury (lead vocals, piano), Brian May (guitar, vocals), Roger Taylor (drums, vocals) and John Deacon (bass guitar).

The set list featured "We Will Rock You" (fast version), "Let Me Entertain You", "Play the Game", "Somebody to Love", "Killer Queen", "I'm in Love with My Car", "Get Down, Make Love", "Save Me", "Now I'm Here", "Dragon Attack", "Now I'm Here (Reprise)", "Love of My Life", "Under Pressure", "Keep Yourself Alive", drum solo, guitar solo, "Crazy Little Thing Called Love", "Jailhouse Rock", "Bohemian Rhapsody", "Tie Your Mother Down", "Another One Bites the Dust", "Sheer Heart Attack", "We Will Rock You", "We Are the Champions", "God Save the Queen". ("Flash" and "The Hero" were performed as well but were excised from the theatrical concert film but do appear on some album and home-video editions.)

1983-05-06 … Baltimore, MD — Baltimore Civic Center
1983-05-07 … Richmond, VA — Richmond Coliseum
1983-07-09 … Jackson, NJ — Great Adventure Park
1983-07-14 … San Diego, CA — San Diego Sports Arena (3 days)

1992-05-24 … Maryland Heights, MO — Riverport Amphitheatre
1992-06-12 … Cuyahoga Falls, OH — Blossom Music Center
1992-06-14 … Atlanta, GA — Lakewood Amphitheatre
1992-06-16 … Cincinnati, OH — Riverbend Music Center
1992-06-24 … Clarkston, MI — Pine Knob Music Theatre
1992-06-20 … Noblesville, IN — Deer Creek Fair
1992-07-03 … East Rutherford, NJ — Meadowlands Summerfest Amphitheatre
1992-07-24 … Phoenix, AZ — Desert Sky Pavilion
1992-07-26 … Universal City, CA — Universal Amphitheatre
1992-07-31 … Santa Clara, CA — Great America

1995-07-07 … Las Vegas, NV — Riviera Hotel & Casino

The information in this article was principally referenced from film industry trade publications, American Cinematographer magazine, and regional newspaper promotion, with thanks to Saul Swimmer and David Mullen, ASC.

International Mobile Vision presentations of this title have not been accounted for in this article.

If you believe this article contains any errors or omissions, please consider emailing the author or editor.

More in 70mm reading:

70mm Engagements

70mm Blow Up List

FuturVision 360 70mm system