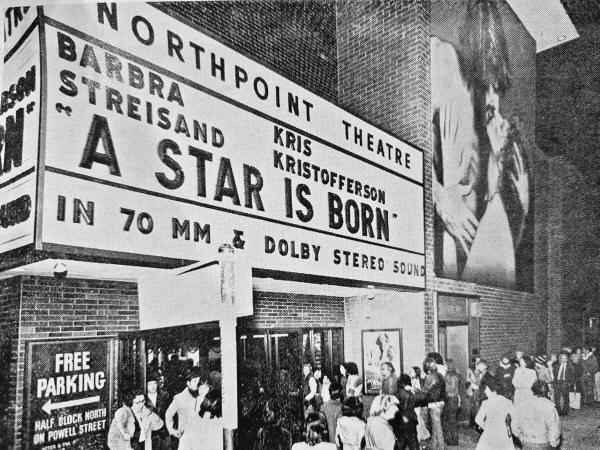 Northpoint Theatre, San Francisco, December 1976. Courtesy Dolby Labs.

The following is a reference / historical listing of the 70-millimeter presentations of "A Star is Born" in North America. These were arguably the best cinemas in which to experience this motion picture.

"A Star is Born" was among four confirmed first-run films released in 1976 with 70mm prints for selected engagements. The Warner Bros. release was directed by Frank Pierson and starred Barbra Streisand and Kris Kristofferson.

The 70mm print run of "A Star is Born" featured a dual inventory of discrete six-track stereophonic sound* and pillarboxed imagery (approximately 1.85:1) blown up from spherical 35mm. (*A few of the prints — noted in the listing below — were encoded with Dolby Noise Reduction, only the second known usage of Dolby in connection with the 70mm format, the first being "Logan's Run.")

Pre-release screenings included the film's world premiere held December 18th at the Village in Los Angeles. The film's east coast premiere was held December 23rd at the Ziegfeld in New York. Prior to release, a series of audio-format bake-off test-screenings were held at the Cine Capri in Phoenix.

The duration of the engagements (measured in weeks) has for some entries been included in parenthesis following the cinema name.

Asterisk = Six-Track Dolby Stereo
No asterisk = Six-Track Stereo

1976-12-19 … Los Angeles, CA — Chinese* (10)
1976-12-19 … Los Angeles, CA — Village* (9)

1976-12-25 … Boston, MA — Cinema 57 Twin* (12)
1976-12-25 … New York, NY — Ziegfeld* (8)
1976-12-25 … San Francisco, CA — Northpoint* (13)
1976-12-25 … San Jose, CA — Town & Country (25)
1976-12-25 … Syosset, NY — Syosset (7)

Note that some of the presentations included in this listing may have been presented in 35mm during the latter week(s) of engagement due to print damage and the distributor's unwillingness to supply a 70mm replacement print or because the booking was moved to a smaller, 35mm-only auditorium within a multiplex. As well, the reverse may have been true in some cases whereas a booking began with a 35mm print because the lab was unable to complete the 70mm print order in time for an opening-day delivery or the exhibitor negotiated a mid-run switch to 70mm. In these cases, the 35mm portion of the engagement has been included in the duration figure.

SUBSEQUENT 70MM ENGAGEMENTS & SCREENINGS


1977-02-18 … Beverly Hills, CA — Wilshire (17)
1977-06-29 … Carmel, IN — Woodland Twin (1)
1977-07-15 … Albuquerque, NM — Fox Winrock (2)
1977-09-21 … Carmel, IN — Woodland Twin (1)
1977-09-23 … Bloomington, MN — Southtown (2)
1977-10-07 … Norridge, IL — Norridge 4-plex (2)
1977-10-07 … Skokie, IL — Old Orchard Triplex (2)
1977-10-14 … Minneapolis, MN — Academy (1)
1977-11-04 … Dallas, TX — Preston Royal (1)
1977-??-?? … Portsmouth, VA — Plaza Triplex*

1980-12-12 … Las Vegas, NV — Parkway Triplex [Fri/Sat midnight]

1981-09-18 … Cleveland, OH — Colony (4 days)
1981-09-28 … Cleveland, OH — Colony
1981-10-02 … Salt Lake City, UT — Trolley Corners Triplex (1) [w/ "Funny Girl"]

1982-10-13 … Portland, OR — Bagdad Triplex (4 days) [70mm festival]
1982-10-22 … Lincoln, NE — Cooper/Lincoln (1)

The information in this article was principally referenced from film industry trade publications and regional newspaper promotion, with thanks to Don Beelik, Louis Bornwasser, Jim Cobb, and Bill Kretzel.

International 70mm engagements of this title have not been accounted for in this article.

If you believe this article contains any errors or omissions, please consider emailing the author or editor.

More in 70mm reading:

70mm Engagements

70mm Blow Up List

Dolby Stereo

70mm Cinemas in North America