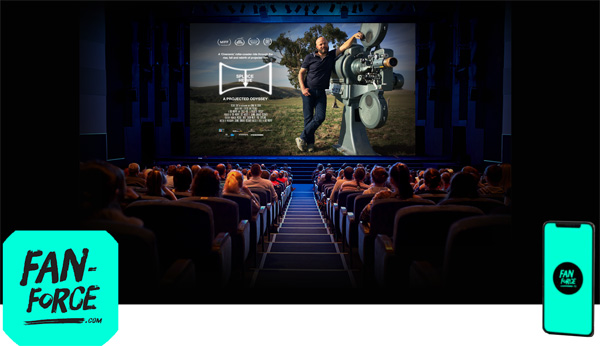 "Splice Here: A projected Odyssey" is now live on FanForce. This 'cinema on demand' distributor can now arrange a screening anywhere in the world on your behalf. Just go to "Splice Here" on the FanForce website and click on 'Host a screening' and the team will get you started. It's like crowd funding for a movie session. People pledge a ticket to go and when you reach a tipping point, the screening goes head. If you don't, no one gets charged. It's a brilliant idea and gives the audience who really want to see the film the power to at their local cinema.

Remote and local Q&A's can even be arranged for your screening; as long as you're not making me get up and zoom at 3 a.m.

• Go to "Splice Here: A Projected Odyssey" 2022 update
• Go to "Splice Here: A Projected Odyssey" 2020 Update

2022 mini review:
"Splice Here" is fantastic, I really enjoyed it. It is amazing what you have done. Being a former projectionist, it was very moving to see the people and listen to all the stories about old projectors, and film prints stored in private collections. Their love and dedication towards film prints and projectors. This – combined with the overall story about FILM as a medium all through "Splice Here" – made it very touching to see for me. A fine testament to people who are very passionate about saving stuff, which have had to do with projecting films, or the 70mm films itself.

Thomas, editor, in70mm.com
"Splice Here" running time is around 2 hours and 15 minutes, and is presented with an overture, intermission and exit music.

More in 70mm reading:

"Splice Here: A Projected Odyssey" 2020 Update

"Splice Here: A Projected Odyssey", Crowd Funding Campaign

A day with Doug Trumbull

The HATEFUL 8 @ the SUN theatre