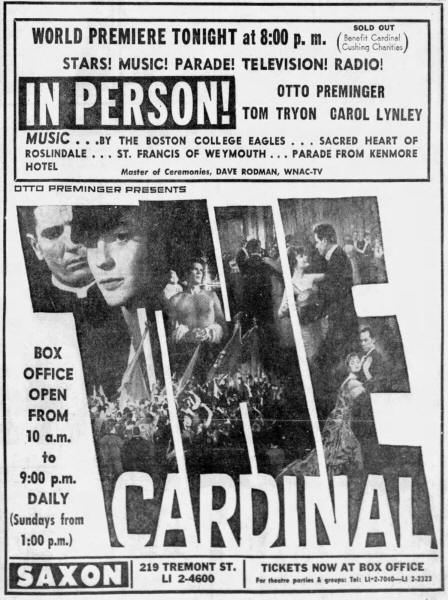 The following is a reference / historical listing of the 70-millimeter engagements of "The Cardinal" in North America. These were the cinemas worth seeking out to experience the best presentation of this motion picture.

"The Cardinal" was among five confirmed first-run films released in 1963 with 70mm prints for selected engagements. The Columbia release was directed by Otto Preminger ("Porgy and Bess," "Exodus"), based on the novel by Henry Morton Robinson and starred Tom Tryon, Romy Schneider, Carol Lynley, Jill Haworth, Raf Vallone, John Saxon, Josef Meinrad, Burgess Meredith, Ossie Davis, Dorothy Gish, Tullio Carminati, Maggie McNamara, Bill Hayes, Cecil Kellaway and John Huston.

The world premiere of "The Cardinal" was held December 11th, 1963, at the Saxon in Boston.

The 70mm prints of "The Cardinal" featured six-track stereophonic sound and full-frame imagery blown up from anamorphic 35mm and billed as "Panavision 70." These 70mm prints were exhibited with a reserved-seat "roadshow" policy.

"The Cardinal" is recognized as the first North American 70mm blow-up release. Other 70mm blow-ups, including "Taras Bulba" and "Bye Bye Birdie" were exhibited internationally prior to the domestic release of "The Cardinal."

Premiere date YYYY-MM-DD … city — venue (duration in weeks) [notes]

1963-12-11 … Boston — Saxon (22)
1963-12-12 … New York — DeMille (15)
1963-12-19 … Los Angeles — Egyptian (15)

SUBSEQUENT 70MM ENGAGEMENTS & SCREENINGS

1964-04-01 … Redondo Beach, CA — Strand (4)

The information included in this article was principally referenced from film industry trade publications, regional newspaper promotion, and print enclosures. Special thanks to Bill Kallay and Bill Kretzel.

International 70mm engagements of this title have not been accounted for in this article.

If you believe this article contains any errors or omissions, please consider emailing the author or editor.

More in 70mm reading:

70mm Cinemas in North America


in70mm.com's list of films blown up to 70mm
70mm Engagements by Title
35mm to 70mm Engagements by Year
Large Format 7OMM Engagements
Month by month premiere list of wide gauge and 3-strip films
Chronological premiere list of major 70mm films
70mm Blow Up List
Dolby Stereo