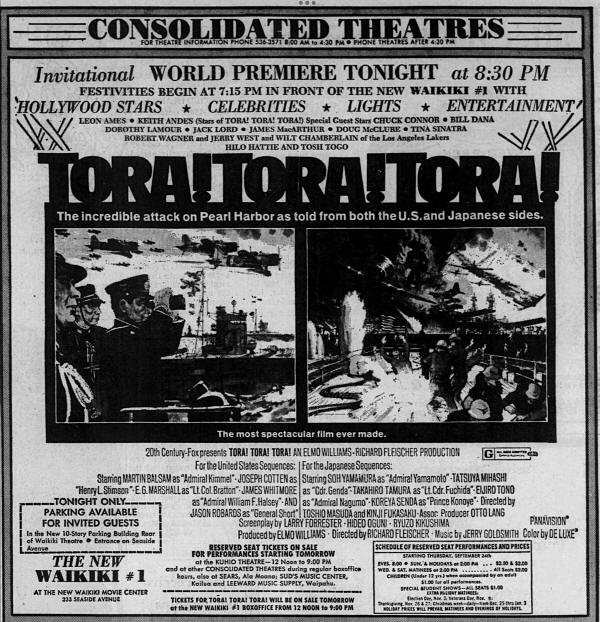 The following is a reference / historical listing of the roadshow and 70mm presentations of "Tora! Tora! Tora!" in the United States and Canada. These were the first and best cinemas in which to experience this motion picture.

The presentations cited in the Part 1 section of this work were "hard ticket" roadshow engagements and were special, long-running, showcase presentations in major cities prior to the film being exhibited as a general release. Much like a stage production, these presentations featured advanced admission pricing, reserved seating (typically sold in advance), and an average of ten scheduled screenings per week (one per evening, plus a matinee on weekends, Wednesdays and holidays, though this policy varied by locale and/or was modified during the latter phase of engagement). Souvenir roadshow programs were sold as well, and the presentation included an overture, intermission and entr'acte. (Many roadshows included exit music, as well, though "Tora!," as with some notable exceptions, lacked such a feature.)

Roadshow presentations, compared to general release and the average moviegoing experience of the era, typically were booked into larger cinemas and offered a superior projection and sound experience in addition to the other roadshow amenities. The print types utilized during the film's roadshow release were, depending on the booking, (1) 70-millimeter (2.20:1 blow-up from anamorphic 35mm) with discrete magnetic six-channel stereophonic sound, (2) 35-millimeter with discrete magnetic four-channel stereophonic sound and optical monaural sound, (3) 35-millimeter with optical monaural sound. Twentieth Century-Fox, the distributor of "Tora! Tora! Tora!," elected to only sporadically promote the film's presentation tech details, though it is believed the majority of the film's reserved-seat presentations featured stereophonic sound: 4-track for 35mm prints and 6-track for the coveted 70mm prints.

The Twentieth Century-Fox release was directed by Richard Fleischer (American sequences) and Toshio Masuda and Kinji Fukasaku (Japanese sequences). The ensemble cast included Martin Balsam, Joseph Cotton, So Yamamura, E.G. Marshall, James Whitmore, Tatsuya Mihashi, Takahiro Tamura, Wesley Eddy and Jason Robards. The film's multi-locale world premiere was held in Tokyo, New York, Los Angeles, and Honolulu on September 23rd, 1970.

Out of the hundreds of films released in North America during 1970, "Tora! Tora! Tora!" was among only five given deluxe roadshow treatment and among only nine released with 70mm prints (four from 65mm origination and five blow-ups).



PART 1: THE ROADSHOW ENGAGEMENTS
(reserved seat policy / 70mm* presentation)

*Note that some bookings were not explicitly or consistently promoted as 70mm, suggesting they may have been screened in 35mm.

Premiere/opening date YYYY-MM-DD … city — cinema (duration in weeks) [notes]

1970-09-23 … Honolulu, HI — Waikiki 1 (29)
1970-09-23 … Los Angeles, CA — Pantages (35)
1970-09-23 … New York, NY — Criterion (17)

1970-09-24 … Washington, DC — Uptown (20)

1970-10-07 … Boston, MA — Gary (10)
1970-10-07 … Chicago, IL — Bismarck (16)
1970-10-07 … Philadelphia, PA — Randolph (13)
1970-10-07 … San Diego, CA — Loma (25)
1970-10-07 … San Francisco, CA — Golden Gate 2 (19)

1970-10-08 … Toronto, ON — University (11)

1970-10-14 … Dallas, TX — Cine 150 (16)
1970-10-14 … Denver, CO — Century 21 (28)
1970-10-14 … Detroit, MI — Mercury (10)
1970-10-14 … Detroit, MI — United Artists (7)
1970-10-14 … Houston, TX — Gaylynn (19)

1970-10-21 … San Jose, CA — Century 25 (22)

PART 2: FIRST-RUN 70MM ENGAGEMENTS
(unreserved seating / some bookings did not explicitly or consistently promote 70mm)

1970-12-23 … Cleveland (South Euclid), OH — Fox Cedar Center (6)
1970-12-23 … Pittsburgh, PA — Fulton (7)
1970-12-25 … Atlanta, GA — Georgia (14)
1970-12-25 … Cincinnati, OH — International 70 (12)
1970-12-25 … Greenville, SC — Astro I (7)
1970-12-25 … Indianapolis, IN — Indiana (7)
1970-12-25 … Kansas City, MO — Empire 1 (8)
1970-12-25 … Kansas City (Overland Park, KS), MO — Glenwood II (15)
1970-12-25 … Miami (Miami Beach), FL — Beach (17)
1970-12-25 … Minneapolis (St. Louis Park), MN — Cooper (21)
1970-12-25 … New Orleans, LA — Orpheum (9)
1970-12-25 … Portland, OR — Broadway (13)
1970-12-25 … St. Louis, MO — Cinerama (10)
1970-12-25 … Seattle, WA — Fifth Avenue (12)

PART 3: SUBSEQUENT 70MM ENGAGEMENTS
(second run / revival / unreserved seating)

1971-02-03 … Fairless Hills, PA — Eric (3)
1971-02-03 … Philadelphia, PA — Orleans (3)
1971-02-17 … Durham, NC — Center (2)
1971-04-30 … Des Moines, IA — River Hills (2)
1971-05-26 … Charlotte, NC — Carolina (1)
1971-05-28 … Raleigh, NC — Ambassador (1)
1971-07-28 … Vienna, VA — Vienna (1)
1971-09-22 … Los Angeles, CA — Egyptian (1)
1971-12-08 … Wichita, KS — Uptown (1)

1973-06-06 … Bloomington, MN — France Ave. Drive-In (1) [w/ "The Poseidon Adventure"]

1975-09-24 … Kansas City, MO — Brookside (1)

1976-03-10 … Wichita, KS — Uptown (1)

The reserved-seat policy, in some instances, was relaxed during the latter weeks of the run. Any non-roadshow portion of such an engagement has been included in the duration figure.

This information has been principally referenced from film industry trade publications and regional newspaper promotion, with thanks to Stuart Galbraith IV, Sheldon Hall, Bill Kallay, Bill Kretzel, Stan Malone, Ken Mitchell and Vince Young.

The film's international roadshow and 70mm engagements of this title (except for pointing out Tokyo as one of the film's world premiere locales) have not been accounted for in this work.

If you believe this article contains any errors or omissions, please consider emailing the author or editor.

More in 70mm reading:

70mm Cinemas in North America

in70mm.com's list of films blown up to 70mm

70mm Engagements by Title

35mm to 70mm Engagements by Year

Large Format 7OMM Engagements

Month by month premiere list of wide gauge and 3-strip films

Chronological premiere list of major 70mm films

70mm Blow Up List

Dolby Stereo