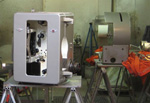 The Restoration of DP70 #1820
By Emiel de Jong
DP70 no. 1820 is back almost where it was born: it's now on permanent display in the lobby of "Centrum Hofdael", arthouse cinema / general art-centre in Geldrop, close to Eindhoven, The Netherlands.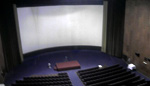 DP70, Victoria 8 and Prevost P70 in Argentina
By Eduardo Cesar Gómez
Actualmente hay dos cabinas de proyeccion instalada con 3 victoria8, una y la otra 2 PREVOST 35/70 las salas ya no funcionan como cines comercial. le voy a adjuntar unas fotos de lasmismas. En nuestro pais hubo dos salas con instalacion de CINERAMA, una ya desaparecida y la otra funciona con tres salas digitales actualmente y se hubica en la Pca de Cordoba. Muchos saludos y lo felicito por su hermosa pagina.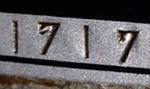 DP70 information from Spain. #850 #1708 #1717
By Gerardo Cortes
New DP70s have been found here in Barcelona, Spain. Including one of the DPs installed in Cine Kursaal (Barcelona). After many years projectors were move to Cine Femina (Barcelona) and both worked until 1991 once the cinema burned. #850 was restored and has been installed in a private cinema room in La Vall de Bianya - Barcelona.
What is the correct colour of a DP70?
By Clive Woodward
We are puzzled by trying to work out the correct colour to repaint them. Ours are a brownish 'hammertone' / 'hammertex' colour. I note from photos on your website many appear to be grey. Even the brown on our units varies from part to part. Do you know of the 'official' original colour for DP70 projectors?
June 1990, Restored "Lawrence of Arabia" premieres in Copenhagen, Denmark
By Thomas Hauerslev
The restored "Lawrence of Arabia" opened in 70mm and six-track Dolby Stereo SR at the prestigious Imperial Bio, 31. May. Much to the surprise of everyone - not least the distribution company, "Lawrence" played extremely well for 4 weeks. There were two shows a day, for a price of DKK 40/45 pr. ticket. The gross was DKK 853.000 in 29 days and 58 performances.

• Go to the gallery: "Lawrence of Arabia" on DP70 #1644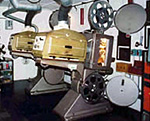 DP70 Update from Australia, 2013
By Phillip Grace
Corrections to your page DP70s in Australia. The 70mm projectors at Horsham, Victoria are not DP70. They are Cinemeccanica Victoria X. They were originally installed new in the Chelsea Theatre, Melbourne, then moved a little way down the street to the Forum Twin Cinemas (Cinema One) also in Melbourne, and screened a lot of 70mm on both sites. When the Forum Twin closed in 1982 or 1983 the Victoria X machines were sold to Horsham.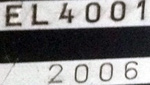 Magnificent 70mm Cinemas of Casablanca
By Dr HASSAN BELKADY
I was happy to hear that you are interested by the DP70s exposed at the hall of my cinema RIF. They have been renewed and they have been running since 2000 until 2013. I created a museum of 35mm and 70mm at the entrance of cinema RIF with Victoria 8 Cinemecanica, Westrex and DP70 projectors from my 3 cinemas ABC, RITZ & RIF in Casablanca.
Retired DP70s in Casablanca
By Thomas David Boehm
Some months ago Rainer and friend from Norway travelled to Morocco, where he discovered old 70mm projectors on display in the lobby of the CINEMA RIF in Casablanca. He made the attached photos and asked me to send them to you.
A refrigerator and a DP70, please
By Gerhard Witte
The Saturn electronics store on Tauentzienstraße 9 in Berlin's Europa Center has exhibited an authentic Todd-AO DP70 70mm projector in their department of Hi-Fi and electronics. The machine can be seen on the third floor in the Megastore's HiFi department.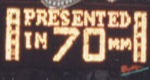 DP70s of the Empire
By Robin Dakin
We arrived at Leicester Square early on a Saturday morning to join a Cinema Theatre Association visit to the Odeons and Empire. The Empire was the third visit, its vast auditorium was amazing with the constant colour changing lighting scheme.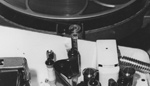 DP70 at the Casino in London
By Peter Philips
The pictures are taken of the left hand DP70 projector and two show it laced up with one of the reels of "Zulu". I used to know the Chief Engineer for Cinerama at the time and I made several visits to the Casino and got shown around.
Imperial Bio Scraps 70mm projector DP70 #1640
By Thomas Hauerslev
Copenhagen: DP70 serial number #1640, installed for the 70mm opening of Imperial Bio in Copenhagen in 1961 has been taken out and scrapped. Sister machine #1644 will continue 70mm and 35mm operation is needed.
A new film gate for the DP70 projector
By Emmy Rosbeek
We have some news about the DP70 projector: We made a new film gate for this projector.

More updates for the DP70
• RED-LED reverse scanner
• Reverse scanner
• Cinefocus
• Photo mask by Todd-AO
---
THE DP70 NEWS

• Go to DP70 / The Todd-AO Projector News
---

• Click the advert, or go to DP70 News