SEARCH IN70MM.COM
Loading
---

in70mm.com Mission:
• To record the history of the large format movies and the 70mm cinemas as remembered by the people who worked with the films. Both during making and during running the films in projection rooms and as the audience, looking at the curved screen.
• in70mm.com, a unique internet based magazine, with articles about 70mm cinemas, 70mm people, 70mm films, 70mm sound, 70mm film credits, 70mm history and 70mm technology. Readers and fans of 70mm are always welcome to contribute.
---
IN7OMM e-NEWSLETTER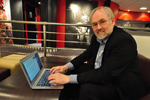 in70mm.com publishes an e-mail newsletter which is sent to users. If you want to join or discontinue, please send an e-mail to Bill Lawrence, in70mm.com. 902 readers already signed up.

• Go to e-Newsletter page
• See Past Issues
---
IN70MM.COM PARTNER

• Go to Schauburg Cinerama | Todd-AO Festival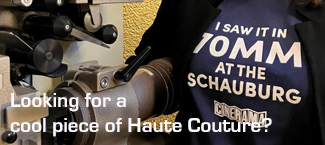 • Go to Looking for some 7OMM Haute Couture?
---
WHAT PEOPLE HAVE SAID ABOUT IN70MM.COM
Thomas' research and curatorial work on all things 65/70mm is meticulous as it is important.

Theo Gluck, Los Angeles, USA


Thank you, Thomas, and especially for your efforts in keeping in70mm such a vibrant, unique and informative platform to record and keep alive the spirit of film and of course large format film.

George Florence, Melbourne, Australia


Thanks for carrying the torch.

Greg Kimble, Hollywood, USA


Thanks for the wonderful work that reminds us the good old days of the 70 mm format. Your site is still the best for 70mm fans, and I hope it will continue with the good work.

Paulo Roberto, Rio, Brazil

"I continue to be impressed by the dedication you have to the continuing wellbeing of 70mm. I would like you to have met my colleague and friend, the late Robert Gottschalk, founder and driving force of Panavision. He was of the unshakeable opinion that picture quality, real picture QUALITY, depended on a big piece of negative, the bigger the better."

All good wishes, Sir Sydney Samuelson, December 2009
• Go to Sir Sydney Samuelson CBE BSC (1925 - 2022)


Keep up the good work in 70mm.com a treasure trove of information for the Wide Screen enthusiast's and keeping film alive. Well Done! Many Thanks

Mark Lees, - Ex Cinema Projectionist. Wallasey UK

• Go to Testimonials
---
THE PROJECTED PICTURES TRUST


• Go to Join The Projected Picture Trust!
• Go to The PPT Looking after cinemas heritage
• Go to A Visit to The Projected Pictures Trust
• Go to the gallery The Projected Pictures Trust
---
BKSTS WALL CHART POSTERS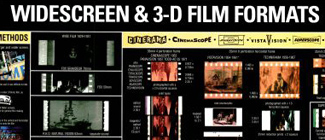 • Go to BKSTS Technical Wall Charts
---
7OMM IN LONDON


• Go to The Golden Age of 70mm
• Go to 70mm Film Presentations in London
---
CINERAMA

• Go to Cinerama Archive

• Go to "How The West Was Won" - in Cinerama
• Go to Life in Three Panels

• Go to Cinerama's 50th Anniversary
---
WEB ARCHIVE @
IN70MM.COM


By David Strohmaier & Martin Hart, USA
• Cinerama Adventure Home Page
(Some media files may not work)


By Stefan Adler, Sweden
• The Swedish Widescreen Pages
(Some media files may not work)