SEARCH 70MM.COM
Loading
---

in70mm.com Mission:
• To record the history of the large format movies and the 70mm cinemas as remembered by the people who worked with the films. Both during making and during running the films in projection rooms and as the audience, looking at the curved screen.
• in70mm.com, a unique internet based magazine, with articles about 70mm cinemas, 70mm people, 70mm films, 70mm sound, 70mm film credits, 70mm history and 70mm technology. Readers and fans of 70mm are always welcome to contribute.
---
IN7OMM e-NEWSLETTER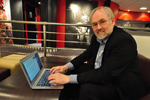 in70mm.com publishes an e-mail newsletter which is sent to users. If you want to join or discontinue, please send an e-mail to Bill Lawrence, in70mm.com. 902 readers already signed up.

• Go to e-Newsletter page
• See Past Issues
---
IN70MM.COM PARTNER
in70mm.com is proud to be associated with one of the finest cinemas in Europe, Schauburg Cinerama, home of the annual Todd-AO Festival in Karlsruhe, Germany.

• Go to Schauburg Cinerama | Todd-AO Festival
---
WHAT PEOPLE HAVE SAID ABOUT IN70MM.COM
"I continue to be impressed by the dedication you have to the continuing wellbeing of 70mm. I would like you to have met my colleague and friend, the late Robert Gottschalk, founder and driving force of Panavision. He was of the unshakeable opinion that picture quality, real picture QUALITY, depended on a big piece of negative, the bigger the better."

All good wishes, Sir Sydney Samuelson, December 2009


Thank you, Thomas, and especially for your efforts in keeping in70mm such a vibrant, unique and informative platform to record and keep alive the spirit of film and of course large format film.

George Florence, Melbourne, Australia


Thanks for carrying the torch.

Greg Kimble, Hollywood, USA


Thanks for the wonderful work that reminds us the good old days of the 70 mm format. Your site is still the best for 70mm fans, and I hope it will continue with the good work.

Paulo Roberto, Rio, Brazil

• Go to Testimonials
• Go to Sir Sydney
---
THE 70MM RUMOUR MILL
APRIL 2020

"Death on the Nile" -- Kenneth Branagh's eagerly-awaited next 70mm film is working through post-production. Word is that a well-polished (but probably not final) version is being seen by a few key executives at in-house screening rooms (via DCP.) It will be a while yet before the 70mm prints will be done, since there are always some final "tweaks" to things like the score and editorial concerns, etc. But it's still (as of now) on track for an October 9, 2020 opening. One staffer said it looked really good, which is a real tease for those of us who must wait several months (at least) to see it.

• Go to The 70mm Rumour Mill

---

• Go to Chronological premiere list of major 70mm films
---

• Go to The Cinerama page
---

• Go to Wide Visit With Willem Bouwmeester
---

• Go to Louis de Rochemont's "Windjammer" in Cinemiracle
---

• Go to The Technirama Story + Update
• Go to Films in Super Technirama 70
• Go to Probably never in Super Technirama 70?
---
RECENT NEWS
• Working at Todd-AO Studios + Gallery
• Dr. Richard Vetter about ClearVision 2000
• Compact Distribution Print by Todd-AO
• Cinema Retro's Coming Issues
• "Windjammer" Remastered Soundtrack 2019

• Go to 2020 News